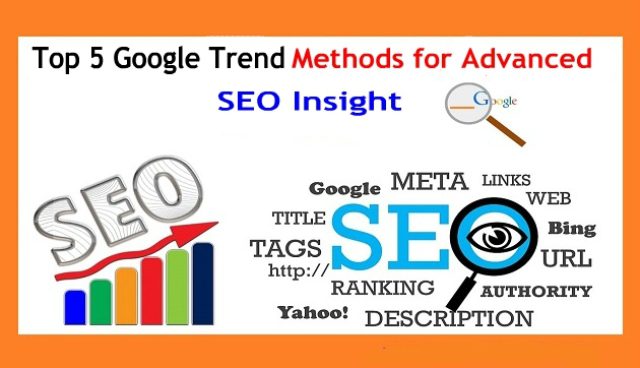 Google Trends is one of the best tools when it comes to searching for data for trending topics and keywords. However, unlike the Keyword Planner in Google Ads, this tool enables you to see search volumes by location and see the way it has changed over a while. For example, if you wish to know how the search volumes for Bitcoin and other cryptocurrencies over the last five years, Google trends can help you understand this.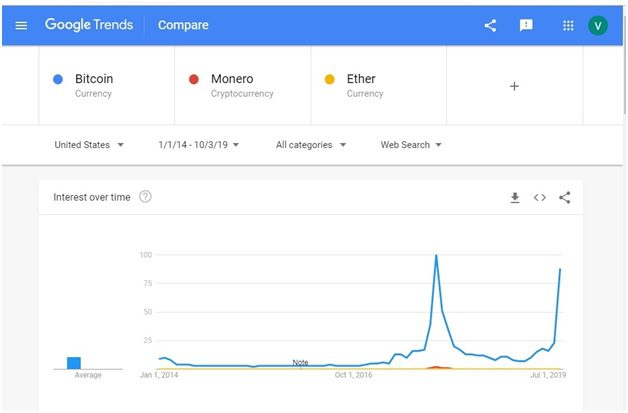 As you can see, Google Trends is the best way to get comprehensive insights about a particular topic. If you know how to find it. In the forthcoming sections of this write-up, we have provided some essential methods to get advanced SEO insights from Google Trends. We promise after reading this piece of content; you will be in a much better situation to combine professional SEO services effectively by utilizing Google trends for the growth of your online business. This can be done by taking the help of a professional SEO company.
Before we look at the Google Trend methods, it is crucial to understand the meaning of Google Trends. Google Trends is a tool that is available free of cost that showcases what people are searching for. It tells you about the search volume for specific keywords and topics. However, that is not all. It is even possible for you to compare search volumes based on a period, geographical volumes, explore keywords/topics and see the most popular topics at any given time.
It is one of the handiest keyword research tools that you will ever find. However, before we proceed further, it is essential to note that there is a fundamental difference between Google Trends and the Keyword Planner in Google Ads. Google Trends is useful to showcase the data for search volumes. On the other hand, the Keyword Planner informs you about the amount of traffic generated by those search terms.
By no means, that means the data obtained through Google trends is not useful. There are a wide array of ways to employ this tool to enhance SEO strategy without having any technical knowledge of using it.
As promised, let's now look at the top 5 Google Trend methods for advanced SEO insights.
Track Downward Trends
If ever you wish to learn about the declining search demand for a particular product, Google Trends is the best tool. Let's now try to understand that with the help of an example. For example, there is a steep decline in the phrase cheap flights in UK search demand. This might indicate that the falling overall demand. However, it can even mean that the audience now has alternatives to find cheap flights apart from organic search.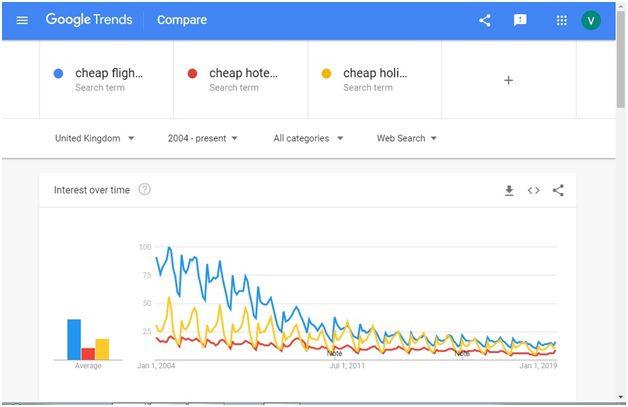 This graph is not an exact match for the search volume. It provides a scoreline out of 100 by showcasing the demand of the term in comparison to its peak. The graph above showcases the fact that the demand for cheap flights has declined quickly. One logical reason for that can be access to smartphone apps from airlines and other travel companies. This can be one of the prominent reasons for people less likely to search for cheap flights. Also, Google has launched its Flight Service in the UK. People have also started to ask more long-tail questions, which has resulted in less search for cheap flights on Google. They can simply select the airport and click on "go."
Comparing Niches, Related Trends
Let's now look at the example of a comparison between the search demand for Bollywood movies versus Hollywood movies in the US.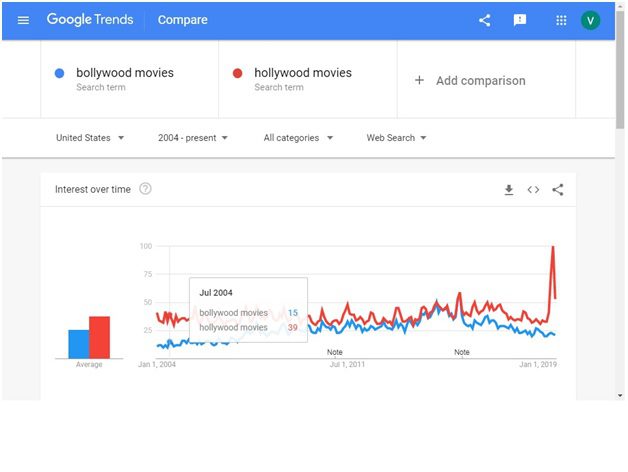 From the graph, you can make out the search for Hollywood movies is more than Bollywood movies from the year 2004 to Jan 1, 2019. This way, it is possible for you to compare niches and related trends.
Compare Your Demand with a Competitor
Imagine you wish to know whether PepsiCo is in more demand or The Coca-Cola Company. You can compare the demand for brands with the help of Google Trends.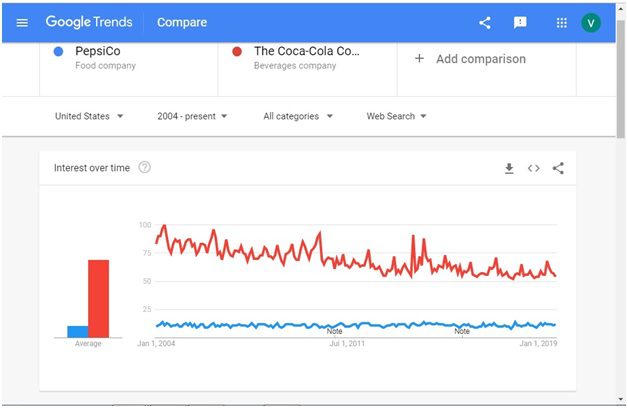 Clearly, it shows that PepsiCo is more searched in the US compared to The Coca-Cola Company. You can follow the same practice by differentiating your brand name with the brand name of your competitor. This way, you will know whose brand is in the highest demand. However, please keep in mind that any brand name with a generic phrase is likely to show a false spike.
Determine the Most Popular Questions
Through Google Trends, it is possible to find out single question words that are frequently used in searches.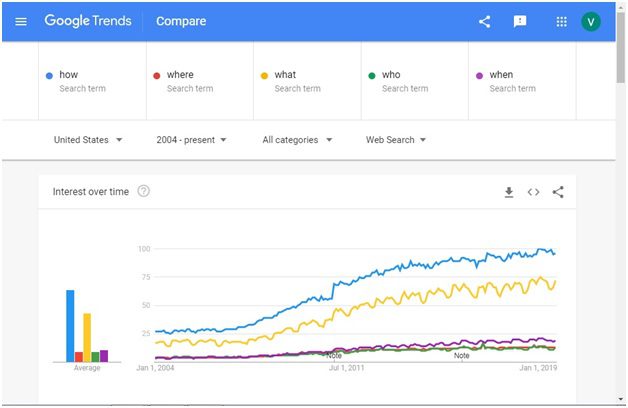 Here, we have checked the US traffic for single question words. As you can see "how" questions are the most highly ranked keywords with "what" coming in the second position. This kind of information can be highly useful when you are doing content planning. Hence, your target audience is more likely to search for "How to build a website?" than "Why to build a website?"
Determine Peak Seasonal Periods
Google Trends is excellent when it comes to spotting seasonal trends. For example, if you are searching for a "Christmas party venue" in the United Kingdom. This is the Google Trends graph that you will get.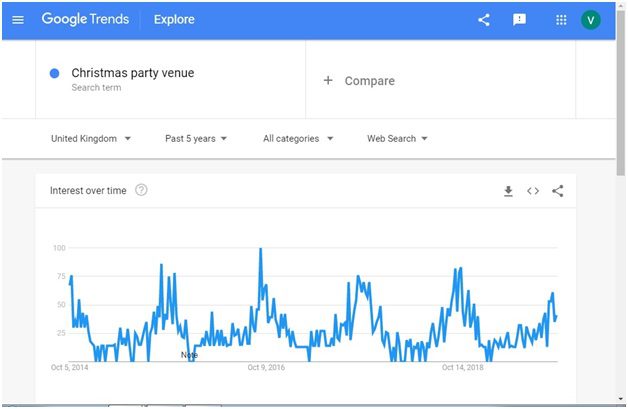 As you can see, the peak demand for the keywords "Christmas party venue" spike up in September. This goes to show that all the Christmas venues in the United Kingdom are likely to be booked by then.
These are the top 5 Google Trend methods for advanced SEO insight. If you wish to get effective results from Google Trends, affiliate with professional SEO services in the USA today!
About Author:-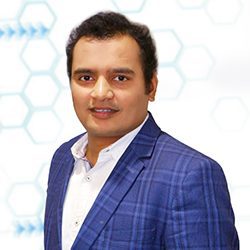 Harshal Shah is CEO at Elsner Technologies Pvt Ltd, Elsner is an SEO services company. Its services include but not limited to Magento Development, WordPress Development, Android iPhone and iBeacon app development & Website Design.