Most of us are well familiar with the term 'Robocall.' But if you don't know what Robocall is, this is your go-to article. A robocall is a phone call that uses an electronic autodialer to pass a pre-recorded message as if from a robot. Robocalls are often compared with political and telemarketing phone crusades but can also be used for public service or emergency communications. In addition, some robocalls use personalized audio voice notes to resemble an actual individual phone call. In 2019, the United States Congress enacted legislation extending the regulation of robocalls.
In June 2019, the telephony-based scambaiting association launched BobRTC, a telephone list that tracks confirmed inbound telephone numbers that reach communication centers operated by obvious robocallers and telephone scams. The service also enables logged-in users to place calls straight to scammers using the service's telephone numbers as the Caller ID, which skirts the user placing a call with their handset, allowing callers to scam bait robocallers.
In its simplest form, this system offers the capacity to prevent further calls from phone numbers once known to cause robocalls. Many mobile apps can block robocalls with a user-generated blacklist.
In addition, various models work on excluding and whitelisting principles. Call blockers gained attention from magazines, including several artifacts. And Consumer Reports in the United Kingdom and the United States.
What is Robocall?
Robocall is an automated telephone call that uses a computerized auto dialer and sends a pre-recorded message just like a robot does it? Though robocalls are mainly associated with a political party and Telemarketing Company, it is sometimes used for emergency announcements and public service.
If you answer the robocalls, your number will be registered with them. They will call you again by targeting you as a victim of their fraud. So don't answer those calls. Robocallers make money by doing this as well as the phone call costs are very low.
It is a problem faced by a lot of people. But don't worry! Some applications can solve your problem. So take a look at the following apps.
Truecaller
Truecaller is the world's best caller ID and spam blocking app. As Robocall is one kind of spam call, this app can block Robocall also. In addition, it can manage all your calls and messages quickly by filtering out telemarketers and other unwanted disturbances. Truecaller is one of the most trusted and popular apps available on the play store, which can make your communication safe, secure, and efficient.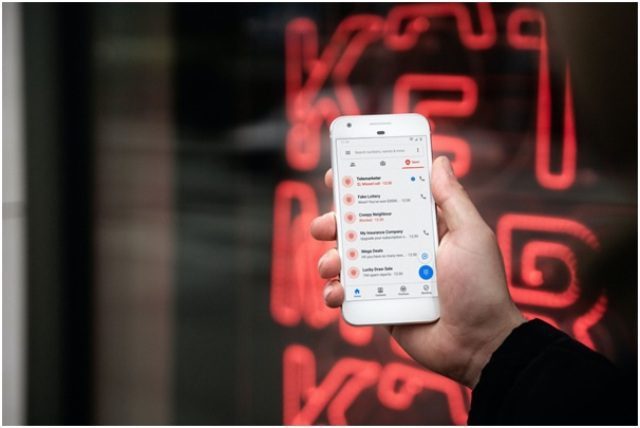 It can detect and block spam and robocalls. It identifies and autoblocks telemarketers, harassers, scammers, fraud, sales, and Robo and spam callers. There is also an advanced blocking option for blocking countries, similar digit sequences, and much more. There are also so many excellent features of these apps you may like, such as smart messaging, call recording, call history, contacts and messages backups, quick mobile recharge, secure money transfer, etc. You can also try its premium version to use more exciting features. Install Truecaller and make use of the best caller experience. We suggest using the true caller messenger app to segregate your messages as spam, important, and promotions.
Size: 38 MB
Ratings: 4.4
Downloads: 500M+
Hiya
Hiya is another great app to block robocalls. It can block spam calls or robocalls, detect fraud numbers and see every caller ID. It can detect fraud numbers and protect you from spoof calls. Hiya always gives you real-time context on who's calling, whether it's your friends or family, robocaller, or a fraud number. You can report spoof calls through the Hiya app. Hiya can detect fraud numbers and can protect you from scammers. Other great features of this app are virus protection and security. Phone number lookup, call blocker and spam alerts, managing contacts.
Size: 8.4 MB
Ratings: 4.3
Downloads: 10M+
Robo Killer
Robo Killer is one of the best robocall blocking apps. It can stop unwanted spam and telemarketing calls. Robo Killer is a spam call and robocall blocker. It helps you filter and control incoming phone calls by automatically blocking unwanted callers and adding them to the blacklist. It marked any robocall, telemarketer, unwanted caller, or phone call as spam with the help of a number blocking audio fingerprinting technology. It can stop unwanted phone calls with the Robocall blocking app.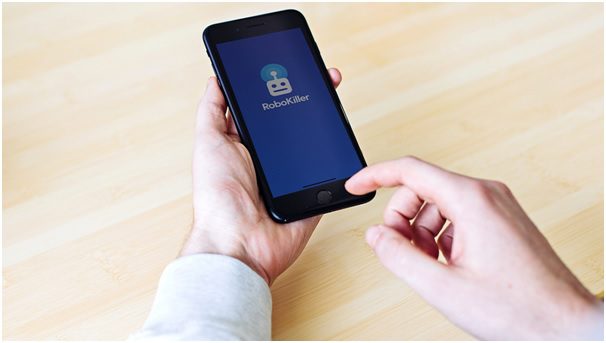 You can control who can call or doesn't call you by using this app. You may like other great features of this application. It is an app for those who hate robocalls and respect privacy. It never sells your data, spams you, or wastes your time. A subscription is required to use the service, but it is completely free for seven days. After that, you can cancel your subscription anytime you want. Install the RoboKiller app and save yourself from fraud calls.
Size: 7.4 MB
Ratings: 4.1
Downloads: 1M+
Call Blocker
Call blockers can identify and block all the spam calls, robocalls, and most dangerous phone numbers. It can block, identify and report suspicious phone numbers. It respects your privacy, and your phonebook will never be public. There are other amazing features also. It can block unwanted phone numbers and report suspicious phone numbers. It can block all international calls if you want and can block calls with hidden numbers.
Size: 4.6 MB
Ratings: 4.4
Downloads: 100K+
Caller ID
Caller ID is one of the best caller ID apps, and it can block robocalls and spam calls. Caller ID helps you to identify unknown callers and show who is calling you. It can block spam calls, robocalls, telemarketing, and unwanted calls. It can display the true caller ID name and region for you. Caller ID will automatically block the number from your blacklist. Caller identification helps identify unknown and private callers. It lets you perform a phone number lookup of any number. The caller ID app scans every unknown caller to protect your security. It cannot sell or share your data with any third-party organization or application.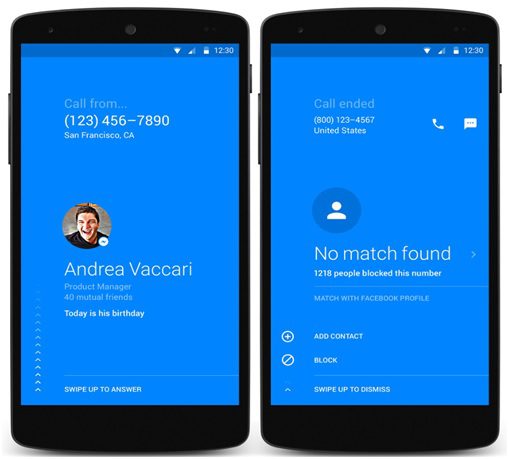 Size: 5.7 MB
Ratings: 4.4
Downloads: 10M+
Mr. Call Blocker
Mr. Call Blocker is one of the best apps to block unwanted calls like spam calls or robocalls. It helps you to block calls you receive from unknown callers. You can see the detailed information about any call you receive and will be able to use the call blocking function to block that number and protect your phone. There are some specific features to this application. It can block unknown numbers, private or hidden numbers. It can block spam or robocalls and SMS using a blacklist. It has a friendly interface, and you can use its whitelist if you want.
Size: 4.0 MB
Ratings: 4.2
Downloads: 10K+
Conclusion
Try any of these apps and get rid of your robocall problem. But if you are suffering from another such problem i.e Online advertisements That these days Pop up as soon as you open any app or website, then this article on various Ad Blocker software can be of immense help. These apps will protect you from robocallers, other harassing callers, and online advertisement cheats.  Save yourself from fraudsters, spam calls and suspicious callers.