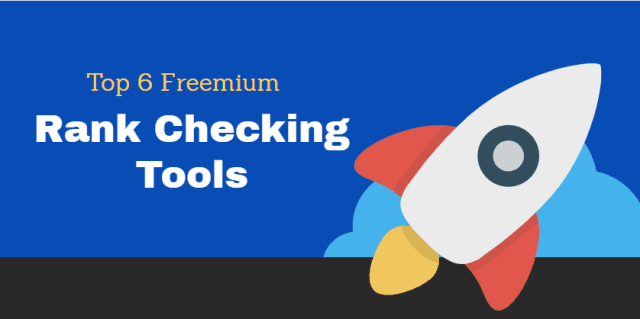 The best way to confirm whether your SEO campaigns are making any progress is to confirm your ranking in the search engine.  You could be putting in a lot of effort but gaining very little in terms of SEO ranking. There comes a time when you need to change your strategy in order to enhance your ranking. The industry has several tools that you can use to achieve this objective. This article presents top six freemium rank checking tools that are available for your use.

Recommended reading: 8 FACTS ABOUT SEO YOU SHOULD KNOW
1. GeoRanker
Business owners use this tool to optimize their SEO strategy by analyzing the local search engine results page. This software presents a professional SEO management tool that helps users to determine their keyword and website ranking based on specific locations such as countries and cities. The tool gives you access to unlimited research data, insights and intelligence from all the available search engines. It also gives smart marketers SERPS and a limitless rank tracking to benchmark and plan their PPC or SEO strategies. Some of the features in this tool include keywords density, local rank tracker and checker, and local citation finder.
Official website: https://www.georanker.com

2. Microsite Masters

This is a marketing search engine tool for developers, entrepreneurs, media analysts, and SEO professionals. You can be able to access both fresh index and historic index once you sign up to the site for free. Some of the applications you will find here include site explorer, backlink history checker, search explorer, and link intelligence API. It can assist you to find potential customers, manage your portfolio, compile pitches, and even report the success of your campaigns. You can use the tool to discover what is out there and who is influencing what in the SEO industry. It can help you to track your social media and SEO and evaluate their success.
Official website: https://www.micrositemasters.com

3. Pro Rank Tracker

This software is very powerful when it comes to finding and analyzing influential blogs and people out there. The site brings together several data sources from all over the web. The software can help you to find influencers, find authority blogs, enhanced results, easy outreach, create projects, export results, save time. You can use the tool irrespective of your marketing strategy. Some of them include product creation, paid search, social media, affiliate marketing, SEO, and public relations.
Official website: https://proranktracker.com/
4. Serpfox
This is a complete SEO toolset that can assist you to enhance your search engine visibility and improve the overall ranking of your site. This tool is very good at giving real link equity insights especially when it comes to the market domain authority metrics. It will allow you to streamline your workflow and save a lot of time. It will break down the data so that you can adapt the right strategy that will assist you to achieve results. You will be able to view the fluctuations in the rankings and have a quick understanding of the competitive landscape irrespective of the search result.
Official website: https://www.serpwoo.com/
5. SERPWoo

This is one of the links to your online success. It is a website optimization platform that also offers real time protection and cushions clients against penalties. Each website has a single piece of the link graph of the world. The tool combines all this information and provided a 360-degree viewpoint of the backlink profile. It combines link date from 25 different sources and do the link data verification. The tool provides very SEO data in a centralized place.
Official website: https://www.serpwoo.com

6. Wincher
The tools can assist you to locate thousands of leads and influencers instantly irrespective of your location. You can reach out to them within a short period and at a minimal cost. It eases your life through influencer marketing, twitter prospecting, cold emailing, link building, blogger outreach, content research, Instagram prospecting, finding podcast guests, collecting contact info, content promotion, finding guest posts, and lead generation. It is a very important rank checking tools for your SEO efforts.
Official website:https://www.wincher.com/
Conclusion
There are several freemium rank checking tools for SEO. Some of them include Wincher, SERPWoo, Serpfox, Pro Rank Tracker, Microsite Masters, and GeoRanker just to name a few. You need to choose a tool that will meet your SEO needs with a lot of precision depending on your industry and size of business.