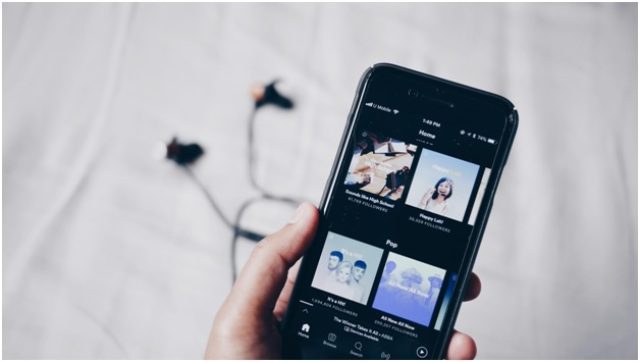 Music streaming apps are the second most used apps, after social media.
There are tons of apps out there in this niche. But how do you differentiate which one to choose from?
Plus, you don't want to consume all of your phone memory just for downloading all of them.
Not to worry as we have done the research and compiled a list of the best music streaming app.
1) Spotify
If you don't already know, Spotify is an app that provides digital music service that you can listen to a variety of artists' songs if they upload their songs on Spotify. You can also search for their music and add them to your playlist and save the songs.
It provides and features a rock-solid experience compiled with tens of millions of songs, podcasts, playlists, and other curated radio stations, and even some video content.
There are two versions of Spotify:
❏Basic/Free Spotify
However, even with the free version, it is much better than most of it's competitors.
Spotify Features:
On-demand, unlimited music.
More apps than anyone else.
Spotify Connect.
Suggested songs + Autoplay.
Daily Mixes.
Collaborative playlists.
Behind the lyrics.
Play history.
2) Apple Music
Apple Music is another subscription-based music streaming service, similar to Spotify. It features over 50 million songs along with playlists, a 24/7 live radio, and you can upload your music and stream it to your device.
Students get a 50% discount ($4.99 per month) while family plans max out at $14.99 per month. That's extremely competitive pricing.
Apple Music Features:
Explore daily recommendations tracks, playlists, and radio-based on genres, moods and also to your listening history.
Play your favorite artist's latest releases, playlists, and collaborations, all from one page.
Watch some of the top music videos and also check out the curated music video-playlists.
Tune in to breaking news and exclusive programming with an all‑access pass to Beats 1.
Get a New Music Mix every Friday, which will be inspired and recommended by the songs you listen to most.
Enjoy a weekly mix based on the music your friends are listening to.
Keep track of what's hot all over the world with global charts.
Just ask Siri to play songs by any artist — or mood.
Receive notifications when your favorite artists release music.
3) YouTube Music
YouTube Music is the same as YouTube but more inclined to a music side. It is a mobile app developed by Team YouTube and provides a personalized user-interface tailored for each individual.
It allows users to browse songs and music videos on YouTube based on genres, playlists, and recommendations.
As of this time, youtube music is available in seventeen countries at the time of writing. It also taps into the untold millions of songs from the main YouTube site – covers, fan versions, uploads, you name it.
Unlike Spotify, Apple Music, and other competitors, YouTube Music is a streaming platform that gives you easy access to official song audio and videos in one single place. It's free to use, but paying for the Premium version gives you a much more powerful experience with a host of additional features.
Youtube paid version cost $9.99 a month, in order to get rid of ads and lets you listen on your phone with the screen off.
However with just a $2 increase a month, and you get YouTube Premium which gives you access to YouTube's original shows and movies.
I would say that as a solid upgrade.
 4) Pandora Radio
Pandora is another music streaming and automated music recommendation internet radio service powered by the Music Genome Project.
Pandora which is the service, operated by Sirius XM Satellite Radio, is available in the United States. They stream or play songs that have somewhat of similar musical traits.
As you can already tell, Pandora is a bit different than other streaming services. It's more like a custom radio station than a jukebox.
Basically, Users create "stations" based on the stylistic similarities between songs and artists, and then Pandora's algorithm plays the music that matches those stats.
If you aren't super picky about what they want to hear right now, Pandora is the gold-standard for online radio. I would say it's a solid alternative.
Simply choose the songs or artists that you know you like to listen to, and Pandora will build radio-like stations around it, giving you similar music suggestions to listen to.
 5) Tidal
TIDAL is one of the very first global music streaming services which provides not only high fidelity sound but also hi-def video quality, along with a playlist of original content curated by experts.
Tidal was launched in 2014 by Norwegian public company Aspiro.
The subscription price for lossless quality is substantially higher than other services, running up to $19.99 per month. Tidal was also promoted as being the first artist-owned streaming service.
 6) Soundcloud
SoundCloud is more of a household name by now with millions of listens a month and is one of the biggest online audio distribution platform and music sharing websites.
It's long been known as the best place to discover new and emerging artists, and it's a great platform for recording yourself and getting your name out there. You can upload and even share your own audio or songs.
Many rappers are even discovered here too. It has got a huge library of songs to listen to.
SoundCloud Features:
Join a music community where you can share tracks and build a collection of your favorite recordings.
Listen to audio online or in SoundCloud's apps.
Add comments to specific times during a recording.
Create your own playlist of favorite songs.
7) Google Play Music
Google Play Music is a podcast, music streaming service and online music locker operated by Google.
It includes a wide variety of music – from mainstream hits to excellently-constructed mood- and activity-based playlists.
It offers all users of up to 50,000 files for free and also to listen to songs through the service's web player and mobile apps.
Google Play Music scans the user's collection and matches the files to tracks in Google's catalog, which can then be streamed or downloaded in up to 320 kbit/s quality.
Conclusion:
Not everyone has a similar taste, but I hope you do find something you like among the list. Some of them offer free listening experience whereas others charge a subscription fee for premium service.
If we missed any amazing music streaming apps or services, let us know in the comments.