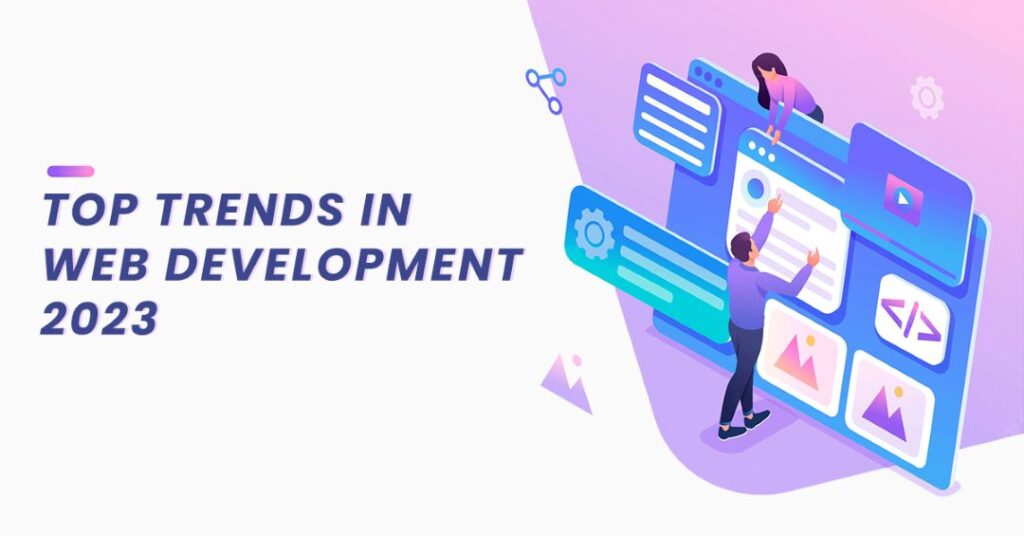 There are more than 1.4 billion websites in the world today. The popularity of websites is unparalleled. Businesses across the world hire web developers to build websites that showcase to the world what they do.
In today's competitive digital market, it is essential for companies to stay abreast of web development industry developments. The question is, where exactly is web development (and design) going at the moment? For the years 2023 and beyond, we have looked into our "virtual" crystal ball and determined what we expect to be the most prominent web development trends.
Dark Mode will become the norm
Dark and low-light websites have grown in popularity in recent years. A lot of consumers prefer to utilize dark mode whenever possible, therefore it's likely that we'll continue to see websites and applications offering dark mode UIs in 2023.
The social media platforms Facebook and Twitter have already adopted this function. These programs make it simple to switch between the two modes so that the reader can adjust the display to their liking.
By 2023 and beyond, this will be the norm as more web designers implement a comparable ability to toggle between bright and dark themes. In some cases, it could replace existing defaults entirely.
Mobile First Development Will Become the norm
More and more individuals are using their mobile devices to access the web and engage with it. In fact, mobile devices accounted for 59.4% of total internet traffic in August 2022. As a result, it's not surprising that many web designers now start their design by considering mobile devices' constraints.
Recent trends in responsive web development emphasize things such as
The importance of a vertical orientation rather than the more traditional horizontal screens used on computers.
The use of meta viewport tags to help browsers resize websites.
The use of CSS queries to alter things based on device capabilities.
The use of methods like Flexbox to create an easily adaptable layout.
Blockchain Technology will be more prominent
Blockchain is essential to Bitcoin, the digital money. In the past decade, cryptocurrency usage has skyrocketed due to Bitcoin's widespread acceptance by major payment platforms. One of the numerous advantages of blockchain technology, which is an encrypted database storage system, is that it increases the trustworthiness and security of financial transactions.
The revolutionary nature of blockchain technology lies in the fact that it eliminates the need for trusted third parties in online transactions. As a result, blockchain technology has the potential to revolutionize many different types of businesses while simultaneously lowering the dangers connected with cybercrime.
Blockchain is a safe method of data storage since its consensus algorithms make it challenging for hackers to access the data. Information is collected and made available to users via a network storage system.
When it comes to managing their projects, web developers can utilize any open-source software thanks to blockchain technology. This greatly simplifies and expedites the development procedure. We can envision a web development future in which we expect more web developers to use blockchain to build their projects.
Shift towards Content Personalization Using ML
Displaying the most pertinent content to each user is the goal of predictive content customization, also known as content personalization. Machine Learning can increase the efficacy of content personalization campaigns.
By allowing software to analyze patterns, predict trends, and personalize content, machine learning (ML) is used in web development to improve the user experience. Major corporations like Airbnb and Netflix employ this technology to better serve their customers' needs in the search engine results page.
By using machine learning for content personalization, businesses may cater to each individual user's preferences rather than focusing on a predefined demographic. Businesses may tailor their material to each individual user by using their data and an algorithm to determine the customer's preferences. Web developers can maintain interest and increase your site's conversion rate easily.
Rise of AI -Powered Chatbots
There's a lot of buzz around chatbots powered by artificial intelligence lately, and for good reason: they deliver excellent returns. They have the ability to provide information, make connections to real-life helpers, and even take commands. Chatbots can reply swiftly to critical situations and address customer concerns. They are readily available and never grumble about having to work late.
As a result of its many advantages over non-AI chatbots, AI-powered chatbots are quickly gaining in popularity. A few of the many advantages of an AI-based chatbot are its ability to understand and respond to natural language, to analyze user behavior, and to solve problems. Incorporating these features, the chatbot can better mimic human interaction.
On top of that, intelligent chatbots that can teach themselves are seen as the future of the industry. Chatbots are increasingly being used in place of human customer service representatives at several companies. Chatbots powered by AI may be seamlessly integrated into enterprise-level websites or PWAs.
Voice Search Optimization becomes the new normal
It is essential to ensure that the website is optimized for voice search in order to avoid missing out on potential clients in light of the significant rise in popularity of devices that are capable of recognizing a variety of different voices. Voice search optimization guarantees that the website is set up in a way that allows voice assistants to locate and explore it without difficulty.
The newest innovations in web development services, which have made it far simpler than ever before to get started with voice-activated self-standing gadgets and voice optimization for websites and pages, are both welcome developments.
Voice recognition is a form of technology that is becoming more widely available and has the potential to cut down on the amount of time we waste. Devices that are outfitted with AI also make it possible for us to multitask.
There will reportedly be 8 billion digital voice assistants in use worldwide by the year 2024, according to estimates. This indicates that optimizing results for voice searches will be an essential part of the most cutting-edge web development technology. The demand for voice search optimization will thus experience a meteoric rise as a direct consequence of this.
Better Cybersecurity
Cybersecurity, which means making sure that data, networks, and computers can't be used wrongly, is one of the most important issues of 2023. Every company, no matter how big or small, is at risk.
According to the content delivery network (CDN) provider Cloudflare, the number of distributed denial of service (DDoS) assaults roughly doubled throughout each quarter of 2020. This kind of attack can result in a significant reduction in revenue, significant amounts of downtime, and damage to your reputation, among other negative outcomes.
With cyber crimes rising at an alarming rate, website development needs to change to make it easier to keep company and customer data safe. We see security practices like application-based multi-factor authentication like Google Authenticator, patch management, and Security Operation Centers are becoming more popular in the future.
In addition to monitoring tools and analytics checkpoints, we'll see more and more non-traditional ways to improve cybersecurity.
Conclusion
Web design and development are always being refined to better serve the requirements and expectations of users. The best way to keep your website fresh in the minds of visitors is to keep up with the latest trends in web design and development. You can do this by hiring an expert website development company that delivers exquisite web products and keeps the web development cost also under control.