As people are growing tech savvy, fintech sector needs to leverage their firm with robust and dynamic fintech applications so that the consumer can get information at their fingertips. More than that, the app must provide them comprehensive solution so that they keep themselves engaged with the application. But, all these things are possible when you have a feature-rich application. So, if you are exploring fintech app development services, this article introduces the top elements that your fintech app should have, especially in 2022. Let's explore;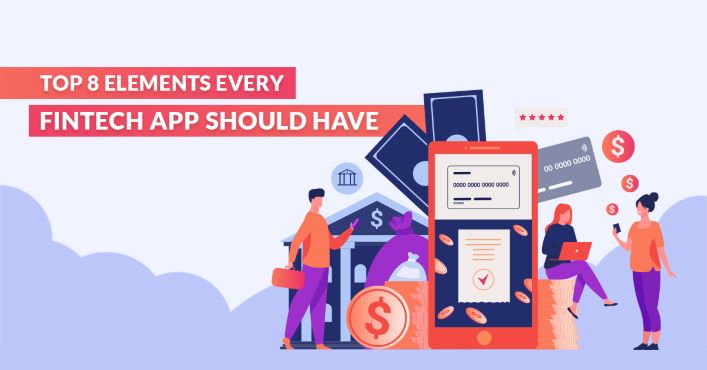 The Tech revolution has revolutionized the way people think about almost everything, and fintech application also isn't untouched. It has transformed the way we look at finances and transactions. With the tech revolution, it's more simple than ever for people to perform various transactions using their mobile phones with a few touches.
Gone are the days when financial applications were used only by the internal team members as an enterprise application, as today's scenario is different. Now, the use of financial applications has extended to the users. Hence, continuous updates and user-friendly features are the need of the hour.
Are you planning to build a Fintech application? If yes, then you must have to make it with care. When developing a Fintech application, there are many aspects you have to keep in mind as you are going to deal with someone's savings. In this article, we're going to give you the top 8 predominant elements that are must-haves for a user-friendly Fintech app.
Keep It Convenient
Fintech is renowned for its speed and power, which makes the functionality and operations convenient for users. It provides state-of-the-art features and services and enables users to manage their financial activities with optimal accuracy.
If you're on the verge of developing a Fintech application, remember not to forget to make it simple. Make it as convenient and straightforward to understand and access as possible so the users will have no hassle when using the app.
A feature-rich application means you can attract more and more users to your Fintech application. Simplicity and flexibility are predominant features and are capable enough of drawing the user's attention and serving their purposes.
Be Transparent
Make sure to be transparent. People have a fear of cybersecurity or loss when it comes to financial data. In such cases it is best that the businesses look to hire FinTech app developers who give them confidence to deliver the project with high-tech security. Fintech applications must be crystal clear about the data they garner and the further actions they're going to take for protection.
To provide your users with assurance, you have to reaffirm actions and gain and strengthen their trust online so that the users can rely on the services you offer to them.
Amalgamate Blockchain & Cryptocurrency
Blockchain and cryptocurrency have a massive influence on the financial industry. The financial industry has witnessed a rapid enhancement in the number of users using blockchain and wallets, and that's why it can be a wise decision to integrate blockchain into your Fintech application.
You can lengthen the horizon and attract and enhance the number of potential customers by offering them the convenience of conducting their transactions using multiple cryptocurrencies.
Using blockchain and cryptocurrency, the users can manage their digital wallets and physical finances using a single application with no hassle. Besides that, the reduction in time and cost, data security, and so on are the massive pluses of using blockchain.
Personalized UI/UX
Offering your users a customized experience will certainly come in handy, so personalized UX/UI does. Building trust with users becomes easier when you give them a personalized experience.
Finance is a crucial thing and matters for everyone; hence, you have to build trust so they can rely on you. If your Fintech application has personalized UX/UI, you can quickly gain their confidence, and your users will depend on you.
For that to be possible, you have to develop an interactive and personalized dashboard that is competent enough to show them the highlights, overview, performance, summarizes, and so on. It should even offer them customized suggestions when required.
API Integration
Users' expectations and requirements increase with time, and you must be prepared to fulfill their requirements. Make sure your Fintech application interacts with other applications and is able to address the need of your users.
Perfect APIs and third-party tools can bring you fantastic user retention as it enables you to integrate features that are able enough to enhance the engagement of your application. Personal finance applications need to be integrated with the user's bank account through open banking initiatives, and without it, users can't do any transaction through the application.
For that to be possible, you've to make sure your Fintech mobile application is competent enough to interact with consumer-facing applications so that your users can manage their tasks using a single platform by interacting with business-facing applications.
Secure Your Fintech App With Biometric Security
Security matters the most everywhere. There is a constant advancement in technology, and you have to make sure your Fintech application doesn't lack any of it. To reduce the vulnerability of your app to cyber-attacks, there is a need to optimize the security level you're offering to your users.
By powering your Fintech application with Biometric security, you can provide your users with the next level of experience of safety when conducting transactions. To provide biometrics, you can have numerous options such as facial recognition, fingerprint input, etc.
By enabling biometric security, your users can feel a kind of satisfaction that they are using a secure platform.
Keep Millennials in Mind
Keeping millennials in mind is a great way to go further. Financial applications target the millennials and digital natives. However, this generation is facing a lack of investment funds. Still, businesses keep these Millenials in mind while developing applications.
The biggest reason for this is that the Gen Z, or millennials, have seen and felt the technology since they began their life and are expected to rely on it more than other generations. As the age group is more friendly with the technology, they expect the technology should be as simple, user-friendly, and fast as possible.
Facilitate The Users With Engaging Visuals
Only allowing access to data isn't quite enough; hence, your Fintech application should appealingly present visuals to the users. The users might not prefer to look at the charts and blocks that aren't attractive in look and feel, or chances are they might not grasp the information like this.
Make sure your Fintech application provides visuals to the users with clear takeaways and suggests them a clear call to action.
Final Thoughts 
Fintech apps have made their lives more straightforward than ever by enabling them to manage their finances using mobile phones from the comfort of wherever they are. Nowadays, people rely on these applications; you have to make sure your Fintech application is easy-to-use, user-friendly, and beneficial for the users.
Are you planning to develop your Fintech application? Then keeping these all elements in mind and applying them too will surely come in handy. These all are must-haves for making Fintech applications the best for users. Leverage these elements and grasp more and more!