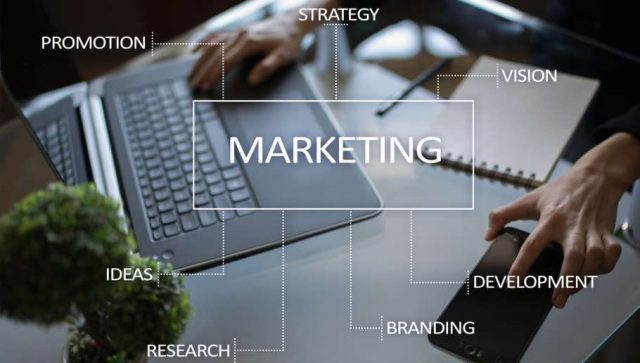 Internet has brought in a lot of advancement in the field of business. Anyone can become an entrepreneur and start a new business with minimum investment with the help of internet. However, this open opportunity has been a major cause of excessive competition in the field. There is a lot of competition and this makes it hard for the business to attain a stable position in the market. Also, it puts pressure on the business owners to improve their marketing strategies as advertisement alone cannot stand the immense competition.
One of the most effective tactics that businesses use nowadays has also been come forth with the help internet. Digital marketing is a relatively new marketing strategy and yet it has the potential to provide businesses with exceptionally good outcomes within no time. Digital marketing does not only work for huge corporate giants but also for the small business. Local businesses can benefit from digital marketing in order to attain their marketing goals and establish in a short duration of time. This article is to present small businesses with a list of digital marketing tips that can help them have an outstanding brand image along with good sales:
E-Store
In this modern era, people spend more time on internet than they spend on shopping. Also, there are a good number of people who find it difficult to visit markets physically. Having e-shops allow a business to cater more audience and be available at a click's distance for the customers. It can boost the sales to a great extent and make you grow much faster. Make sure you have a good website where you display your products online.
Use Social Media To Promote Your Business
Social media is one of the effective platforms to promote your business. It requires minimum investment but the amount of profit that you can achieve with this is enormous. Social media reaches out to different people and targets audience who it thinks might have an interest in your products. It spreads the information about your business on a large scale as the platform is richly interactive and promotes passage of information greatly. People can share the information with others that multiplies the number of people get to know about your product just with one post.
Strong SEO is Essential
SEO is one of the most influential aspects of digital marketing. It is one factor that determines how much presence you maintain online. The more you are visible online, the better it is for your business growth. This is why it is important to be attentive towards your SEO strategies and have maximum online presence. You must hire a good SEO strategist for your business if you can afford. Otherwise, you can hire freelancer who will do the job at a lower price.
Good Customer Services
Many huge businesses tend to have business secrets that are based on basic business values. Good customer services are one of the very basic business value and it can impact your brand image significantly. Simple practices like having a good representative staff and polite customer dealers can make great difference. Also, have a functioning system of having reviews on your products and give importance to the customers' feedback as it counts as good conduct in customers-business relationships.
Add More Videos
Along with written content for marketing, make sure you add videos too. There are many reasons why you should add videos in your marketing strategy. Videos are credible as they present a physical narrator of the messages that it conveys. They improve you're the user-experience on the website. Also, they are more sharable as the audience share them over different social platforms as well as one-to-one communication mediums. Moreover, you can use animations that deliver the brand values and build more efficient brand image. Anime characters give you an opportunity to exhibit your business in a personified manner. There are several good online 3d anime character creator that can assist you with the process and make you have a good animated video as well.
Target Right Audience
The content that you post at different platforms must be relatable for your target audience. The method that you should use for targeting specific audience is that you should conduct research and find out the problems of your target audience that can be resolved with the help of your products. Then, make their problems at the base of the content and provide the solution as well. This method will include both, your audience and your product and it will be useful as well. You can implement this whole idea on different types of digital marketing. Moreover, do include a good call of action in your content to get the most out of it.