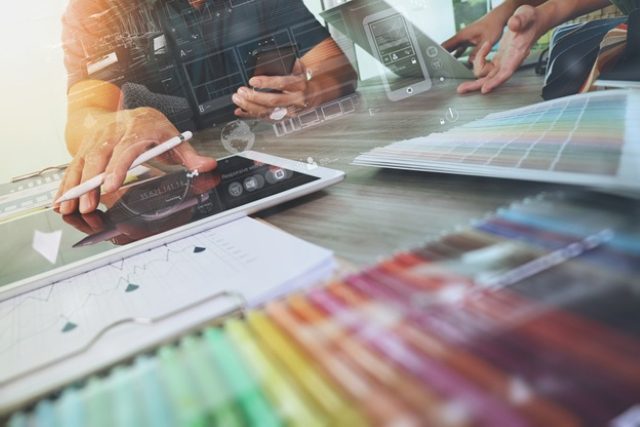 Do you prefer images over text?
Well, pictures are more interesting for the majority of people out there. In fact, even the people who prefer text do not have the time to read long paragraphs anymore! What does this mean? We are in an era where graphic-driven information has almost taken over plain long texts.
Graphic designers are now high in demand. In fact, graphic designing is one of the most profitable skills to have right now. The best part is that you no longer need to have a hi-fi degree to enter the graphic design world.
Are you also fascinated with the field of design? Thanks to the Internet, there are numerous free resources available for you to explore this domain. All you need to do is learn the basic rules and start practicing with the free tools that interest you the most.
First, let's see what graphic design is and highlight its basics.
What is Graphic Design?
Graphic Design refers to the art of presenting ideas and information with the help of visual techniques. A graphic designer is a visual communicator who uses a combination of images, texts, colors, symbols, and much more, to deliver a message to a targeted audience in an effective manner.
Simply put, Graphic Design gives visual life to different concepts and ideas. Apart from being a form of art and expression, graphic design has crucial commercial purposes too. It is now one of the most important ways companies connect with their current and potential customers. To be more precise, Graphic design helps businesses to:
Develop brand identity
Spread brand awareness
Promote and sell products
How are designs created? Graphic designs are a mixture of basic elements line, color, shape, space, texture, typography, scale, dominance and emphasis, and balance. Together, these elements form an appealing image to convey a particular message.
Types of Graphic Design
Graphic design is an unbelievably vast discipline. There are numerous areas of specialization, each of which requires a particular set of skills and techniques. The most popular branches of Graphic Design are:
Marketing and Advertising Design
Marketing designers are responsible for creating marketing material in both, print and digital. It includes print ads like posters, billboards, flyers, catalogs, and packaging and digital ads like television ads, video ads, or social media posts.
More complex than Marketing Design, it involves designing a website's complete layout and structure. Website designers have to handle the user interface (UI) as well as the user experience (UX). Their goal is to create a website with appealing and user-friendly web pages.
A highly trending part of graphic design! It takes visual elements to the next level by bringing them into motion through special effects. Animations, banners, title sequences, trailers, or video games; all come under the umbrella of motion design.
There are publication designers who deal with the layout and typography of books, newspapers, magazines, and catalogs. Then we have environmental designers who handle complex projects like projects such as public transportation navigation, retail store interiors, signage, and office branding. Illustration designing is another elaborate branch of graphic design.
Top Free Graphic Design Websites
Vectr
A website that allows you to produce graphics directly from geometric shapes defined on a Cartesian plane, like points, lines, curves, and polygons.
If you are a beginner, Vectr is a great tool for you to polish your skills. You can create mockups and info-graphics here. Being an open-source image editor program, the features of this website makes vector graphic editing simple. Moreover, its multiple-layer arrangement allows you to stack, define, and combine multiple images over each other.
GIMP
Here is a multi-featured graphic design tool for all those who love to experiment with graphics!
GIMP is a raster graphics editor. Raster graphics are two-dimensional images produced as a rectangular matrix or grid of square pixels. The core features of this program are image manipulation, image editing, free-form drawing, and transcribing between different image-file formats.
This program has great options allowing you to create animations, gifs, and mirror images. However, it comes with a steep learning curve which means you may initially find it a little tricky to operate.
Canva
This is the highest trending platform for graphic design right now!
Highly simple to use, this app is a must-try if you have no previous experience in design. Most importantly, there is a huge library of templates that you can use for inspiration. It allows you to create all kinds of graphics with the basic drag and drop interface.
From business cards and logos to social media posts and presentations, you can design it all on Canva! Moreover, there are free courses and tutorials available for you to learn all about design.
Inkscape
Inkscape offers you versatility and flexibility, both combined into one!
This is another vector graphic software specially designed to develop the interest of beginners in design. Firstly, you can create objects here, using pencil tools, shapes, text, and embedded bitmaps. It further allows you to manipulate objects through transformations like scaling, rotating, and skewing. Moreover, you can also perform Z-order operations like raising and lowering. Other interesting features include color selector, color picker, multi-stop gradient editor, and dashed strokes.
PhotoPea
A free alternative to Photoshop!
Photopea is a completely web-based platform for both, vector and raster graphics. It runs without plug-ins, mainly used for photo editing and web design. Plus, it also supports the creation of complex illustrations. Another noteworthy feature of this software is the conversion of files between different formats, making it easier to access the type of file you need. With Photopea, you can experience working with a variety of masks, layer styles, and smart objects.
Conclusion
Learning design is not just one of the trends that come and go. This trend is here to stay! Make the most of these free graphic design tools and become a self-taught graphic designer. You are definitely going to have fun with the tools mentioned above.
About Author:-

Linda Hartley is a digital marketing manager at Appstirr, who loves to write content on the latest topics, including Blockchain, B2B business models, application development and much more.