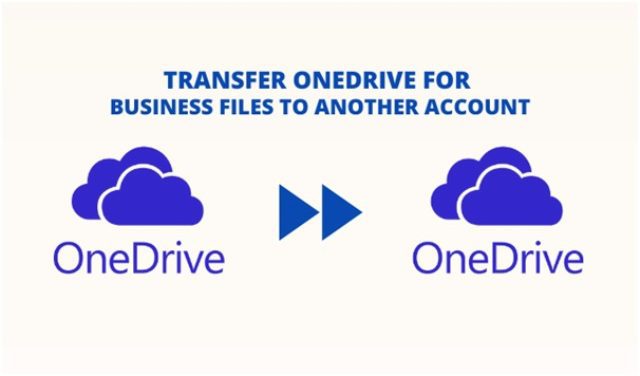 Are you looking for an easy way to transfer OneDrive for business files to another account in Office 365? Are you confused about whether you should put your important data in the migration process or not?
Don't worry my friend! In this article, we will provide you a quick and easy solution to perform the same.
Let's understand the situation better and go through a real-life user query first.
User Query:
Looking for suggestions! I need to perform a migration that involves around 10 TB of OneDrive data for 700 users of OneDrive for Business. There is nothing that I can find which is helpful enough. Even though I have access of their OneDrive data, but I don't want to perform this task manually. Is there any automated way to transfer files from OneDrive to OneDrive for business?
Scenario:
Due to the massive adoption of Microsoft Office 365 and the increased rate of the merger, and acquisition activities, leave enterprises dealing with multiple types of data migration in Office 365 including the export business files.
Here, we are going to discuss, the best possible solutions, to do the same in Office 365.
Different Ways to Transfer OneDrive for Business Files to Another Account
There are two ways to execute this migration project in Office 365. Either using the manual method through PowerShell, or by using an automated tool for it. However, the manual method migration is a laborious process, requiring users to login in to the various places with user and admin credentials.
Moreover, PowerShell cmd lets scripts require good technical knowledge to execute this process. Also a small mistake in these scripts can result in multiple errors. The organizations should also understand the downtime involved in this process, as it can create a temporary communication halt. Hence, it is suggested to use trustworthy and error-free software, which can carry out this project easily.
Reliable Way to Transfer Files from OneDrive to OneDrive for Business
It is recommended mostly by industry experts to use a professional automated utility over the manual approach, to execute this type of migration project in Office 365. Therefore in this situation, we will suggest you the O365 OneDrive Migration tool; a 100% safe, secure, and quick solution for the migration in O365.
Users can painlessly execute this type of data transfer with the help of this utility with 100% data protection and integrity. It ensures a smooth and seamless data transfer experience to its users.
Steps to Transfer OneDrive for Business Files to Another Account
This utility is programmed in a way so that it can perform multiple types of migration projects in Office 365. With few clicks, users can execute the whole process without any hassle. Follow these steps in order to complete the migration project in Office 365.
Step 1. Just download the utility and open it. Here, you can see the different migration platforms are provided in this software. To initiate the process, select Office 365 as source and destination platform.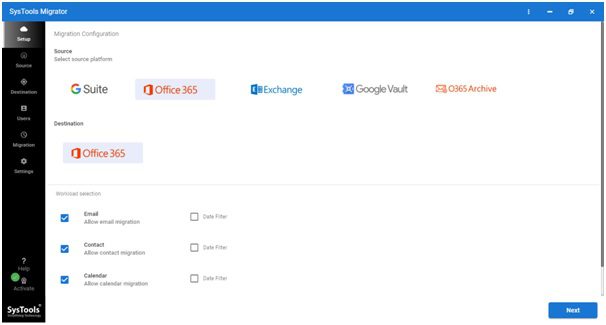 Step 2. This software can carry out multiple migration projects, for this migration project, check the document option from the screen and enable migrate document permissions. By using the date filter option, provided in this utility, users can easily transfer data selectively according to the desired date.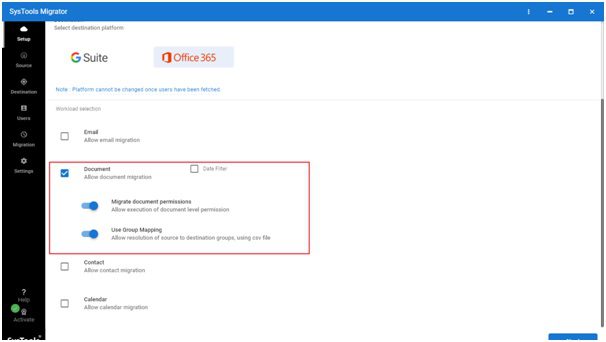 Step 3. In this step of the process to transfer files from OneDrive to OneDrive for business, users need to validate the permissions, and in order to do this, they need to log in with source and destination Admin ID and Application ID and then click next.
Step 4. This utility provides us three options to create user mapping such as Fetch Users, Import Users, and Download Template. Select any of them and create the mapping.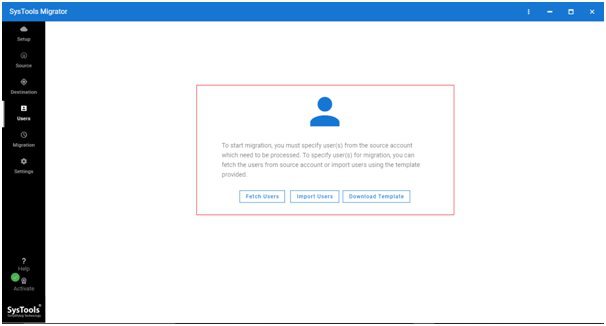 Step 5. At the last, click on Validate buttons in order to validate permissions, now you are ready to go. Click on the start migration button to start the transfer of OneDrive for business files to another account.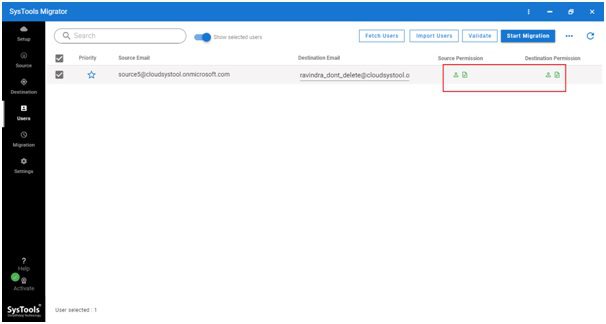 Trial Edition
Are you thinking to use this utility to transfer OneDrive for business files to another account free of cost?
Fortunately, this utility comes with a trial edition, users can avail of the trial edition and can check the working of this utility. Users can get complete knowledge of this utility without paying any money. With this free version, they can completely migrate data for two OneDrive user's accounts. And for further migration project, they need to purchase a license which is available at affordable price.
Final Thoughts
To transfer OneDrive for business files to another account can be a pretty easy task, if you use the right approach for it. Therefore, in this article, we have successfully provided an easy and quick solution to perform this operation in Office 365 safely.
By using the above-mentioned utility users can perform the exportation process easily, with maximum data protection.