Looking for the best Office 365 backup solutions and don't know how to avoid the data risks? Then just relax! In this technical guide, we are going to provide optimum solutions to your problem. The methods used in this article will let readers know how to take backup of office 365 mailboxes and data without much trouble. So, let's get started.
Technique Provided by Microsoft to Backup Office 365 Mailboxes
Office 365 has a utility named as eDiscovery Tool; no longer stranger term for O365 users. Its prime responsibility is to locate and deliver digital information as evidence in legal or court cases. As well as, it can find the content in Exchange Online mailboxes, Microsoft Teams etc. and hold that information for a specified time span. Plus, if a user wishes to export the searched data, then install eDiscovery PST Export tool and download the content in a PST file on local machine.
Wait! Use of eDiscovery Tool is Not As Smooth
Huge number of Microsoft Office 365 users complained that the tool has a downloading problem or not started properly. Adding to it, the eDiscovery utility hangs while exporting a large amount of mailboxes. Here, we show some real-life problems faced by MS Office 365 users while backing up mailbox data in PST.
Case 1: Export Process Completed With Errors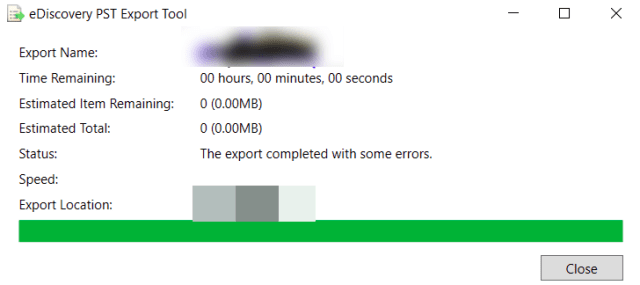 Case 2: When Application Not Started Properly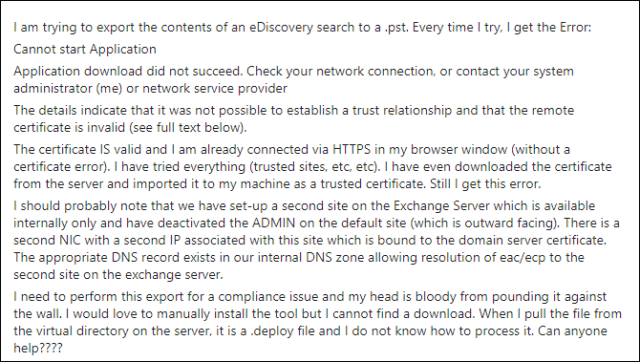 Case 3: Getting Error While Accessing Resultant PST File

As we have seen above various example where eDiscovery tool fails. Hence, we cannot say that this technique is 100% efficient for backup purpose. Do not worry! An alternate tool to backup Office 365 data is available.
How to Backup Office 365 Mailboxes in Seamless Manner?
To overcome every limitation of eDiscovery tool, a software is developed named as Office 365 Backup for Office 365 email archiving. This tool is devised to backup Office 365 emails and documents on the specified local drive or network drive. Users can even include or exclude specified documents from the export process by using Document Extension Filters. User only needs to enter the file extension under this filter section.
You can download the free version of the software here:

Note: The trial version of Office 365 backup software can backup up to first 100 emails and 25 other data items like documents, contacts, calendar entries etc. from your Exchange Online account to local storage. 
Amongst all, the greatest thing that attracts the most in this utility is Schedule Option. With the help of this functionality, one can take backup on the basis of time-
Backup Now: This feature provides the functionality to save Office 365 mails instantly.
One Time Backup: This option lets users to plan complete backup on a specified timeline.
Daily Backup: This option is meant for that situation when there is a requirement to backup emails and document on daily basis.
Weekly Backup: It creates backup of Office 365 mails on the basis of week.
Monthly Backup: In such a situation, when there is a need to copy Office 365 mails on monthly basis, then use this option.
Apart from these, when user wishes to export the backup data, then it can be easily done by the software. One can extract the mails and document in PST format. This file format is further importable in desktop-based Outlook via. Import Export wizard or Office 365 using Network upload or Drive Shipping method.
Let's See How Office 365 Backup Tool Saves O365 Mailbox Data
Step 1: Start the software and enter Office 365 credentials. Then, click on Authenticate to validate the account.
Step 2: Select the data items that you want to backup i.e., Mails or Documents. You only need to check the box corresponding to desired data item to backup Office 365 mailboxes.
Step 3: Time to opt for schedule option and Browse a location for resultant file.
Step 4: At last, click on Finish to initiate the process.
Now, witnessing all the amazing features of the software, I figured out that backups of Office 365 data are really important. And tools like Office 365 backup make it a lot easier for users to keep a safe copy of Office 365 data items. Not to forget the importance of backups of crucial data, we must make a habit to keep a safe copy with us, applies to every data other than just Microsoft Office 365!
Time to Conclude
Losing important data has its own risk. This is the reason many folks want to know how to take backup of Office 365 mailboxes. Therefore, we have discussed above a reliable method that easily creates a backup copy of O365 mails and document within few mouse clicks. So, try this workaround and forget to worry about losing your data.