The thing that scares one the most when working on computers is whether the data is safe or not. Would someone steal your files and important documents? You would want to protect your data from unauthorized users. For this reason, you would have several passwords for your computers. However, sometimes, this can turn into a pain when you forget your password.
In order to solve this problem, people usually think that if they reinstall Windows, they will be able to use their computers again. However, there is good news for all people like me who usually forget their passwords. Instead of reinstalling the OS, you have another solution to this problem through which you can reset your password.
You can use UUkeys Windows Password Mate as it is one of the greatest tools that can help you get your password for Windows back in a few minutes.
Features of UUkeys Windows Password Mate
Following are some of the features that UUkeys Windows Password Mate has which would make you appreciate it and use it to solve your password problem.
Usually, there are huge manuals that one has to read before installing a software. However, this is not the case with UUkeys Windows Password Mate. You don't even have to have technical know-how for installing and using the software. It has been designed keeping in mind that people don't usually have technical information or have the time to read hefty manuals. Thus, it has a clean and simple interface. Anyone with the basic computer information can access it and reset the password.
Instead of reinstalling Windows, you can reset the password without any hassle.
The software is absolutely safe. It was designed to make sure that it wouldn't harm your system in any way.
No matter which Windows you have, you can use this software to reset your password.
If you aren't sure that it would work for you, you can always download a trial version. It comes with a lot of features but not as much as the paid version. Once you are satisfied, you can buy the full version.
How to Use UUkeys Windows Password Mate?
However awesome the software might be, it would be of no use if you don't know how to install and use it. The good thing is that even if you have a very basic knowledge of computers, you would be able to work with UUkeys Windows Password Mate easily.
To make your life even easier, here are the steps that would help you understand how the software actually works.
The first thing you have to do is to get the software downloaded on your computer. You have to install it too.
Once you have successfully installed the software on your computer, you are required to create a password recovery disk on either a CD or a USB.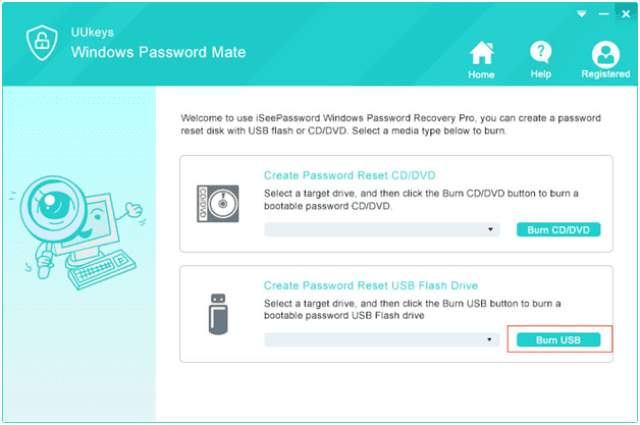 At least 300 MB free space should be available on the disk so that you can copy the ISO image easily. Now, your recovery disk is ready. You can plug it into the computer where the recovery of the password is needed.
Go to the BIOS setup after this. Then, go to the boot section to make sure that the computer would boot through the USB that has been connected.
Now, you are required to reboot your computer. After this, you would have all the user accounts in front of you that are on the computer. You can select the account whose password you need to reset by clicking on the reset button.
When you click on the reset button, the password would disappear, and the slot would go blank.
You can now take the USB out of the computer and switch on the computer. You wouldn't be asked to make another password at that time. As you have reset your password, you would be able to use your computer without a problem. You can create a new password anytime you want.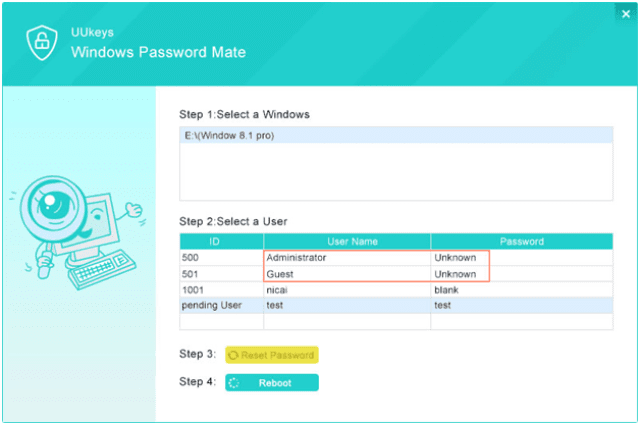 Conclusion
If you are one of those people who forget their Windows password frequently, you have to get a copy of  UUkeys software as it can make your life a lot easier.  In addition, their support is very responsible and you can get fast reply from its official website.