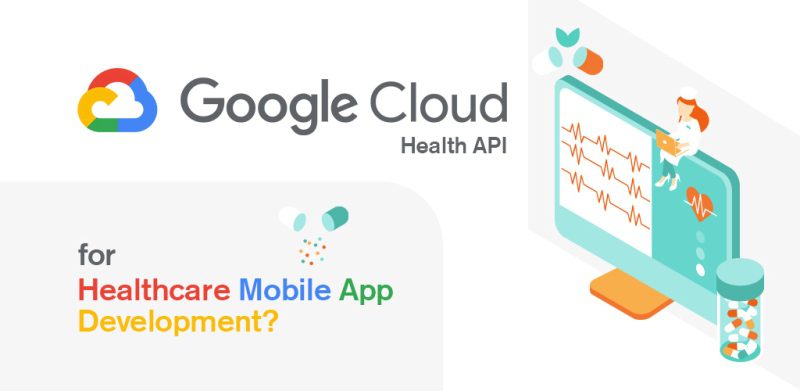 Ever since Google released the cloud health API, healthcare mobile app development has turned to this new feature-rich API with great enthusiasm. A vast array of leading medical facilities and healthcare service providers have turned to Google cloud healthcare customers. Considering the enormous and era-defining potential if the new API, it was quite expected, and there is nothing to be surprised about it really.
Basically, Google announces cloud healthcare API to unlock health data with the objective of utilizing medical data to deliver more efficient and customer-centric healthcare services. This became a giant leap forward towards digitizing healthcare industry to the advantage of the vast majority of patients and medical facilities. This free healthcare API can truly transform the way medical data is accessed and utilized by healthcare facilities across the world.
The API has basically come as the frontal entity of Google cloud platform healthcare facilities are trying to rope in for a long time. The API can be a game changer for medical and healthcare apps in general, but if you are a novice to tech industry you can take GCP consulting services to get your healthcare facility in the cloud. Let us now begin our discussion with the key features of this API.
Google Healthcare API Features
Before going into the details of the huge implications of Google healthcare API, we should have a look at the key features of this API. Here we describe the primary features along with their respective benefits.
Conforming to existing standards: The new API fully conforms to the existing standards of data uses. The API perfectly conforms to the standards like implementing modality-oriented API, using current FHIR specification, using DICOMweb which is a web standard for utilizing medical images.
Compliant to privacy norms: The new healthcare API from Google comes with full compliance to standard data privacy regulations as specified in industry certifications such as ISO 27001, ISO 27017, ISO 27018, etc.
Ability to control data storage location: In any API, the location of the data comes as a core element, and in case of Google cloud health API you can easily select a storage location for each data set.
Robust security: The new API comes well equipped with the Identity and Access Management (IAM) system of Google to deliver total control concerning access and permissions. Apart from this, there are open source proxy applications to detect and prevent data threats.
Robust data import and export: Thanks to the DICOM and FHIR modalities of the API, the developers can enjoy unhindered data import and data export to and from the Cloud storage.
Apart from all the features mentioned above, the new API offers great scalability to meet various needs, suitability of data sets to ensure total access control and evaluation of audit logs. Finally, the API offers great data availability through a highly redundant infrastructure.
How can The New cloud API Digitize the Healthcare System?
Cloud computing solutions are preferred world over as inexpensive and performance-savvy solutions to replace traditional in-house professionals and their services. Cloud computing while automating the processes and thereby boosting efficiency always keeps the cost at a minimum level. This is why, data-centric industries like that if healthcare is increasingly embracing cloud solutions.
The latest Google cloud API for healthcare has only come as a ready solution to leverage the benefits of cloud for healthcare services. Let us have a look at the three prominent benefits of cloud API for building healthcare mobile apps.
1.Cost Advantage
With a cloud API powering your mobile data infrastructure, the healthcare facility can be in total control of delivering services as per the demand. A medical facility instead of making a big investment on several services at the same time can scale up slowly, and app developers in India can help them starting with an on-demand healthcare app focused on specific service. This ensures excellent cost advantage and flexibility for medical startups.
2.Ensuring Operational Ease
With a cloud API being available to deliver on-demand medical data, certainly, the operational efficiency will get a significant boost. As your healthcare business moves up the spiral in complexity and demands, you can take more cloud space and scale up data usage to deliver specific medical solutions.
3.Functional Benefits
Cloud API offers a whole array of functional benefits including the great interoperability. The accessibility of healthcare data across different locations and interfaces throughout the globe ensures great utilization of talents and resources in many medical care providers and organizers who have a global presence.
Key Things to Remember for Integrating Google Cloud Health API
You are already excited about utilizing this new API to the advantage of your healthcare app, and it is quite normal. But when integrating the API, it is advisable to remember the following aspects.
Access Control: To implement access control for the API, you can set the rules both for individual data sets and also with the respective storage location. It is advisable to keep all data for a specific app in a particular location instead of keeping them in a dispersed manner across various locations. This will help to boost the accessibility of data.
Source System: You should also separate different data sources into different data sets to allow easier processing of data for various purposes.
Grouping Datasets As Per Intended Uses: Data coming from various sources can also be utilized for different custom and intended purposes such as analytics, research, etc. Grouping together data as per intended purposes and users can make the system more efficient.
Google Cloud Healthcare API has arrived with a lot of promises to boost the efficiency of healthcare mobile apps and pushing for the next level of innovation based on healthcare data. It is quite probable that the new API is a starting point for the next round of data-driven innovation in the healthcare industry.
About Author:-
Juned Ahmed belongs to the most creative field mobile app design and developments also co-founder of IndianAppDevelopers, leading mobile app development company.  He is obsessed with app developers for the latest trends and technologies they are using for Android and iPhone application development.