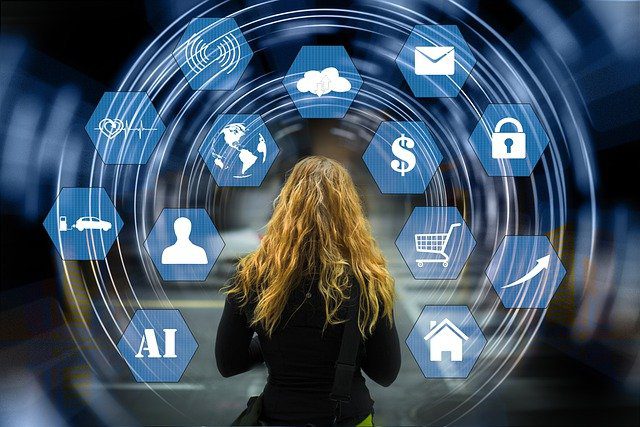 When you hear about AI-powered matchmaking, what clicks to your mind first? Software used in dating apps or a tool that resolves the toughest algorithm within a fraction of time. Well, both can be true. AI matchmaking is a networking software that effortlessly mimics the actions of human entities and anticipates tasks that need reasoning, problem-solving, learning, and perception. To give you a quick idea about how it works, answer this- Do you receive movie suggestions from Netflix, or do you seek help from google assistant or Siri to resolve your queries? Of course, yes! That's the most appropriate example of AI-powered matchmaking.
Experts believe that this networking software has been observed to have grown by 160% in the previous year. Believe it or not, we do come across artificial intelligence (AI) almost every day without noticing it. As technology keeps on revolutionizing in the landscape, there is no untouched area where AI-matchmaking has not marked its presence. Similar is with events, and artificial intelligence helps event organizers to host an impactful and unforgettable event while also improving their attendee's engagement and business operations. Now, a few still don't have a proper understanding of the role of AI matching in the event industry and how it will effectively define your event success. If you come under the same category, this blog will seamlessly cover all your doubts and allow you to get a better understanding of AI matchmaking software.
What is Artificial Intelligence?
The origin and definition of Artificial Intelligence have been referred to as knowledge and interests portrayed by a digital machine. This means it completely deducts the algorithm of emotions and consciousness! It moreover has some extraordinary power to crack the most challenging problems with little or no time.
AI-powered matchmaking generates information provided by human beings to the machine. On the basis of this information, the software then carefully analyses and interprets the given data and separates the given information into different sections as per the event requirements.
To operate well, or even to function at all, AI requires a large amount of data. Machine Learning (ML) is an important AI technique that examines thousands of data points at breakneck speed and generates suggestions, forecasts, and correlations.
AI can provide you with highly customized solutions. Deep Learning Algorithms are used in AI's matching ability to link two nearest items. In matching, they seek, analyze, and compare millions of data points. They present you with alternatives or suggestions in a prioritized order. The concept behind this technique is simple, yet it has a surprising amount of power and effectiveness.
Impact of AI matchmaking on your event
This intriguing feature greatly helps the exhibitors in any AI-powered virtual event. Simply put, the AI matchmaking technology compiles a well-crafted list of all virtual guests. This list contains valuable data about a person's name, interests, and companies. This information is also given to the exhibitors during an online or hybrid event.
Following that, the exhibitors review the list of registrants and quickly contact those who are interested. AI matching, on the other hand, connects participants at an online event with good prospects, time-saving.
In a nutshell, AI matching allows exhibitors to contact and connect with all of the prospects that are engaged. Exhibitors can also organize meetings with them at their convenience. This feature offers several advantages for the organizers, exhibitors, and attendees. We've compiled a list of ramifications to consider before implementing an AI matchmaking tool.
Accurate data
AI-networking software is a sophisticated feature that uses artificial intelligence to perform. Artificial intelligence is a dependable instrument since it is fully computerized, as we mentioned before. During your online or mixed event, the AI matching tool keeps track of a number of factors. This data is kept in the safest and most secure manner possible. As a result, you may put your entire trust in the statistics and amount of figures supplied by AI matchmaking systems.
Reduces time consumption
AI matching software has a remarkable capacity to comprehend data. In hybrid or digital events, AI matching can be a fantastic way to evaluate precise data without any big drawbacks. Because AI matching is based on artificial intelligence, the operations are made in a fraction of a second. This option enables businesses to save time by preventing them from wasting it. As a result, AI matchmaking systems improve an event's efficiency and accuracy.
Promote Networking
In a hybrid or virtual event, all of the virtual participants are looking for networking techniques. Exhibitors may effortlessly contact the specified prospective audience via AI matchmaking. This strengthens their relationship and allows them to speak freely as needed. AI matching is a fantastic option for expanding your networking management and reaching out to a broader audience.
Boosts Analytics
Access to correct information is made easier with AI matching. As a consequence of this information, reliable analytics are produced. Suitable and accurate analytics may undoubtedly be a useful element for any company. AI matching aids in gathering information about visitors, such as their topic of focus, preferred exhibitors, and so on. This is a fantastic feature since it allows you to fully grasp the many facets of any event. When a company does frequent analysis, it may identify both its strengths and flaws. This might be advantageous if you wish to quickly address your mistakes and implement remedial actions.
Over to you
Our focus has completely shifted from physical events to virtual and hybrid events. This change in trends has extensively given rise to many new tools and technologies. Even though AI matchmaking is an old practice used in almost every application, it plays a major role in the arsenal of the event industry. Experts believe that it is a must feature to inculcate in a hybrid or virtual event to build efficiency. Without any doubt, artificial intelligence has upscaled the entire journey of events and has helped organizers to make their event a great success. The convenient tool allows exhibitors and attendees to interact with interested individuals seamlessly through a list curated by the machine.
Magnify your reach and generate potential leads with the help of this feature. In the above-mentioned, We trust that this article would be exponentially beneficial for you and will help you expand your knowledge hassle-free.