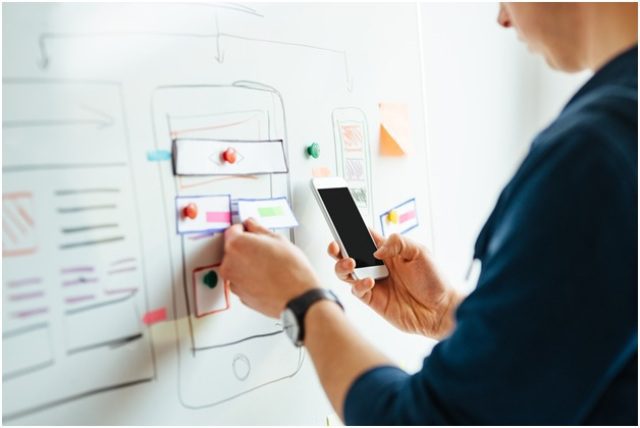 Today's digital landscape is crowded with rapidly emerging technologies that are turning businesses to automation and higher productivity than ever before. Among these emerging technologies, mobile app development is on the front seat to fuel up businesses and cater to a larger audience.
Mobile applications are booming with each passing day in this hyper-competitive global business market. According to Statista, more than 1.5K applications are added to Google and Apple stores every day. Hence, not moving with the latest innovations means you are creating obstacles in the success path of your business. If done rightly, you can unleash the true potential of mobile apps and grow your business exponentially.
Mobile Apps are  Integral for Business Survival
The Smartphone user base has been growing globally at a noticeable rate. The mobile market, with immense growth potential, is capable of growing the usage of mobile-based technologies and applications. Whether it's shopping, music, communication, ordering food, or booking hotels, mobile applications have completely changed our lifestyle. Therefore, it makes sense for businesses of all scales to offer mobile apps to their users and engage with them effectively.
This blog contains some of the top reasons why mobile apps are crucial in making your business successful.
Mobile App Provides Convenience to Users
Gone are the days when people needed to open their desktops and go to web browsers, type in the URL, log-in to their account, fill lengthy forms, and make purchases By offering an app to your users, you can provide customers information and data in a hassle-free manner. Today, customers want mobile apps with fast, convenient, engaging, and user-friendly design. Mobile applications are a readily available solution to offer an incredible user experience.
Boost Your Brand Awareness
In today's competitive world, mobile applications serve as a powerful tool to communicate with your audience and enhance their visibility. It gives a platform to interact with your audience effectively and foster customer loyalty.
An app is just like a billboard sign: you can customize to make it user-friendly, functional, and informative. However, your primary goal should be building a well-designed and branded app with all the features that users will love.
Mobile Apps Increase Revenue
Mobile apps for your business significantly enhance user experience by making the buying process more convenient and simpler. This convenience leads to high returns on your investments and boosts your sales cycle.
A report from Statista has shown that mobile apps will generate a revenue of over $189 million by 2020. This clearly indicates that businesses should opt for mobile apps to get maximum profits.
Opens New Marketing Channel
Companies with mobile apps for their businesses have a positive impact on the users' minds. With a lot of noise on social media, mobile apps assist you in reaching out to the relevant audience and market your products/services effectively. Mobile apps provide engaging features, including company information, social media handles, search feature, live chat, and more.
Mobile apps provide everything on the fingertips of your customers. Additionally, with push notifications, you can directly notify your customers about your upcoming special offers, discounts, new products, customized deals, and more.
Provides Business Analytics
One of the major benefits that mobile apps offer is insightful business analytics to your target market. An app helps you in analyzing the browsing history of users and in analyzing their behavior according to that data.  These analytics help businesses in identifying problems or hurdles in making purchases, underlying interests of the users, and more. The data collected plays a major role in making important business decisions in the future.
Enterprise Mobile Apps Save Time
Previously, businesses stored information in filing cabinets and paper that consumed a lot of t time and efforts. Even saving the files in desktops also requires employees to be at their desks while accessing them. Enterprise mobile apps streamline business operations by saving all the data on the cloud. Employees can access the desired information anywhere and at any time.
Optimizes Business Processes
Every company follows some specific procedures that can be consolidated in an app. Integrating the processes such as monitoring, managing files, collecting statistics, and replacing the work files within a single app can simplify the work. These mobile apps automate several tasks for the organization and ensure better in-house interaction.
Reviews and Feedbacks Help Improve the Business
Customers are the focal point of your business, and fulfilling their needs is an important business goal. Mobile apps make it easier for customers to provide their feedback for products and services. Hence, businesses can further improve their offerings by analyzing reviews. So, it makes sense for all businesses to develop mobile apps to survive their businesses in this competitive environment.
It's the Time to Invest in Mobile Apps
Here are some solid reasons why you should invest in mobile apps and incorporate them into your business.
Mobile apps significantly contribute to building recognition of your brand among your prospective customers.
Mobile apps help businesses in boosting their brand exposure.
It provides a competitive edge in the fierce business competition.
You can expand your customer base faster than you can by traditional means.
It provides a revolutionary kick to expand your business and increase your revenue.
Unlock the Potential of Mobile Apps
The entire world has gone mobile, and there is no turning back. Irrespective of the business you are involved in, mobile apps are highly useful to add value to your business and in making it more efficient. Adapting to the rising technologies in the right way can make your business a massive success.
Whether you want to increase engagement, enhance customer experience, or boost sales, building an app will be a breakthrough in achieving your business goals. If done right, a mobile app can take your business to the next level.
Hence you should outsource the Apps development services to a professional mobile app development company that can solve specific issues of your customers and make them engaged with your brand.