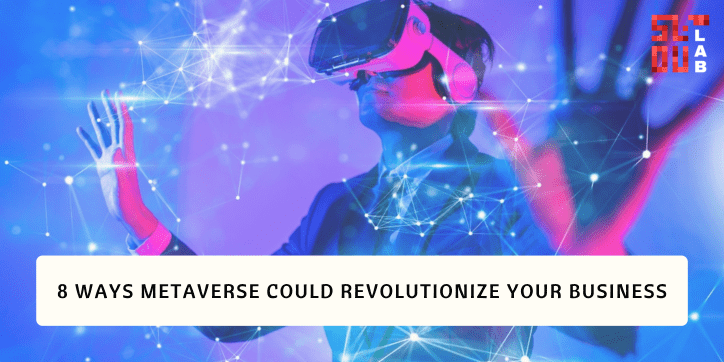 Things have changed drastically since Facebook changed its name to meta and decided to invest in the metaverse. The metaverse, which looked like something dreamy and only for gamers, has become the dream of every internet-based business.
After that drastic change, numerous existing gigantic businesses and new market comers have started scaling towards multiverse development. Few are already using and thriving with metaverse development services and resources such as virtual gaming, virtual real estate, virtual collectibles, apparel, NFTs, etc.
After showing that much hype around metaverse and its severe future potential, it's a common question of how metaverse developments can revolutionize your business. So, that's what we are going to convey today. We are composing about 8 ways metaverse developments can revolutionize your business.
1. Building rapport with the audience
Businesses working in the current atmosphere require decent rapport with their audience. Also, attention has become scarce, and businesses must be more careful in building their presence. Everything has to align with people's interests and needs.
So, the metaverse development will help businesses connect with their audience. Trust gaining will be more accessible by providing VR experiences, digital goods, and collectibles.
2. Transactions will be more secure
Metaverse development is not full-fledged without having a blockchain-based network with it. Blockchain uses a decentralized approach, a way safer than the centralized one where you can't change anything without everyone's consent. Also, blockchains are safer than banking transactions because of their development technology.
And it means future businesses will enjoy the benefits of fear-free transactions using metaverse with blockchain and metaverse development services.
3. No industry boundations
With businesses using the benefits of metaverse development, there will be no such industry boundary.
Every business model will take the goodness and benefits from every business industry. For example, the gaming and entertainment industry will become more versatile, as sectors like fashion, art, and virtual real estate will use them alongside their business or to build social engagement and favorability.
4. More realistic meetings
Working in the current world doesn't need a place or stay where everyone will connect and work alone, everyone can connect and operate from their work, and remote work has become a favorable option.
With metaverse, business meetings will become more realistic and cost-effective. Think about a virtual office room, every employee is present, and you can see their virtual existence and talk with them. These things are already on the market, and games like Rec Room are making it possible.
5. E-commerce will alter away
After experiencing metaverse events and exploration, one of the industries that will become beneficial is e-commerce.
Online shopping isn't a new thing. We have got used to it. Especially in this lockdown era, online e-commerce businesses have become much more lucrative since people have shown more interest in shopping online.
But, one problem with online shopping is you cannot experience or see or feel the product. That problem is going to wash away metaverse development. With Virtual Reality and virtual shops, the online shopping experience will change.
6. Home traveling
The travel industry has faced doomsday since the arrival of the covid 19 situation. But with metaverse, Any future covid like situations can hardly dispute traveling experiences, plus traveling will be cheap and without long journey struggles.
With Augmented and Virtual reality, travel businesses service travel to places people have never traveled to, or it's impossible to go there.
7. Education will become simpler
Although, after covid, students became habituated to online classes and exams, all the teaching and learning is possible without any physical connection.
Metaverse development will come with technologies that will make the education sector more lucrative. Online education will be more accessible and connected, and at the same time, productivity will increase on both student and teacher sides.
8. Entertainment industry
The entertainment industry, i.e., music, and movies (keeping the gaming industry separate), with metaverse development, will become more versatile. OTT, live shows, and theater movies will develop new exteriors, increasing the existing pleasures.
Industry Exposure
The above examples will seem more natural and possible with these industry exposure examples.
The existing market leaders or a few new companies who understood the goodness of metaverse before have become or are already getting ready for metaverse development.
Microsoft is one of the gigantic market leaders who are currently working on metaverse developments. The company is working on Microsoft Hololens 2, which claims to improve the working experience with mixed reality experiences. It will look like something like Ironman's Jarvis project system.
Facebook metaverse is currently one of the most active, commonly working on building metaverse development hype. Meta is now working on a 3D space, a platform for people to connect, collaborate, and interact.
Epic Games, the founder of Fortnite Games, is currently working on developing an open standard metaverse development that could even replace the internet.
There are many metaverse development examples, including Samsung 837X, Disney Metaverse, and Gucci Garden.
Conclusion
Metaverse development is not complex. Many companies provide metaverse development services. You can open your door to the metaverse and overtake the revolution. Make this happen by contacting the best metaverse development company today!
About Author:-

Akash Guha is a budding writer with almost a year of experience in content writing. His knowledge in technical content writing has enabled him to work on different projects. Presently, he is working with SoluLab, a premium blockchain, AI, ML, IoT and Metaverse development company, where he handles various projects as a content writer.