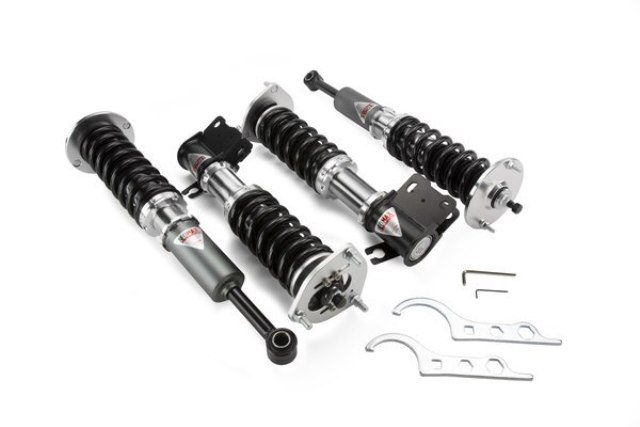 When you browse through the high-performance coilovers kits on our site, you might be thinking that the prices are quite high. You might also be thinking that you're just buying a combination of shocks and springs with a fancy title, so are they worth it? Do they offer more than their constituent parts?
Here we take you through the fact that sometimes – as with coilovers kits – they're much more than a collection of components. By reading to the end of this short blog, you'll realize that with coilovers kits, you get much more than that in terms of vehicle enhancement and that their price is absolutely in line with the benefits that they provide.
Coilovers Kits Are Adjustable By as Much as Four Inches
When compared with springs, the fact that coilovers kits are easily adjustable, means that they add real value as an enhancement to your car's suspension. Typically sold as a single integrated assembly, these fantastic kits enable the user to quickly and easily adjust vehicle height without the need for any complex hydraulics or electronics.
Accordingly, if you are considering purchasing car suspension parts, then comparing a few different kits online can help you to ensure that you are getting the parts you need at the best possible price.
Some coilovers kits can be adjusted using the threaded collar at the spring's base, whilst others employ a knob at the bottom to adjust the shock body's length. This means that any corner of your car can be dropped from factory height by as much as 4 inches, making them a cost-effective alternative to air suspension kits.
Coilovers Kits Improve Your Car's Overall Handling
As well as making your ride look great, coilovers kits allow you to reduce your vehicle's center of gravity, which improves a number of handling factors. Body roll, braking and acceleration are all improved and unlike standard lowering coil springs – that only allow fixed ride height adjustment – coilovers allow fine-tuning of the height for each wheel.
This is something that air suspension kits aren't able to do and as a result of coilovers kits are able to provide ride height adjustment at a physical point where suspension travel isn't reduced too much, meaning that your car becomes easier to drive and race at a lowered level without you and all of your car's expensive components taking a real bashing.
The Verdict? Coilovers Kits Are Absolutely Worth the Money!
When all's said and done, coilovers kits allow you to quickly and easily adjust your vehicle's ride height and in a way that doesn't impact too much on its comfort. They even have functionality that you don't get in more expensive options like air suspension, so we think that all things considered, coilovers offer great value for what they provide.
At Springrates, we offer a wide range of coilovers kits, air suspension, alignment kits, control arms and everything else you need to make your ride look and drive better. If what we've spoken about here is something you'd like to find more about, simply visit us online at www.springrates.com and you'll find everything you need to know.