Nowadays the telephone system of a company that wants to operate efficiently is based on computer solutions that are more flexible, cheap and powerful than a telephone exchange. Using network protocols, voice over IP (VoIP) or simply IP (Internet protocols) allows integrating computer equipment with the telephone system to provide incredible performance a few years ago to any company.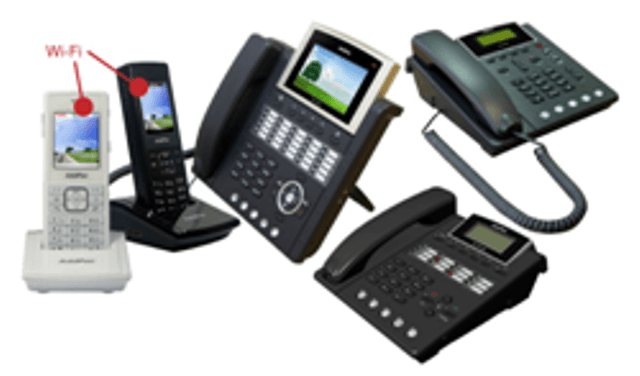 If you ask yourself what IP phones can bring to your company, here are some of its advantages:
Integration With The Computer System
It is possible to make and receive calls from computers and you can also use an IP phone similar to your current phone. It is communicated with the computer, allowing dialing from the web browser, the contact program or the management application. When receiving a call, the computer can automatically open the tab of the person who is making the call.
Cost Savings
When using the IP telephony system, we can dispense with additional lines, which have a high monthly cost. In addition, the system allows us to use the IP operator of our interest/need at any time, achieving savings of up to 90% in telephone consumption.
Efficiency In Locating People
The solution allows you to know if a person is in his position, located on his smartphone or does not want to be molested. If a company has several offices or delegations, any person from one of them can directly call any person in the other office, without going through switchboards or operators, and knowing in advance whether or not he is in his position.
Facilitates Telecommuting
Any employee can have an IP phone at his/her home, connected to their broadband. As the system is an extension, it has the same possibilities as the extensions located in the company itself.
Smartphone Integration
If the company uses smartphones, you can use the data rate or a Wi-Fi network to make and receive calls through the IP phones Dubai. From the smartphone we can know which users are operational.
Ease Of Installation
It is very easy to install IP phones in Dubai. It installs itself on a Windows server, so it does not require knowing a new environment like Linux, and it is easily integrable in the rest of the computer installation of most companies. The entire system uses existing network cabling, thus allowing rapid deployment.
Tranquillity In The Event Of Breakdowns
Impair the disturbance if your current PBX breaks down. With an IP telephony system you can have a backup of the whole system and, in case of a computer failure, in minutes it can be up and running on another computer. It is also possible to install it in a virtual machine, for greater security.
Virtual Operator
Make it easy for your people to talk to the right person. The virtual operator is able to handle several incoming calls at the same time. It diverts to the human operator only those calls that really need to be answered by a human being.
Improvement In Customer Service
Prevent your customers from having to wait to be heard listening to annoying tunes. You can configure the solution so that if, after a few seconds, no one has answered the call, the caller is offered the opportunity to hang up and be called as soon as the caller becomes available. The system respects the turn of that call in the call queue and when it would be answered, returns the call and establishes the communication.
Customization
Among the benefits of an IP telephony system is the possibility to implement new convergence applications between voice and data, redirect the connection to the cell phone or to another location after a certain time or on weekends.
Among its facilities are the rapid expansion of numbers and extensions, the customization of call time announcements, and the possibility of creating a numbering plan for all extensions, which facilitates its management and maintenance, especially in case of subsidiaries.
Versatility
Instead of being able to connect only to fixed or mobile numbers as is done in traditional telephony, with IP phones it is possible to make calls to computers, smartphones, tablets and other devices that are not for the sole purpose of voice communication. In addition, with IP telephony system it is also possible to rely on the video call, a feature of extreme importance to suggest greater proximity among users. But this feature depends on whether the carrier and the application you are using give support.
David J. is a business analyst for unified communication, after working on several projects he has been serving in the field of Telecommunication and helping small businesses to grow further by choosing right IP Telephony Systems for their offices.