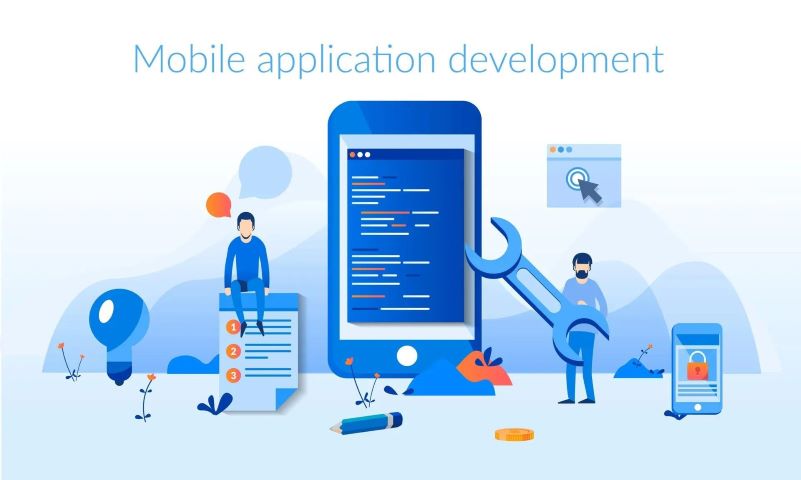 Mobile app development and mobile app developers have been the talk of the town lately. However, people often get confused regarding the process that goes into hiring a mobile app developer or reaching out to a mobile app development team. This article will help you out by providing you with the steps that go into this process, along with the benefits as well. So, let's start our topic.
Mobile App Development: An Overview Of The Industry
The mobile app industry is known to be one of the most popular and progressive industries nowadays. With the launch of different mobile devices, different versions of operating systems, and rapidly changing trends and features, the mobile app industry is constantly putting effort and time into incorporating upgraded features in an application and benefiting humans for different reasons.
If you are a smartphone owner, you will probably be utilizing one or more kinds of applications to complete your task with ease and efficiency.  The statistical reports of the mobile app industry have reported that by the year 2025, the revenue expected from this industry will reach $613 billion. The reason for this astonishing increase is that companies and industries are continuously developing and deploying applications on different platforms. Hence, more applications lead to more installations and user engagement.
Mobile applications are helping industries increase their revenue by transforming the traditional mode of work into a digital mode of work. There are many advantages achieved by sectors like healthcare, automotive, education, tourism, retail, real estate, etc. We will be discussing these benefits in a later section of the article.
Who Is A Mobile App Developer?
Even though all of us are aware of some of the benefits of mobile applications that we use in our daily lives, have you ever wondered what goes into making one? Or who are the people who put effort and time into designing and creating applications that stand out from each other instead of facing such tough competition in the market?
The answer to all these questions and thoughts is simple. A mobile app developer is someone who has skills and expertise in the fields of designing, creating, launching, updating, maintaining, and many other related functions regarding a mobile application. They have all the information and technical knowledge regarding developmental steps, programming languages, software systems, UI/UX design, and other expertise that go into the whole process. 
Mobile app developers are an essential and integral part of a mobile app development team. Without the help of these professionals, it is practically impossible to bring app ideas into reality or formulate functional applications.
Why Is It Important To Hire A Mobile App Developer?
Let's suppose you are someone who has a keen interest in baking cakes or other items but has no experience in doing so. What will you do? It is pretty obvious that you will look out for someone who has the skills and expertise in the field of baking to help you out. This way, you will have the assurance that your baking item will not have any flaws and that people will actually like it.
The same is true when it comes to hiring mobile app developers. Since business owners or industries do not have the skills and professional expertise to create or develop an application, they need the help and support of a mobile app developer to supervise the whole process and provide their services and solutions.
In this regard, it is important to hire a mobile app designer or developer before stepping into the process of creating a mobile application.
A Complete Guide On How To Find The Best Suitable Mobile App Developer For Your Application
Now that we are well aware of the fact that a mobile app developer is necessary for the making of a unique, innovative, functional, and beneficial app, it is also essential to know what goes into the process of selecting one. There are many companies or agencies that will offer you their expertise in the market, but you should know whom to trust and whom not to. The steps mentioned below will help you make clever and right decisions.
Identify Goals And Objectives.
Take Important Decisions Beforehand.
Conduct Market Research.
Look Out For References And Reviews.
Shortlist The Preferred Options.
Book An Appointment.
Conduct Detailed Interviews.
Finalize The Deal.
Stay Connected Throughout The Process.
Identify Goals And Objectives
The first step that goes into hiring a mobile app developer is something that companies and businesses should consider doing beforehand. This step includes identifying the goals and objectives you want to achieve with the help of the application. In other words, you should have an idea of the product you want the developers to create, the benefits it will provide, and the purpose it will serve.
Take Important Decisions Beforehand
The next step is also a step that is included in the pre-hiring stage of mobile app development. In this stage, you should make all the relevant decisions regarding the product and the requirements that will be needed during the pre-, mid-, and post-development phases. Some of these decisions include important points like:
The platform of deployment
Features of application
Costing budget
Operating systems the app will work on
Monetization model
Requirements for machines, devices, or gadgets are needed along the way
Choosing whether to outsource a development team or hire for in-house production
Conduct Market Research
Once you decide what kind of services you want to avail of or which option you want to go for in order to hire a mobile app designer, it is now time to conduct proper and detailed market research. Depending on your type, be it outsourcing agencies, freelancers, or in-house mobile app development teams, you will start looking out for options that are available in the market and are best suited for your cause.
Look Out For References And Reviews
Conducting market research will only give you information that the company or mobile app developer wants you to see. It might be possible that you find an option attractive only to know later that it was a fraud or scam. Therefore, it is essential to look out for real-life examples of case studies and experiences around you.
Make sure to look out for clients who have worked with the preferred mobile app developer in the past. This will give you in-depth knowledge and guide you as you make further decisions.
Shortlist The Preferred Options
Now that you have conducted successful market research and have also looked out for reviews and experiences from clients, it is time to shortlist the preferred options for hiring a mobile app developer or getting in contact with a whole development team.
The shortlisting criteria will be based on different points and aspects. You might keep the budget, positive reviews, experience level, qualification background, and other critical points in mind when shortlisting some options and ignoring others.
Book An Appointment
Now that you have shortlisted a few of the options, it is time to book appointments. There are multiple options that people have when booking appointments, for instance, on-site appointments or online interviews. Make sure to select the option that best suits your preferences. Also, it is really important to keep all the points made in the first and second steps in mind for the next step.
Conduct Detailed Interviews
The next step is the interview stage. This step might take a bit more of your valuable time, but honestly, it is worth it, and it will leave you satisfied and stress-free. It is really essential to communicate all the details, including minute as well as obvious information and plans regarding the project.
It is also important to observe the professional ethics as well as the personal conduct of the mobile app developer or team members when you are conducting the interview. Make sure to ask for a portfolio, any experience they have working on a similar project, their working criteria, the time they will take for the whole project, and other related stuff.
A detailed interview will not only help you understand the company or team to hire a mobile app developer but will also help them understand your needs, demands, and requirements. Such a conversation style also gives the added benefit of a positive environment, understanding, respect, and mutual cooperation for further steps.
Finalize The Deal
Now that you feel that you are finally satisfied and comfortable hiring a mobile app developer or a team of developers for your project, it is time to finalize the deal. You might be wondering why we kept a separate heading for such a simple step. Well, this is not as basic as it seems.
Finalizing a deal includes the important points that revolve around the cost criteria of the whole project. Companies and businesses should be very careful when discussing the entire cost that will be required during each and every step of development. If there is room for negotiation, do not hesitate to do so. You can also ask for the packages, or discount offers some companies offer, which include.
Packages that are based on time duration in months, like four months or six months.
Packages that are based on the kind of app you want to develop.
Packages that are based on time duration in hours.
Packages that are based on the features included in the application.
Packages that include half duration as a free trial.
Discounted offers, etc. 
Stay Connected Throughout The Process
The last step in the whole process that takes place to hire a mobile app designer is to stay connected throughout the process of development. Always make sure to ask for any help or ask for constant updates so you can create a flow of conversation as well as stay connected.
What Are the Several Benefits of Choosing Mobile App Developers?
In the last section of the article, we will be discussing the benefits that come when you hire a mobile app developer for your business. Some of them are:
Professional Expertise
The first benefit that comes with the help of a mobile app developer in developing your app is that you get the chance to avail yourself of the professional expertise of these workers. Since they are the gurus of what they are doing, they will make sure to follow a proper guideline of steps to reach the end result.
Cost-Effective
The second benefit of hiring mobile app developers is that it is a cost-effective solution. These professional consultants have a proper pre-built setup as well as amazing promotional offers for their clients. On the other hand, if you take up the task of developing an app yourself, you might be wasting your money on setting up systems, fixing errors, etc.
Time-Saving
Next in line is the benefit of saving plenty of time by hiring mobile app developers. Creating an app yourself might require you to repeat a lot of steps again and again to get the required results. However, these developers work as a team and know when to do what and how to use time effectively and efficiently.
Elimination Of Risks And Errors
Hiring a mobile app developer or a team of developers also enables you to eliminate the risk of errors occurring in your application. The professional skills and loads of experience of these developers make it easier for them to do what they're good at.
An additional advantage is that developers often test systems and features before deployment. This way, you have the assurance of no errors or bugs.
Guaranteed Profitable Results
Last but not least, when you hire a mobile app designer or developer, you are basically adding value to your business. These applications, when built by professional developers, assure guaranteed profitable results in terms of user engagement, retention, sales generation, and lead generation.
To Sum Up
Mobile applications are becoming an integral part of human lives. It is high time that industries, companies, and businesses start looking forward to developing an app with the help of app developers and kickstarting their journey toward growth and success.