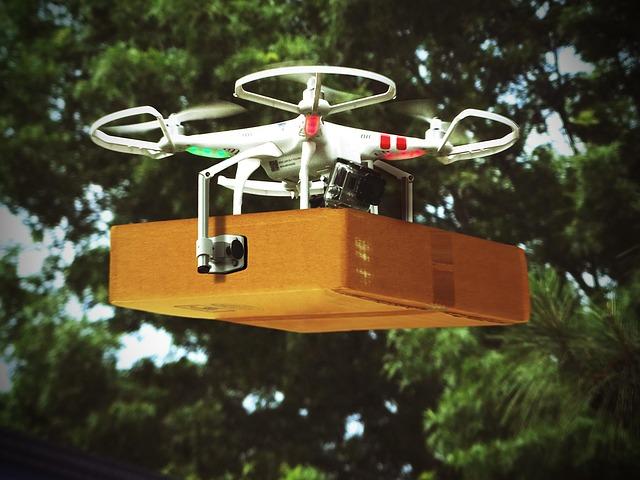 As Amazon's first ever checkout-free pilot store irons out final kinks prior to opening, a new world of retail is edging ever closer in 2017. This year will see essential rungs developed in a ladder that may ultimately lead to products delivered by drones, increasingly smart virtual assistants who learn consumer habits, and a purchasing experience brought to consumers via virtual reality.
It's a brave new world unfolding at every turn, and here's what's on the agenda in 2017…
The future is here
At the forefront of the shopping experience of the future is trailblazing superstore AmazonGo. Now in its soft opening faze where the retail experience is being trialled and honed by staff, AmazonGo is a 1800 square foot grocery store in Seattle that is the first to go completely checkout free.
Fortune explains the retailer instead relies on mobile technology with consumers scanning their smartphone and utilising a downloaded app to shop within the store.
"…the company's "just walk out" technology will detect when products are taken off shelves (or returned to shelves) and keeps track of what is in your virtual cart through these smartphones. When a shopper is done shopping, he or she leaves the store, and the company will charge the Amazon.com account."
While Amazon forges ahead in its path to revolutionise the consumer experience, here's what other retailers will be investing in throughout 2017.
Mobile POS
Amazon may be ditching the checkout but other retailers are content to embrace the mobile trend. Mobile Point of Sale is currently growing at a rate of 9.2% notes Capterra Retail Management, while TechCrunch estimates 70% of American mobile users will make a mobile payment in 2017.
The benefits of mobile POS include shorter checkout lines, information at the sales associates' fingertips and a wealth of data about consumer purchasing habits that is stored directly on the Cloud, and is accessible to managers anywhere, anytime.
Artificial Intelligence
At the heart of mobile POS and all the technologies taking off this year is the consumer experience, and at its core is big data provided by technology like mobile POS and the evolution of artificial intelligence.
Experts note artificial intelligence is a major feature of this year's retail playing field, providing increasingly detailed information about what consumers want depending on social trends, the weather and their past shopping history.
Where once AI and its complex algorithms were the domain of the internet, the omnichannel experience of retail means this data is being better applied across the shopping experience including in-store via smart fitting rooms, and virtual assistants.
Virtual assistants
Current uses of AI include gift suggestions, purchase suggestions and virtual assistants like Amazon's Alexa and her "Just Ask" feature who can aid the shopping process.
Business2community explains: "Alexa offers daily promotions and special deals, supported by Echo which knows the customer's buying history, delivery address, and shipping and payment preferences."
She's joined by a host of other VA's available in-store, online and in the home – all willing to assist with retail information.
Smart fitting rooms
Included within the AI category is the smart fitting room and smart mirror, currently utilised by big retailers like Ralph Lauren, Rebecca Minkoff and Neiman Marcus.
The technology tracks products via RFID tags, and uses AI to provide shoppers with alternative available colours and sizes, or complementary pieces. It can also adjust change room lighting and will soon be able to take immediate payments via Apple and Android Pay, according to Bloomberg.
Virtual reality
The rise of virtual reality and supportive hardware is set to revolutionise retail, with the recent Future of Retail report profiled Daily Mirror predicting it could wipe out high street retailers by 2050.
"Instead of flocking to department stores and boutique shops, they believe shoppers will make all their purchases from home," the Mirror explained.
"By slipping on a VR headset, shoppers could try on clothes in virtual changing rooms and get advice from artificial intelligence (AI) shop assistants which know exactly how to cater for their tastes."
Whether that prediction holds truth is yet to be seen but augmented and virtual reality are making their presence felt in 2017.
This year's NRF Big Show had a host of Virtual Reality applications on display, with some of the biggest players trotting out their wares.
Total Retail noted this included a virtual tour of what your home could look like with a new deck, new furniture and more all viewed from within a retail environment.
"Enabled by the rapidly evolving technology behind VR, several leading retailers are now offering in-store VR labs within which consumers can create their home environments and then enhance and modify them against the products and services that retailer provides," they state.
Beacons
Meanwhile 2017 sees retailers looking to hone the in-store experience and target shoppers long before they reach the register. And beacons are among the technologies catering to this trend.
They allow retailers to send messages directly to a willing consumer's mobile phone within a store, and the retail beacon market is currently growing at an annual compounded growth rate of 17% according to a report by Technavio.
Again, the technology builds on a retailer's knowledge of consumer habits, whether that's via the location they head to within a store, items they pick up or previous shopping trends courtesy of intelligence gathered via their mobile app.
Mobile apps
Tapping into beacons and the general consumer experience is the mobile app, and it's set for some improvements this year as this contact method becomes more prolific and further embraces AI.
Business Insider notes the following:
60% of US consumers' time spent interacting with retailers online now occurs on mobile devices, according to comScore. That's up from 53% two years ago.
Time spent interacting with retailers via smartphones is growing at a much faster rate than on other devices. Interaction with retailers on smartphones increased 98% between 2013 and 2015. On tablets it increased 55% during the same period, and on desktop it increased just 38%.
US consumers are spending the majority of their time in shopping apps as opposed to on mobile shopping websites, according to comScore.
In response, Apple recently launched a new category in its App Store called "Shopping," which makes it easier for users to and retailers' apps.
Meanwhile the apps provided by retailers are becoming more intuitive and utilising AI with the dawn of the Smart App, according to Forbes.
"…everyday apps will use personalization in even more relevant and applicable ways," they predict. "For instance: Retail apps will hyper-personalize product suggestions based on past shopping purchases, seasonal trends, or personal events like a spouse's birthday."
Mobile apps are also increasingly employing the services of chatbots for simple tasks. Want to know the time a store closes? Then this friendly little bot is able to assist. And they're becoming more intelligent all the time, handling more complex queries like delivery times, inventory information and more.
Robots and drones
But consumers don't just want to shop; they want their purchases in their home right now, sparking retail interest in delivery services like drones and robots to speed up the order fulfillment process.
A recent report by Barclays that was profiled by CNBC notes already Amazon uses Kiva robots to fulfill orders in their traditional warehouses, but could improve service further by utilizing them along with robot vans.
"In particular, the research note said Amazon could use "robot vans" in urban markets given the proximity of the AmazonFresh fulfillment centers and the Prime Now drop-off area."
Meanwhile 7-eleven made history late last year with a pilot program that saw 77 deliveries in Reno completed by drone.
"All 77 flights were from one store to a dozen select customers who live within a mile of the shop. 7-Eleven has partnered with the drone maker Flirtey for its delivery pilot," noted Recode.
"It marks the first regular commercial drone delivery service to operate in the United States, flying ahead of other, potentially bigger drone delivery projects that haven't yet been able to take off in the U.S. — like Alphabet's Project Wing and Amazon's Prime Air, the latter of which only demonstrated its first delivery to a customer last week."
The final word
While drones and robots may be slower in their take-up than beacons, mobile POS and artificial intelligence, all signal a very different future to the past retail experience. Over the coming months and years retail will become more personalized, more immediately fulfilled and more integrated with other technological areas of modern life.
Or as the Future of Retail report notes it will embrace the "fourth industrial revolution", where shopping is the merger of physical, digital and biological technologies.