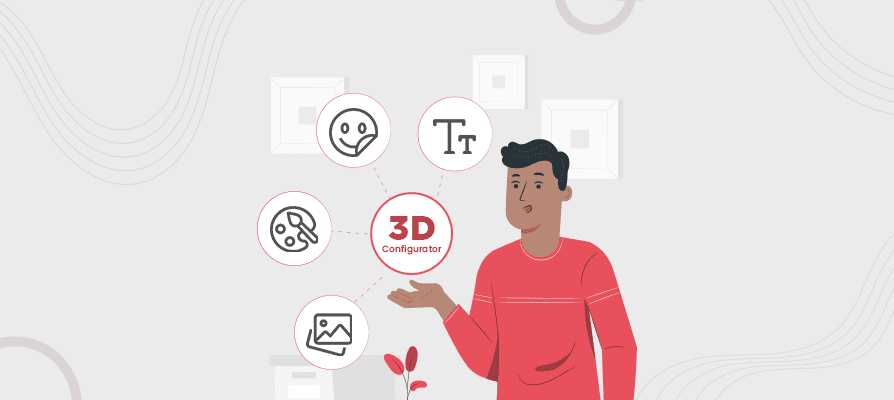 3D product configurators – a technology of the modern age that is changing how companies show and sell their products. It is software that enables customers to personalize their products and have a 3D look at them. Configurator displays all the possible variations of the product to ease the customization process. It also shows the real-time price of the product as per the customization customers are applying to the product.
In this article, we will look at all the areas you should know about 3D configurators to make the best use of them. With a 360° preview, customers can look at how the product will look in real life. All these will enhance their shopping experience and will increase their overall satisfaction.
Where Can 3D Product Configurators Be Applied?
You can include configurators in online ads. This will increase viewer engagement.
You don't need to transport huge display items to the trade shows with configurators. Instead, you can use 3D Configurator to highlight them.
eCommerce or any product site can use this addition to offer detailed visuals and customization facilities to their customers.
In Which Industries 3D Product Configurators Can be Helpful?
A few industries, especially the following, can benefit from 3D Configurators:
Luxury goods
eCommerce
Manufacturers
Real estate
Automotive
Construction
Interior design and furnishings
How Does a 3D Configurator Benefit Your Business?
Helps in making marketing and advertising more engaging by building virtual showrooms, increasing users' time on your website, and impressing customers with its personalization capabilities.
Increases sales and revenue by improving the quality of leads, providing accurate price quotes, and decreasing customers' time to make final sales.
Enhances customer experience by improving their way of personalizing products, providing them with a 360° preview of the products, and enabling features like zoom, rotation, and detailed customization.
Boosts the company's productivity by enabling automated workflows, decreasing product returns, avoiding price misunderstanding, and reducing stock on hand.
Simplifies product development by enabling companies to produce on-demand products, helping to track customer behavior, boosting marketing speed on products, and allowing testing products before investing production money.
Make it easier for your sales team, as per research, 36% of customers prefer buying personalized products, so sales teams have only to explain the benefits of personalization through a 3D configurator.
B2B vs. B2C Configurators
B2B sales-focused companies can have 3D configurator software to provide details to customers on the items they want. And companies directly selling the products to customers can have a 3D configurator implemented on their websites for the viewers to have product alternatives, product personalization, etc.
Enhances productivity by offering various business-centric features like:
Analytics of product development, manufacturing, and marketing
Integrate seamlessly with a different online sales platform
It offers print-on-demand services to let a customer customize a product, purchase a configured product, and deliver it from one tool.
Provides high-quality product images
Offers ERP (Enterprise Resource Planning) integration to integrate the software with ERP software.
Advantages of Using 3D Configurators for Business-to-Business (B2B)
Increase in sales
More interest and engagement to convert potential customers into loyal ones
Detailed product descriptions and updates on products
Shorter sales cycles
All over customer satisfaction
Advantages of Using 3D Configurators for Business-to-Consumer (B2C)
Increase engagement and sales
Leads to higher website traffic and attracts potential customers
Turns the potential customers into the loyal ones through its features
Increases customer satisfaction
Features You Must Look for Before Investing in a 3D Product Configurator
Multiple design options like texture, patterns, colors, etc.
Unlimited options for configuration
Boosting speed
Support for mobile phones, tablets, and desktops
Lock element feature to lock the design area or element
Support for multi-design areas like the front, side, back, and below
Drag and drop feature
Tap and use for easy customization
What is Included in a 3D Product Configurator Checklist
Enable your customers to interact closely with the 3D model of a product they want to customize.
Don't keep the drop-down menus for personalization. It should always be clicked on the product feature to ease personalization for customers.
Textures, colors, patterns, shapes, materials, etc., must be included to offer a wide range of customization options.
See Changes and Prices in Real-time
Don't make your customers wait to see the changes they make; instead, provide real-time changes while customizing their products. Moreover, you should also provide a real-time price calculator that shows the updated price according to their customizations.
Save Changes Automatically
Customers don't have to bother about saving the changes; it should be done automatically.
Let's End it With an Example:
People prefer having customized furniture that suits their home theme, space, and purpose, and Steelcase offers them the same! This company has a wide range of furniture, technology, and architecture products and services. They allow their customers to design their furniture as per their requirements through the 3D Product Configurator.
If you own a furniture store, then the 3D Configurator can help your customers better visualize the products. Customers can select sizes, colors, materials, and shapes to customize their furniture's every feature. For example: if they want to buy a wooden table for their hall, they can view the table easily from every possible angle and customize every surface with the desired patterns, materials, colors, text, engraving, etc.
This will lead to customer engagement, which leads to satisfaction when you deliver the same design to their home!
3D configurators can be useful in construction, fashion, automotive, luxury retailers, etc.
To implement a 3D Configurator in your store, you need to check if it's got all the required features with compatibility with your website. Don't compromise on its speed, as it will affect your overall customer experience. You also want to ensure that the software company you buy the Configurator from gives you proper support and security. You can have the web to print solutions installed, consisting of the web to print software, 3D Configurator, and product designer tool. Web to print solutions can add all the necessary products to your website to make it rich, engaging, and magnets for sales!
About Author:-
Mr. Pratik Shah is Creative Head at Brush Your Ideas, a top-notch Web-to-Print technology solution provider that offers Custom Product Design Software as well as web to print storefront software. He has been a creative and driving force in the success of our T-shirt Designer Software.