While configuring a Hotmail account in Microsoft Outlook that time an additional plugin "Microsoft Outlook Hotmail Connector" is needed. Once users have configured a Hotmail profile, Outlook creates an OST data file to save emails, contacts, tasks, calendar items and much more. Even when the internet connection is not available at that moment users can use this .ost file for viewing the data files.
However, all of the sudden Outlook comes up with the following error message like "Hotmail.ost is not an outlook data file". So we are going to discuss some basic information before presenting solutions to fix "Hotmail.ost cannot accessed" error.
Consider the following scenario that helps to understand more clearly:
When I have tried to uninstall or reinstall the connector, even I attempt to delete and renew my account. At that moment I have received a message showing like this "Hotmail.ost is not an Outlook data file" error. Only due to this error, it becomes quite difficult for me to get Hotmail via MS Outlook. Kindly suggest me how to resolve this error message.
Why this "Hotmail.ost Is Not An Outlook Data File" Error Occurs?
The OST files generated by Microsoft Outlook for Hotmail account and it works fine until users cannot delete the profile or uninstall Outlook account. But when users have tried to reinstall MS Outlook or even delete their account that time .ost file becomes inaccessible and creates very common errors such as:
OST is not an Outlook data file
OST is not an offline folder
OST cannot be accessed easily
OST cannot be opened
4 Ways to Fix "Hotmail.ost is Not an Outlook Data File" Error
Some methods are mentioned below to fix error are:
Solution 1: Solve "Hotmail.ost Cannot be Opened" Error
This approach is very beneficial to get rid of Hotmail.ost cannot be opened or Hotmail.ost is not an Outlook data file error. Thus, follow the below steps:
Under the first step, delete the Hotmail account.
Then, need to uninstall the Outlook Hotmail Connector and after this, Close the Outlook application.
Now, delete the OST data file created by Microsoft Outlook.
Next, again to install(re-install) the Outlook Hotmail Connector.
In last, configure the same Hotmail profile with the latest account and then, MS Outlook will produce a new .ost file.
Solution 2:  Fix "Hotmail.Ost Is Not An Offline Folder File" Error
One more solution is recommended by many Microsoft MVPs for the common query. Therefore, need to verify if MS Outlook is accessing in the compatibility mode. Below-mentioned some steps:
Now, Go to the Computer system, choose the C Drive and click on Program (Applicable for 64-bit Operating System & Program Files (x86).
Next, select the Microsoft Office and click on Office 14.
After this, select the MS Outlook.exe (application) and right-click on the properties.
In the Compatibility tab, to uncheck the compatibility mode and press OK
Solution 3: Repair Corrupt OST File Using scanost.exe
Since OST cannot be accessed easily when the file is corrupt and get an error of Hotmail OST is not an offline folder in Outlook. A user can go to the inbuilt tool called Scanost.ext. To use the utility, follow  to repair Ost file:
For Outlook OST 2007 or below version:
First, Open Windows Explorer and choose the C:Program FilesMicrosoft OfficeOFFICE12 to fix OST data File.

Then, run exe inbuilt tool to retrieve outlook .ost file and restore Outlook OST.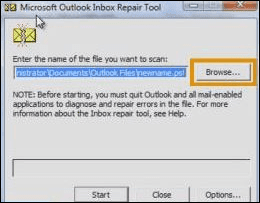 Now, click the Browse option to choose Offline Data file or enter the exact name of Offline Data file. After this, select the Start button to start the procedure to repair corrupt OST data file with the help of the exe tool.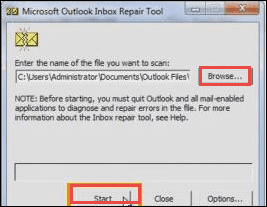 Next, mark the checkbox and press on Repair option in order to continue the repair OST process.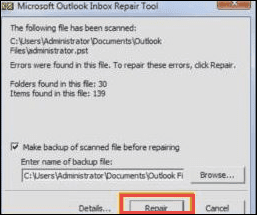 Click the Ok button to recover OST file with the use of Outlook OST Recovery Manually.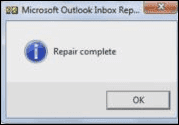 For Outlook OST 2010 and above edition:
Open Windows Explore and choose the C:Program Files (x86)Microsoft OfficeOFFICE14 folder.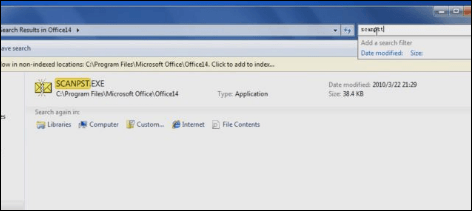 After that, Run scanost.exe software to fix OST data file and also retrieve Outlook .ost file.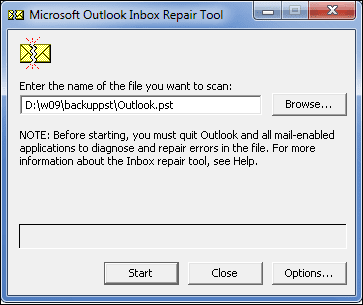 Press on Browse button to select OST file and then, enter the desired name of OST file to repair OST. Now, choose the Start option to begin the process to restore OST data file by using the exe tool.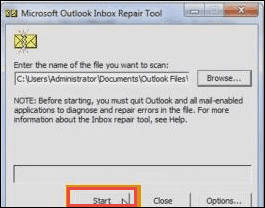 Then, Click the Ok button to restore .ost file after the Outlook OST recovery.
Solution 4: Using Outlook Recovery to Resolve Outlook OST File
Most of the times, these above methods fail to recover data from Outlook OST file. Hence, in such case users have only one possibility left to overcome this  "Hotmail.Ost Is Not An Outlook data File" error using Outlook Recovery Tool. This tool is very reliable to use and assure to restore all OST data files.
List of Key Features in Outlook Recovery Tool
Capable of repairing all selective data items by using Email filter option
Ability to recover password protected corrupt Outlook data files
Preview & Scans all emails with attachments
Conclusion
Most of the users faced problems while accessing OST files. Therefore, to overcome "Hotmail.ost is not an Outlook data file" error users have already examined three solutions to fix Outlook issues. After considering the issues faced by users while configuring the Hotmail account in Outlook, also we have discussed manual as well as third party solutions to solve the problem related to Hotmail.ost is not an Outlook data file. As it is not easy for every user to perform the manual procedure in an easy and simple way, therefore, they can use Outlook Recovery Tool. This utility is very useful for all users so that they can easily repair all OST files without any hassle.