As we all know, Oculus Rift is a virtual reality device that developed interesting VR apps and games to attract people especially the youth. But Oculus VR games can only be stored in the installation directory of Oculus, and Oculus old versions can only be installed on system partition. This can lead to a situation: there may be not enough volume for installation. So I suggest you change Oculus install directory, you will get more space and reduce the burden of system partition. AOMEI Technology released AOMEI vrBackupper 1.0. AOMEI vrBackupper is a free tool that can move Oculus Rift installation directory to a different drive instead of system drive to avoid low disk space problem. It can also help you backup and restore Oculus Rift and its games, apps, etc.
AOMEI vrBackupper main functions:
1.Backup saved game and its game configurations
Move Oculus Rift game to other computer without re-downloadin
Move VR game to another drive to ensure enough installation space
Free download this software from here:http://www.aomeisoftware.com/download/vr/vrBackupper.exe
How to change Oculus install directory with AOMEI vrBackupper?
Step1, download and run vrBackupper. Your Oculus installation directory will be automatically detected by this tool. You just need to click the browse button to select an another drive or a folder as new location. As shown in the figure below, we choose D:Program Files (x86) as example. Then click "Start Move".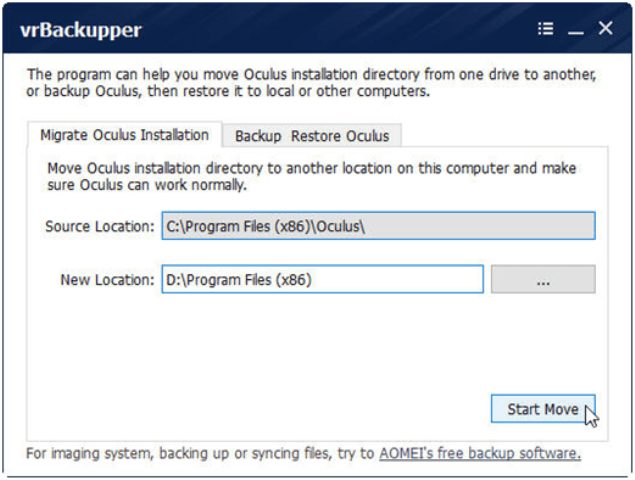 Step2, when Oculus change install directory is finished, this may take a minute, then click "OK" to exit. vrBackupper will automatically delete original installation directory. If Oculus could not be started from the new drive, please restart your computer and try again.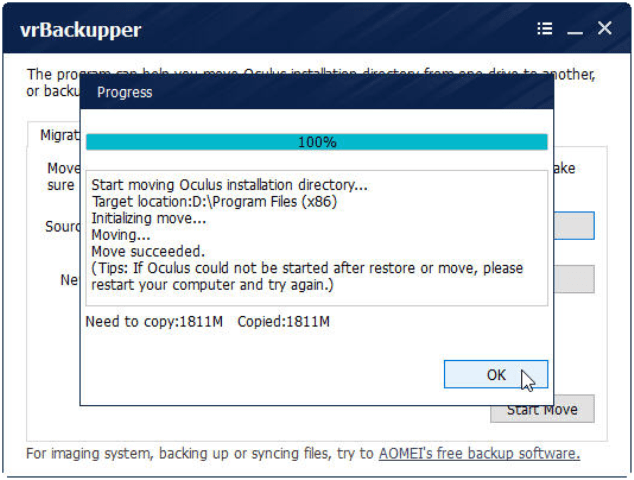 AOMEI vrBackupper is 100% free to help you change Oculus install path. It is an easy-to-use and automated tool.
In addition to the function, AOMEI vrBackupper has another option named " Backup Restore Oculus ", you can back up Oculus installation directory from old computer and then restore to the new one. So Backup&restore is also a way to change Oculus game install directory.
How to Backup Oculus with Freeware?
You can choose "Backup Oculus installation directory" or "Only backup games and apps in Oculus installation directory" to backup Oculus. And No matter which one you choose, the program will automatically detect the "Source Location". You just need to click the "…" button to select where to save the backup.
How to Restore?
If you want to copy these folders to another location as a backup, you need to copy the saved directory backup to the Oculus folder. If the one of the folder already exist, you need to override it. Keep in mind all these three folders have to be moved to the original location where it was copied in the first place. Then you can restart Oculus, and all the apps or games shall be also available.
If you just start to use the vrBackupper to backup, then the restore will be easier, because it also allows you to restore Oculus to another computer, which is also the default setting. You do not have to specify the destination location one by one and all these folders will be restore to the original location in one go.
What makes people excited is that AOMEI vrBackupper is the first Oculus backup software in the world. AOMEI vrBackupper helps you protect & manage your Oculus Rift and make you use Oculus Rift more easily. Now vrBackupper only supports Windows 10 64-bit computers by far, but it will be compatible with other Windows operating system in the near future. You should consider try this amazing software!
AOMEI technology has a computer backup software AOMEI Backupper. It can help you complete full backup, incremental backup and differential backup, AOMEI Backupper has been updated to 4.0.2. The latest version better optimize the function of software, including the scheduled task of syncing files to a network path requires to re-enter username and password. The ABSync.exe can starts repeating after setting up a scheduled task of syncing files to a network path even if there is no real time sync task.
AOMEI Backupper can be installed on 32-bit and 64-bit versions of Windows 10, Windows 8, Windows 7, Windows Vista, and Windows XP. You can download backup software from here: http://www.aomeisoftware.com/download/adb/BackupperFull.exe