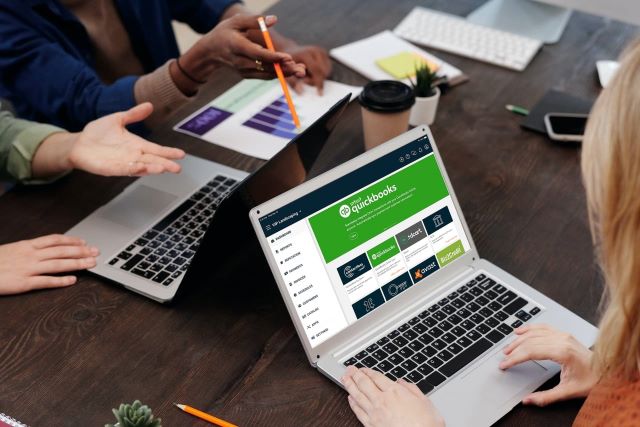 QuickBooks is an industry-leading small business accounting software that provides powerful tools to assist entrepreneurs with their finances and operations. It helps users manage their books, pay bills, accept payments and track expenses in one place. Business owners can access QuickBooks from virtually anywhere using cloud hosting for QuickBooks. Furthermore, businesses can take advantage of cloud hosting for QuickBooks to ensure their data is secure and always available when they need it. QuickBooks can help business owners streamline their accounting processes and make better decisions about their finances. QuickBooks is an invaluable tool for businesses of all sizes as it simplifies the process of managing accounts and streamlines financial operations.
This all-in-one solution will save time by automating tedious tasks such as invoicing, bank reconciliations and tracking sales tax payments. The software also offers detailed analytics to give users a better understanding of their financial situation. With the help of these features, businesses can easily identify areas for improvement and take advantage of opportunities for growth.
The Benefits of Hosting QuickBooks on the Cloud for Small and Medium-Sized Businesses
For small and medium-sized businesses, hosting QuickBooks on the cloud is a great way to save time and money. Cloud-computing offers a variety of advantages over traditional solutions, including cost savings and accessibility. Here are some of the major benefits of using cloud hosting for QuickBooks:
Cloud-hosted QuickBooks can be accessed from any device with an internet connection, allowing business owners to access their financial information from anywhere in the world. This eliminates the need for expensive hardware or IT staff as all data is stored securely online. Furthermore, businesses can cut costs by only paying for what they need – no extra software or hardware required!
Additionally, cloud hosting gives businesses complete control over their finances. With advanced reporting tools and customizable options, business owners can manage their finances more effectively than ever before.
The main benefit of cloud hosting QuickBooks is flexibility. Business owners can access their information at any time through a secure connection, regardless of where they are located physically. This means they don't have to be in their office in order to check sales figures or manage payroll tasks. Furthermore, cloud storage protects all customer information with multiple layers of encryption, ensuring it remains secure even if a device gets lost or stolen.
How to Get Started with Hosting QuickBooks on the Cloud?
QuickBooks is an incredibly popular accounting software that allows users to efficiently manage their finances. Hosting QuickBooks on the cloud offers even more benefits such as flexibility and security, making it a great choice for businesses of all sizes. If you're wondering how to get started with hosting QuickBooks on the cloud, here are a few steps to help you out.
First, research various cloud hosting providers and evaluate which one best fits your requirements. Consider factors like pricing plans, features offered, and customer reviews before making your decision. Once you have chosen a provider, create an account with them and sign up for the desired plan or package. This will give you access to the necessary tools, such as storage space and server access permissions, needed to host QuickBooks in the cloud. Next, you need to configure your QuickBooks company file, so it can be hosted in the cloud. This will involve creating a copy of the company file and enabling some specific settings.
How to Choose the Right Cloud Hosting Service for Your QuickBooks Needs?
Choosing the right cloud hosting service for your QuickBooks needs is essential to getting the most out of this popular accounting software. With a wide variety of cloud hosting services available, it can be hard to decide which one is right for you. To help, here are some tips on how to choose the right cloud hosting service for your QuickBooks needs.
When looking for a QuickBooks hosting provider, it's important to consider their hosted QuickBooks pricing and features offered. Generally speaking, more expensive packages offer more features than less expensive ones. However, that doesn't mean that you need to buy the most expensive package available. Instead, look at what each package has to offer and compare it to your budget and specific needs.
Consider user experience, such as if there is an easy-to-use web interface or mobile app; scalability to meet future growth needs; and data security measures like encryption protocols. Furthermore, be sure to investigate customer support services like online help desk or telephone assistance so that you can get help when needed.
Security Considerations When Choosing a Cloud Hosting Provider for Your QuickBooks Data
When it comes to hosted QuickBooks services, security is of the utmost importance. Any cloud service provider that you choose for your QuickBooks data should be able to provide a safe environment for your data. As such, there are a few key considerations that should be taken into account when selecting a cloud hosting provider for your Quickbooks data.
First and foremost, look for providers that have experience providing secure cloud hosting services specifically for QuickBooks users. It's important to ensure that the provider understands the unique needs of QuickBooks customers and can provide comprehensive data security solutions tailored to their needs. Also, make sure they have strong security protocols in place, including regular backups and encryption technology, so you know your valuable business information is protected at all times.
Step-by-Step Guide to Setting Up QuickBooks on the Cloud
For small business owners, QuickBooks is one of the most popular accounting solutions available. This comprehensive and intuitive software is designed to help you manage your finances easily and efficiently. But did you know that you can host QuickBooks in the cloud? By switching to cloud-hosted QuickBooks, you'll enjoy improved collaboration with stakeholders, easier access from anywhere, and increased security. Here's a step-by-step guide on how to host QuickBooks in the cloud.
Step 1: Choose a hosting company for your QuickBooks account: Make sure that you choose one that offers a secure platform for hosted applications and reliable services; at all times, you will be able to keep your data safe.
Step 2: Get your QuickBooks software: If you use QuickBooks on your computer, then you need to get the company's hosting service on your computer. This can be downloaded from their site and installed just like any other program on your computer.
Step 3: Choose a QuickBooks administrator: This is the user who will have full access to all your data and settings in the account.
Step 4: Transfer your data: You will be given a list of the data to be transferred to your new account. The hosting provider will also provide you with an option to transfer your data via e-mail or FTP.
Step 5: Organize your QuickBooks account: Just like with any other QuickBooks account, you will have to organize your company data into the correct setup. The hosting provider will provide you with a list of steps for this as well. Step 6: Update your data: You will then have to update your QuickBooks data to the new account. This can include transactions, preferences, and more. If you're using the hosted version of QuickBooks, you will be given a list of steps for updating your data file.