How to Earn More Revenue with Gojek Clone KINGX App?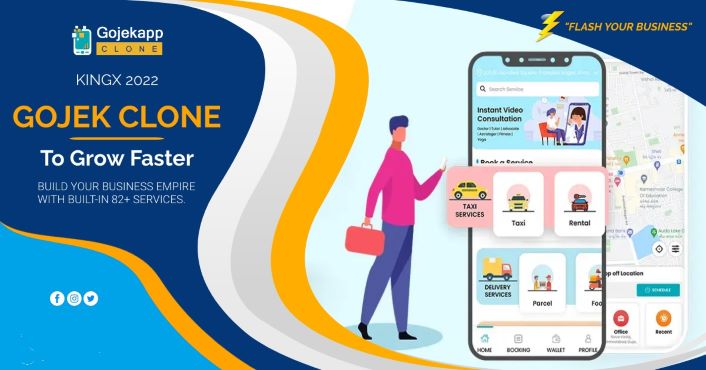 What's the main goal of starting and running a multi-service business? Serving the customers? Yes, ideally that is one of the primary goals. However, making profits and towering sales is one main goal. Well, good news! In 2022, money-making with a digital business model just got easier with the Gojek clone KINGX 2022 app. Let's explore how.
In 2022, the total app market revenue is forecasted to be US$437.80 billion (Statista). The same report by Statista also mentions that the number of app downloads will touch a total of 229,922.5 million by the end of 2022. Moreover, today, the average revenue per download is US$1.90. What do these numbers indicate? Aspiring entrepreneurs will say that this is probably the best year to invest in mobile app development. Well, yes! If you are planning to kickstart a digital multi-service business, then there is no better solution than an on-demand multi-service app like the Gojek clone.
In this blog, we'll explore a little more about:
What are on-demand apps?
What is KINGX 2022?
How to make quick money with a multi-service app?
Benefits of developing an on-demand multi-service platform
Let's begin!
What Are On-demand Apps? – in a Layman's Language
It is a hustling and bustling life. On some days, you might just wonder how you even get time to eat your meal. Well, it happens. If you are living in a city, have a 9 to 5 job, or even if you go to college, there are days when you don't have time to cook, drive by yourself, and even take your pet on long walks.
And that is when an on-demand multi-service app comes into the picture. Smartphones are where you'll find these apps. A simple app is all that one needs to get the desired services and stuff delivered to the doorstep right away.
Gojek Clone KINGX 2022 App – at a Glance
The KINGX 2022 is a stunning assortment of 82+ on-demand services in one app. From online taxi ride booking, on-demand deliveries from stores, parcel service, and hiring service providers to book a personal shopper and errand-runner, this is an all-inclusive super app.
In addition, the app also introduces customers to two new services. One, booking online video consultations with doctors, lawyers, fitness coaches, and even astrologers. Two, service bidding with local handymen like carpenters, painters, plumbers, electricians, and many more. In brief, this is an all-in-one super app with everything your customers need.
How to Make Quick Money with an On-demand Multi-service App?
Making easy and quick cash with an on-demand app is very simple. Now, the first time you'll approach the white-labeling experts, they'll explain to you the two very best, high earning, and profit-maximizing business models.
The commission-based model
As the name suggests, the entrepreneurs earn commission on every single of the 82+ on-demand services rendered through the app. It is the entrepreneur who decides how much market-relevant commission they want to charge. The commission can be different for distinct service genres. For example, taxi and moto drivers may pay 10% of every ride they complete while an on-demand car washer pays 12% of every washing service they complete through the Gojek clone KINGX 2022 app.
Earning a certain percentage from every single service, every day will make your bank accounts overflow! And with the blink of an eye, you'd be driving off in a gold-plated Mercedes!
Membership subscription plans
Another viable money-making model is the membership subscription plans. Unlike paying a certain percentage on every service, the service providers have to make a one-time payment either to purchase the plan or renew the expiring one. These plans are usually bought comparing:
Price
Features
Time validity
These plans can be monthly, bi-monthly, quarterly, half-yearly, and even annual. The entrepreneur earns a lump-sum amount of money directly to their bank account. What's more? Your on-demand multi-services app can be as famous as Netflix and Amazon Prime.
Besides the business models, the app owners also earn a luxurious lifestyle by monetizing from the app. The three very popular ways are:
Surcharges
It is the extra amount of money that the customers pay to avail of the service. A surcharge is usually levied during rush hours of the day when the demand for service is more and resources are shortened.
In-app advertisements
The Gojek clone KINGX 2022 app allows the entrepreneurs to integrate Facebook and Google Ads on the app's home screen. These are the third-party ads for which the app owner is paid a certain amount for every click on the ad placed on their app.
For instance, the app owner may get US$2.50 on every click!
Service cancellation charges
Another effective way to earn more is – service cancellation charges. Here, the app may charge the customer x amount for canceling the service just a few minutes before the time.
Customers may have to cancel the service for any good reason. However, if it's a last-minute cancellation, the app can charge them for it!
What's in It for Entrepreneurs Besides a Boatload of Money?
Besides enormous earnings, developing the Gojek clone KINGX 2022 app offers a number of benefits to entrepreneurs. Here are the key ones:
Low investment cost
Compared to building the entire app from scratch, purchasing a pre-built app solution is less expensive. Building the app by hiring a dedicated mobile app development company can easily splurge a quarter to a million dollars. Now why waste money when you can purchase a more combative, cutting-edge, and robust pre-built app for a four-figure price?
Launch the app in 1 – 2 weeks
Yes! Developing Gojek-like app and launching a fully-fledged version takes only 1 – 2 weeks. On the contrary, to develop and launch the app that you'd be building from scratch will nearly take 7 to 8 years of your life. Waiting half of your life for a product will not only waste your time but by the time you're done with perfecting the app, it will become obsolete.
Since technology is advancing so rapidly, you need to keep up with the pace. Therefore, it would be best if you purchase the clone script of KINGX 2022 and get it white-labeled!
Easy white-labeling
Don't worry about your branding because the white-labeling experts will:
Add your company's name and logo everywhere on the app, website, and other panels.
Change the color theme of the app and website
Integrate your preferred languages, currencies, and the payment gateway
Other than that, impressive and tech-advanced features will be integrated to create a smoother user experience for your customers.
Earn Your 1st Million with KINGX 2022
Get started by purchasing the Gojek clone KINGX 2022 app from a well-established and licensed white-labeling firm. While you make your decision about whom to hire, check that:
They have launched 1200+ apps
The website contains the video testimonials of their client
Their technology stack should be the latest
Must sign the Non-Disclosure Agreement (NDA)
Lastly, the demo app trial should be FREE. Remember, if the firm asks you to pay for the demo app, don't buy from them because they can be potential fraudsters.
Conclusion:
On the whole, the decision lies in your hands! Get the Gojek clone KINGX 2022 app script today and kickstart the app development process right away. Time is money. So, why waste it when you can launch the app in just a few days and start raking millions in profits!