You might wonder how a fish finder works. In operation, an electric impulse from a transmitter is converted into a sound wave by hydrophones and sent into water. When wave strikes an object like a fish, its shape, composition, and size become visible.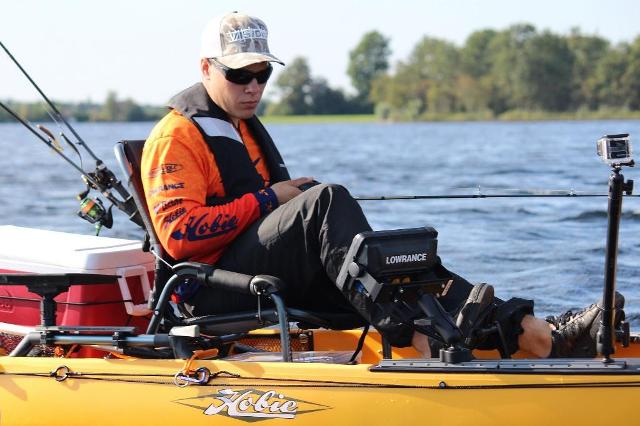 Benefits of GPS Fish Finder Combo Unit
This gadget is a must for all for all fishers so that they can succeed in their work. This unit is used to locate materials in large water masses.
When using this fish finder combo unit, not only can move quickly and correctly around great spots, you can save and locate multiple spots later. GPS Combo Units also allows you to get a broad range of data. This data includes information about water conditions, depth, and schooling behavior in combination with location.
How to choose best Fish finder Combo Unit
Whether you are a shallow water or deep water fisherman I advise you to consider;
Frequencies:
Fish finders operate under a range of frequencies when scanning and locating underwater objects such as fish and surface features. Research has shown that higher frequencies yield greater detail but fail to work in deep waters whereas lower frequencies carry further but generate detail on screen. If you are a shallow water fisherman, you should go for a high rate to gain best results. If you are a commercial fisherman low-frequency emission is best for you.
Power
Power output is an important feature to consider for best fish finder. Higher power output means better and deeper readings. Lower power units will not be able to send texts out far, and images will be of poor quality when compared to higher power units.
Visual Display Considerations
It is critical for you to have a large enough screen with good color and resolution so that your screen may serve double duty as GPS, fish finder or split –screen fish finder. Since most readers will buy a fish finder combo unit as their main screen,it is wise to go for the largest and highest resolution screen size that your budget will afford. Combo unit will aid your ability to split screen functionality, color variance, and original spot, mark and sail around with this unit around water masses.In fact, this is a great factor that will impact your enjoyment of this unit as a whole.
The following are some o Best Fish finders found in market;
Lowrance HDS-7 Gen2 Insight-this unit rates high is in the market. GPS antenna gives accurate and fast update of position and heading. Chart plotter gives a great mapping idea which includes U.S, inland lakes and other water bodies. It makes use of wireless technology so that you can see your chart plotter and also sonar readings on tablet or Smartphone. It display gives bright and clear imaging and LED back lighting.
Lowrence Mark-4; this is budget friendly, has a smaller, black and white display and a LED back lighting for viewing screen at night. Its GPS antenna gives correct and specific readings so you can easily sail and reach great fishing spots. Their antenna also has Micro SD card slot that gives multiple working options. At present Lowrance Fish Finder is most powerful and popular fish finder in the market.
Garmin echoMAP 50s; its 5-inch displays gives crystal clear images in both day and night so you can view your navigation data and potential fish. Their chart plotter comes with a 10Hz GPS/GLONASS receiver. This super –Fast technology refreshes its position up to 10 times per second. This system is very appropriate for navigating and marking way points.
Tips on taking advantage of best fish finder
To make best use of your added GPS features, here are some things you should always consider.
Contour lines: use these things to your advantage, as they will show you topography and bottom of your body water. Many fish like to hang out in similar depths, so knowing well about hills and valley beneath your ship can make a significant difference in your work.
Buoys: They help to mark different depths and shipping lanes, thus having this unit that means you can see where these are without having to plot them yourself.
Seabed; GPS tracking helps you get a perfect layout of seabed even when you are out on ocean thus you can position yourself just right for best catch.
Wreck; fish like to hang around shipwrecks so you can use your unit to highlight wrecks on maps.