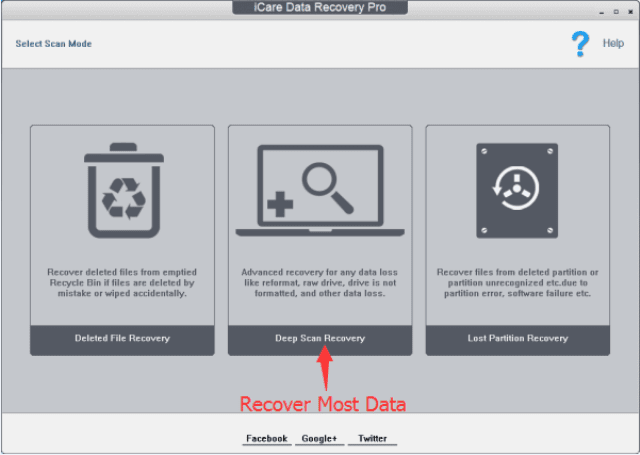 iCare Data Recovery Free to Retrieve Unlimited Data for Free
Recently need completely free data recovery programs to retrieve deleted or lost files back after mistaken delete or format? OK! No worry! There is 100% free data recovery software that has been newly released by iCare Recovery and is able to help recover unlimited data from USB hard drives, SSD, flash drives, camera or mobile phone Micro SD, SDHC or SD memory cards for free.
And read more details here:
https://www.icare-recovery.com/
Why to Use 100% Free iCare Data Recovery Software?
iCare Data Recovery Free is one of the popular data recovery programs designed and provided by iCare Recovery and allows everyone to scan and recover hard drive, flash drive or memory card files for free after unexpected delete, shift delete, format, reformat, Recycle Bin emptying, drive unformatted errors, drive unsupported RAW file system errors, drive corruption issues, blank or unsupported file system SD card problems, etc.
Here are some features of this iCare Data Recovery Freeware:
*It is easy to understand and use. All related hotkeys and interface are simple and easy to grasp.
*It is surely 100% free for every user to recover unlimited data from the selected storage device.
*It offers Deleted File Recovery and Advanced Data Recovery modes to deal with most data recovery problems.
*It works perfectly on any Windows computers, like the common Windows 7, 8 or 10 computers.
*It support all storage devices with different brands, like USB hard drive, USB drives, Micro SD, Mini SD, SDHC, CF, TF and more memory cards.
So, if you or your friends around get data loss troubles unexpectedly due to accidental delete, format, drive corruption or computer crashing, merely download this free software to do a completely data recovery there, especially when you are really on a budget.
Why to Use Professional iCare Data Recovery Pro?
Unlike the above mentioned iCare Data Recovery Free, a completely free data recovery tool, iCare Data Recovery Pro is a more professional data recovery utility that needs to be paid to recover data more than 20MB. With a user-friendly interface as well, iCare Data Recovery Pro is designed with much more effective features than iCare Data Recovery Free as below:
1). Offer more data recovery modes: Deep Scan Recovery and Lost Partition Recovery Modes
The Deep Scan Recovery mode always helps cope with nearly all data loss troubles. Even when your hard drive gets serious bad sector issues, not recognized issues or the likes, this Deep Scan Recovery mode often helps perform a through scan there and take the recoverable information back as much as possible.
The Lost Partition Recovery mode is also able to cope with different partition data loss troubles, like the deleted, unformatted, RAW format or not initialized or not recognized partition data recovery issues.
2). Offer more security of a successful data recovery
With far more effective data recovery modes mentioned above, this professional iCare Pro version always offer more security of a successful data recovery.
3). Offer more features
The iCare Data Recovery Free is often only for personal use. However, the iCare Data Recovery Pro is not only able to be applied for personal use, and also for commercial user. And it all depends on which type of license codes you do have purchased.
Overall, if you do want to recover some commercial data or need to use data recovery software on several or far more computers, this professional pro version could be a nice chance to try.
Conclusion
The iCare Data Recovery Free is really a useful tool for you to take your deleted or lost data for free. And, the iCare Data recovery Pro also offers many professional and effective data recovery features for you to perform smooth data recovery. And no matter which version you will select, you should remember it does not work on a Mac computer. If you really need recover data from a Mac hard drive or memory card, just extract it out from your Mac PC, connect it to a Windows computer and start iCare data recovery software to take chances.
Overall, download and apply iCare Data Recovery software to recover your deleted or lost files with ease and success.