Web hosting plays a great role in starting a business online. We are always looking for affordable web hosting solutions. You cannot simply imagine your online website without web hosting. However, in this highly competitive field, finding a reliable and affordable web hosting company is a very tough job.
In this post, we are going to tell you and review an affordable web hosting company. So, let's check it out.
Introduction
We are here talking about InterServer. Yeah, you heard it right! InterServer is today one of the best and reliable web hosting provider that provides top-notch web hosting services at very affordable pricing. The company was founded in 1999 in the USA, Headquarters in the state of New Jersey. They are currently providing various web hosting solutions like, Shared Hosting, VPS, Dedicated Servers, Cloud hosting, etc. at very affordable pricing. Let's check out some of their products and its pricing
Products and Pricing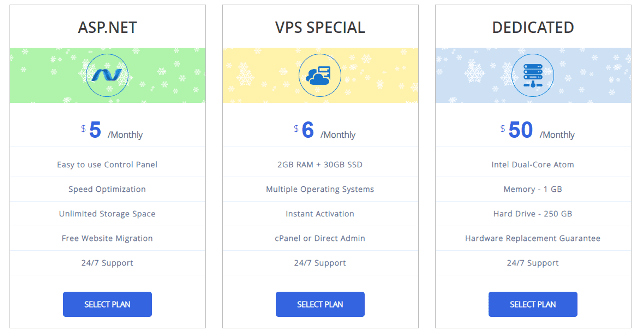 Shared Hosting
What is shared hosting?
Shared web hosting is a service where many websites hosted on one web server. It is generally the most cost-effective option for hosting, as the overall cost of server maintenance is divided over many customers. InterServer is quite popular among shared hosting segments. All of their shared hosting platforms have robust servers and comes with Cpanel for the easy management of your files and databases. Let's check out some of their shared hosting plans:
InterServer providing only one hosting plan under their shared platform. You will get :
Unlimited SSD Storage.
Unlimited Data Transfer.
Free Email accounts.
Free Cloudflare CDN.
Free SSL certificates.
Free website Migration services
Their shared hosting plan also comes with a Global cache network that speeds up your website performance up to 2X.  You can buy their shared hosting account for just $5 per month. You can also pay them yearly, biannually to get good discounts. Click here to buy their shared hosting plan.
If you are not satisfied with their service then you can ask for a refund. They are providing 30 days of money-back guarantee.
Similarly, you can also avail of the managed WordPress hosting within the same pricing as you pay for a shared hosting account. So, if you are looking for a managed WordPress hosting for your blog then you should go for it.
VPS Hosting
What is VPS Hosting?
VPS (Virtual Private Server) hosting is a term where a large server is divided into a number of smaller virtual servers which each acts as an independent environment.
This may sound similar to shared hosting, but with VPS Hosting every virtual server has a set amount of resources dedicated to your needs.
VPS hosting is an ideal choice for a growing website that needs more space and resources. InterServer VPS hosting comes with some decent features and power-packed performance. Their VPS hosting starts with $6.95 per month that comes with:
1 CPU core
2 GB of RAM
30 GB of Raid SSD Storage
2 TB of monthly data transfer
Their VPS hosting doesn't come with Cpanel as you have to buy it for an extra cost. So, initially, it will cost you around $21 per month for their VPS plan (Prices are for starter plan)
You can also raise your storage and other resources by upgrade your VPS plan to the higher plans. Their Top VPS plan comes with:
16 CPU cores
32GB of RAM
480 GB of SSD Storage
16 TB of monthly transfer
This plan will cost you around $96 per month. The pricing is not bad at all if you compare the features. You can also choose your own choice of OS which you want to install on your VPS servers. InterServer is also providing easy management of your VPS server through Cpanel or WHM. Click here to check out their VPS plans.
Dedicated Server
What is a Dedicated Server?
A dedicated server is an ideal choice for large enterprises. A Dedicated server gives you optimal space and resources to operate a large website or eCommerce site. InterServer provides dedicated servers at very affordable rates. Their initial dedicated plan will cost you $70 per month. It comes with:
8GB of Memory
250GB Hard Drive
Free Data migrations.
Easy management
You can upgrade your resources at any time whenever you need more resources. Click here to sign up InterServer Dedicated servers.
Customer support
A web hosting company must need to provide responsive and prompt customer support services. InterServer provides excellent customer support service. They are providing 24/7/365 days live chat, phone, and support ticket services. They also have a comprehensive knowledge base to sort out the most common issues related to hosting.
Uptime
Every webmaster wants good network uptime. InterServer provides excellent network uptime with 99.99% which is decent. Response time is also pretty decent with an average of 450ms.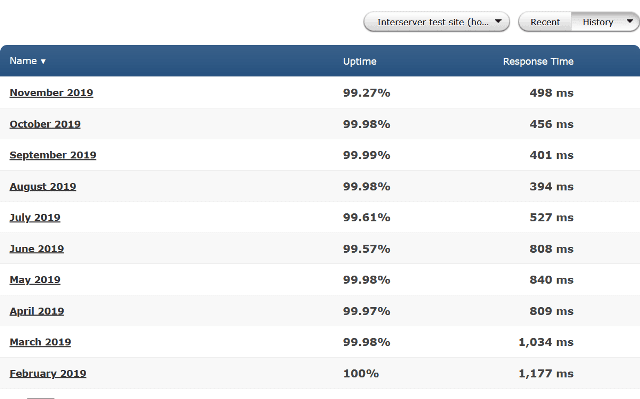 Money-Back Guarantee
InterServer provides 30 days money back Guarantee. This means if you are not satisfied with their services then you can ask for refunds within the 30 days of purchase. They also have a price lock guarantee. i.e the renewal prices will be the same as the purchase price.
Conclusion
If you are looking for affordable web hosting services then InterServer is an ideal choice for you. Whatever is your hosting needs, InterServer covered it all. I highly recommend you try out their services and let me know about your experiences with them.