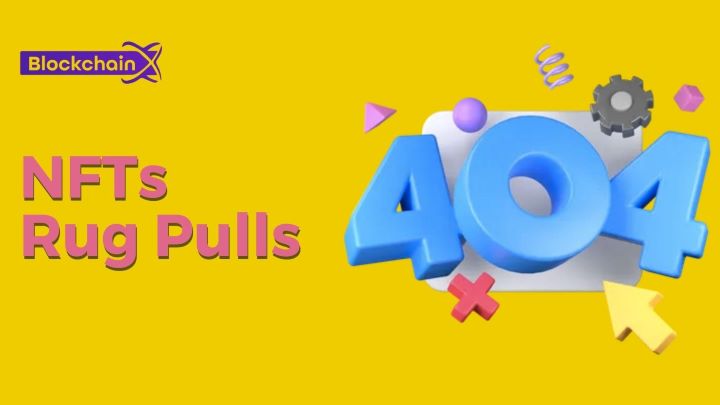 NFTs and Rug Pulls
As we say, non-fungible tokens are unique and can't be replaced. That's right, each NFT has a digital signature, which makes them unique. NFTs are an exciting way to collect digital art, but they're not very good as an investment. The risk of losing some or all of your money in NFT investing is very high. Rug pulls are the best example of that.
Now you may be asking what Rug Pulls is. A rug pull is a scam promoting a crypto token via social media. After raising the price, the fraudster sells, and the price usually drops to zero. Crypto scams like this are becoming common these days.
It is now understood that NFTs are no exception to malicious attacks. So, learn how to protect yourself from the damage of NFT rugs.
How to Prevent NFT Rug Pulls?
The concept of NFTs grew rapidly like a mushroom that sprouted one morning. As technology evolves, so do its flaws, or the scammers' efforts to exploit them. While the growth cannot be denied, this crypto sector is plagued by many scammers. The circle is closed for new entrants who are trying to take advantage of their cash-grab initiatives. This section will show you how to spot NFT rug pulls and how to avoid falling prey to one.
The thing you should know about NFT Rug Pulls.
Simply put, a rug pull refers to a business exit scam where the founders or lead developers of a project part after raising funds from investors. These founders often come up with attractive plans but do not execute the plans or help investors earn a return on their capital. There are a lot of ways to sneak up on the NFTs and these rugs pull attacks. Firstly they conduct presale offers and then start minting NFTs with the funds received from investors' deposits. After the preparation of NFTs, the next steps include:
Dumping: When it sees the NFTs price going up, the holder tries to hype it up in various ways, and when it does, the owner who made it will immediately release them all, this is a big profit for them but a great loss to investors who are ready to buy up to 40% of it. If this is the exploitation behind it, its price will plummet after its release. These create illiquid assets.
Hard Rugging: This is a big trap, where developers input smart contract codes to prevent NFT holders from selling or creating backdoor access that only allows developers to sell their tokens. Holders of such preset NFTs can only buy and cannot sell them according to their wishes.
Pumping Altcoin: This is a feature but also something that leads to a big loss. Here developers pair their NFTs with altcoins. Because of that, they can pump up the price of altcoin and thus the value of their NFTs. Once the increase is done, the developers gain by removing the liquidity of the NFTs.
Foreshadowing of NFT Rug Pulls
Here is a list of red flag indications of NFT Rug Pulls you should know before investing in an NFT marketplace Development:
Anonymous Founders
For crypto, it would be best to remove the term anonymity. But looking at new startups, many of them are unknown. You can approach well-known and reliable companies when starting your project. Anonymity often predisposes to rug pulls. Here we cannot interrogate them or find out who they are. If things go wrong, handle it legally.
If you are a crypto enthusiast, check all available social media and websites to see if this founder is genuine or a scam.
Ambiguous plans
No one can jump immediately and reach the top level, just like that, when starting to build a project, you need to start with a good plan. Most of the NFT plans that are subject to this rug pull will be unclear and their white paper is a copy-paste.
A project's white papers are more than just a promotional listing and an overview of the project rather they are a project's detailed planning strategy and a source of trustful work.
More emphasis should be placed on use cases, tokenomics, and benefits, with charts and statistics backing up these claims.
Social Media Engagement
Social media engagement now has many facets, it's easy to buy apparel and sponsor content through paid influencers. However, you should first remember that projects that stand the test of time strive to deliver quality work, frequently solicit and review feedback, and keep errors to a minimum.
Also, the project has a huge buzz and a telegram following but doesn't get a fair amount of engagement aside from the traction that comes with the promise of whitelists and other rewards. In this case, you should be careful about them.
Liquidity
The mark of a good project is not a plan for days or months but rather a plan for years. Most projects that are planned well are locked in their liquidity, which is a sign of a good start.
Liquidity drawn to a project can be another sign of authenticity or rug pull. In general, you need to check the amount, the period it has existed, and the ownership of the tokens.
How to Stay Safe
Avoiding NFT rug pulls ultimately comes down to being cautious and heeding the warning signs. Therefore, you should always do proper research before investing in any project.
Approach White label NFT development company (Blockchains) like us to build a trusted project and be safe from rig pull attacks like this.
To Conclude:
With the boom in digital assets like NFTs and the popularity of buying them, big scammers are looking to crash it all. Take security measures to protect your NFTs from rug pulls attacks. Make sure you are investing in the right place. There is a list of companies developing NFTs today but you should focus on trustable and white-labeled ones.