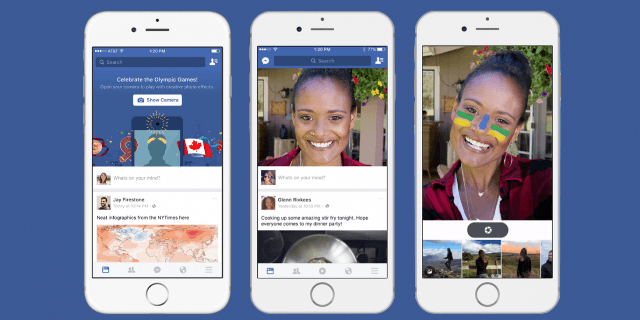 The famous image and multimedia messaging service has given the world's biggest social media website a tough competition. What is that Snapchat has and FB does not have, that it wants to clone it? We can avoid all the boasting by supporting, sharing and a lot more unnecessary things on Snapchat. When someone comments on our post, only we can see it, no need to change any settings at all.
We do not get any kind of reminders which we have long forgotten, but FB never misses to remind us all the trivial things too. Facebook is always blue and if we want it to be colorful, we need to customize it. But, Snapchat won the hearts of the younger generation with its appealing interface. Snaps on Snapchat are available only for 24 hours, so we will surely be hooked to it before we miss out on anything.
These are a few things we can list out that Snapchat is reaching out for the masses, though FB has become a home to all. But, we can see that all the younger generations have started to use Snapchat as it is more fun. The moguls of social media have made a strong footing, but have built a strong rivalry at the same time. FB is trying to clone the features of Snapchat to keeps its users engaged on its site.
Facebook has designed the new mobile app called as "Flash" to take on Snapchat. It has been developed in such a way that it does not occupy too much of space in our phones. This app is available for Android users presently; for iOS it has yet to be detailed. Initially, it was launched in the Brazilian market as it is expected that its take off will be good enough to win the competition.
They have been almost 13 attempts made until now to clone Snapchat and most of them were of no avail. It has been trying all the features available in Snapchat with its own chat app. They have been testing all the features which they would like to have on Flash. As the previous dozen attempts has been a failure. Can we expect that, this will be a successful endeavor?
We know that, when compared to Snapchat users, Facebook has more users. Snapchat is a new bee in this venture and has made a big success especially with the youth. Meanwhile, we can say the people who are using this chat service mostly belong to the age group of 13-34. The older generation, still sticks to use Facebook instead of any messaging service.
It is a fact that most of us like to use something which is creative, innovative and trendy. But, sometimes it is better that we try to hone a few skills from our contenders. There is no harm in doing so, if it works out it is well and good otherwise we will try something else. So, Instagram has added a few features to its app which are available on Snapchat.
Snapchat is looking at all the different smart phone messaging apps and trying to add its own ideas. They have found an interesting feature on Instagram Stories the ability to rewind a story. Now, that is something a Snapchat user would like to have and they have implemented it. This company is improvising all its way to provide a good experience to its users.
Facebook has launched a few new features in its app, a filter designed for FB Live which is a Halloween special. It is testing a new camera feature in its app which will provide pictures and videos with a better clarity. They have recently proposed a business deal of buying "Snow" which is the Asian clone of Snapchat. Unfortunately it all went in vain as it got rejected by them; they think that they have better business prospects without Facebook.
It was also reported that, in the year 2013, it tried to buy Snapchat for a whopping amount of 3 billion dollars. In the past, FB has launched "Poke" and "Slingshot" unfortunately it didn't make a big appeal to the public. It has been almost 3 years now that the social media hub has been trying to clone its rival. There is no stopping of attacking Snapchat and making it bigger and better for the world.
Recently the company launched a new app into the market, which is available only for 21 and younger, "Lifestage". It is an app where people can create videos with their different moods, favorite things and best friends. It is targeting the generation which is not swooned over by Facebook, the teens. This app is taking baby steps and will the teenagers like this app? It is vivid enough for us to see that, the past attempts of bringing new apps to the store has been a failure, we hope that even this is not amongst the rest.
Instagram has been doing a pretty good business so far and the features are captivating as well. But, cloning Snapchat into Facebook's messenger app is going haywire. They are not going to give up; it has faced failures, but is analyzing the reason behind it. It has launched "Messenger Day" which is the main factor of Snapchat.
It allows its users to post pictures and videos and it will be ceased after 24 hours from the time of the post. As of now, it is available only in Poland, where the reach of Snapchat is not big. This feature has been embedded in the Messenger app of FB. They are testing this new feature; they have done it with no anticipation of grabbing too much attention.
If this launch becomes a great success in Poland then it will think of reaching the rest of the world. They have been cautious enough before implementing any kind of features to the app. Instagram is owned by Facebook and is doing well by cloning Snapchat and it has been a successful. But, for some reason the company itself is unable to make it big as anticipated.
They have recently bought the "MSQRD" app to make the selfie look more charming than a regular one. The official said that they are much inclined towards creating creative and innovative tools for a better experience. It is a fact that its cloning skills are yet to be fine tuned to take a stand in the market. There may have been downfalls along the road, but that is not going to stop them.
Flash has been designed in such a way that, people can use it where they can find connectivity issues. They are hoping that this will make people to use it often and stay active in the app. Snapchat has around 60 million active users, these statistics are just for the U.S and Canada alone. What about the rest of the countries will it make it big?
Facebook hopes that the interface, space and less data consumption will make the users switch to Flash. If, they can add the element of "lens" which gives us great images and videos with effects. Maybe, Flash will be a catch for every user and an easy goal on the court for the gigs. It might be facing a tough competition in the market, but we can hope that it will definitely make it big.