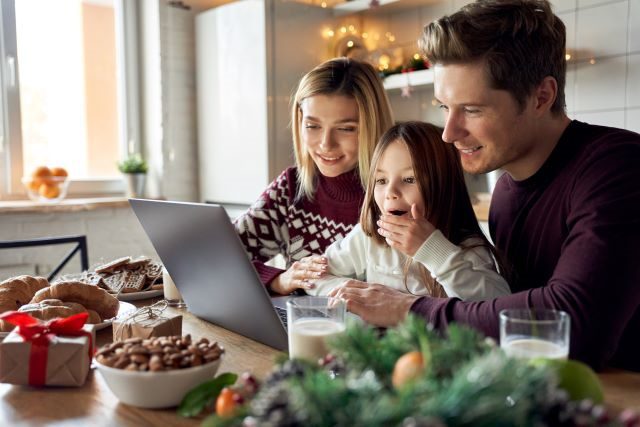 The most widely used and rapidly expanding media communication today is video messaging. Personalized video messages are ideal for sending more intimate versions of "thank you" and "I love you."
Video messages are fantastic for family members, colleagues, relatives, and everyone in between. Video messages have tremendous power because they activate both the senses of sight and sound.
With facial gestures, tone of voice, and eye contact, video activates our senses and makes giving and receiving gifts more emotional for both parties involved. A more dynamic message enhances connection and produces memorable, potent moments.
The use of video gift messaging by businesses and expert service providers is rapidly increasing. Why? Video is a particular type of media for text. Everything is communicated more successfully when presented visually rather than textually, whether you're marketing, advertising, educating, or simply engaging with consumers.
According to forbes, people gain 95% of a video's message as opposed to 10% if they read it. That is where a video message's strength rests.
How to Use Video Gift Messages to Your Advantage 
Only video can transmit non-verbal clues like eye contact, voice tone, and body language, which are crucial for eliciting an emotional response from viewers. The most excellent strategy to develop a relationship and brand affinity with customers is to evoke emotion and provide them with a meaningful experience. A generally unexploited way to attract and keep clients is by using video communications.
A great technique to interact with customers who aren't quite ready to buy is through video messages. Many companies now use video as a client service tool, but they still may not fully understand how effective video messaging can be for client retention.
Why is that so? It is a result of businesses not considering the value of emphasizing emotional experiences and user-generated content. Offering video messaging to consumers allows them to instantly build a feeling of confidence between the business and their receiver that the company cannot provide on its own. In addition, it gives customers more significant influence over the gifting process.
A video upload is just the beginning of video messaging. Additionally, it includes the events that will be added with the personalized video message. Using the occasions that coincide with the video greetings gives a gift a more thoughtful touch. Brands get to create events that customers will select and recipients will enjoy.
A company must understand how to use video gift messages for maximum success. Below, we've listed a few best practices in detail:
Display a live example and textual data about the video gift messaging option right on the front page of your website.
Create a CTA which will catch your client's attention.
Create appealing options for your clients to pick from and launch an advertising campaign for the new function across all advertising networks.
It doesn't have to be challenging to maximize video gift messages; you need to be deliberate.
Video for friend's birthdays  
Spend a few additional seconds making a quick video clip for your buddy's birthday. The truth is that making a surprise video message is very simple, and you don't even need to know how to use technology. A video clip is a genuine surprise and an unexpected act of kindness.
The following nine pointers will help you create an excellent birthday video clip for a friend:
Just be yourself; it is your strength. No one else is you.
Consider what your buddy would like to receive on their birthday by putting yourself in their position.
Tell him a story: It could be a recent occurrence or something that happened in the distant past. It will be nice to remember if you've shared an adventure, such as traveling, going to a performance, playing, or enjoying a delicious meal.
The three locations are: Try to capture your movie in a unique or amusing setting that your friend might find appealing.
Use a quotation: Read a passage that brings your friend to mind.
A small song: Use a song's lyrics to convey emotions or bring up a line from a song that both you and others find meaningful. Naturally, it's acceptable if you can't sing. The video becomes considerably more enjoyable as a result!
You shouldn't make a mistake with a compliment, in other words. Remind them of their unique qualities!
Keep it light-hearted: Make them giggle by joking around, applying a unique filter, or addressing them by a unique term of affection or nickname.
Encourage others to join you because more is better!
How to Create an Engaging Birthday Video
Birthday, belated
It frequently takes place! Everyone has forgotten a loved one's birthday at some point in life. However, sending them late birthday wish videos to cheer them up and express your regret won't be a problem.
Additional text options include: "I hope your big day fulfills all of your expectations! I'm hoping you have a day chock-full of joyous surprises! Birthday greetings!" from Unknown.
Summary of a birthday party

Let's use the birthday memories from the previous year to create this year's birthday wish film! It will be interesting to observe how everything is both the same and different simultaneously. Discuss and share funny images from your most recent birthday to add humor to your birthday wish.
You may use the following quotation in your video: "On your birthday, we want to wish you everything you've ever dreamed of having in life—or even more. Birthday greetings!" by a mystery.
Video gift

Let's create a presentation video to add to the fun. You can include directions for a gift throughout this birthday wishing video and then, for comedic effect, advise the birthday visitor to buy the gift themselves.
The individual will find this a lot more enjoyable, and you may participate together to make it a memorable experience. "I'm sending you a bouquet of pleasure to express happy anniversary to you!" by someone unknown.
You can use video messages effectively now that you know them. So the logical follow-up query is how to transmit these messages.
Physically or digitally is the most straightforward response. The appropriate delivery method depends only on the planned flow and present fulfillment of a store. Consistently deliver physical video gift messages, which is how we advise.
To avoid interfering with a store's operations and to make your job easier, there will be video gift message applications that connect to different fulfillment methods with ease.
About Author:-

Colin Palma, the Co-Founder of Emotional Commerce, has a proven track record of catapulting revenue and profitability by acquiring key clients and improving product penetration to grow market share. He is well-versed in building brand positioning by ensuring uniqueness, analyzing competitors, and developing distinct and value-based ideas. He is also a multi-tasker who thrives on taking on complex projects, works efficiently in a diversified environment, and is passionate about developing and executing high-impact brand partnerships.