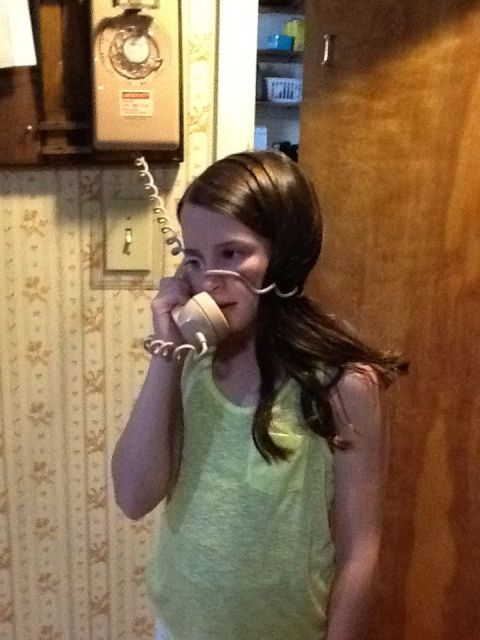 Courtesy of Pinterest
Ever since the late 1990s, cellular phone has gone from being a luxury to a necessity for most individuals. Most people (especially Millennials) dread the telephone. Because email and text are much more convenient, these methods of communication are often preferred. As a matter of fact, about two out of five American households have disconnected their home phones and now rely solely on mobile services to stay in touch with loved ones.
If for whatever reason you're considering moving over to the mobile-only movement, though, you might want to rethink: Here are a few reasons to stick with a home phone, whether it's a landline phone (traditional copper-wire connection) or a VoIP (voice over internet protocol) provided to you by your cable company.
A landline phone has better call quality. A landline telephone involves a phone that has a wired connection to the telecommunication grid by way of utility lines. Furthermore, these types of phones can either be corded or cordless. Normally, voice quality for talking and listening on a cordless phone is generally better than that of the best cell phones. This is important if you suffer from hearing loss, live in a noisy household, or if you spend a lot of time on the phone.
The risk of getting your information hijacked is reduced. Do you remember those old Motorola flip phones? If you do, then you know those phones were really simple, audio-only devices. This was, primarily, because of the technology they used. To put it another way, those original phones were analog transceiver based devices.
Cellular phones, on the other hand, use a GPS-based method to report your location. Which for some users, isn't a big deal. But this means of reporting your position can quickly backfire if a hacker wants to learn about your personal life; and the bad news is, once the damage is done, there's no reversing it. Normally, once an account has been hacked, all the user can do, is try to find a trustworthy anti-virus software to help secure their phone, or conduct some sort of VM data recovery to add a little more complexity to prevent future attacks.
By way of example, let's pretend you need to contact a 911 operator. As was mentioned before, cellular devices use a GPS system to report your whereabouts. Which is fine if you're on the road, but if you live in a high-rise building, it won't indicate to emergency personnel which floor you're on. On the contrary, since a home phone is connected to your address, emergency services will be able to locate your position; and if you live in an apartment, they will also know your apartment number as well.
Also, a phone with a corded base can actually work during a power outage, assuming it's connected to a conventional landline or VoIP service that has battery backup.
Although a cellular phone can work during a power outage, the battery will eventually die and if the power hasn't powered back on yet, you could be out of service during an emergency.
You probably won't see much of a price difference on bills. Think about it, when you cut off your traditional landline, you'll have to depend on your cell phone plan, which is probably already $40 a month for basic cell service or $80 for high-tech smartphone plans.
Dropping a phone line from a bundle package, for example, might save you as little as $5 or so a month. That's simply because the discount for an internet and TV bundle is usually less when it includes a landline service. In a recent survey, about 40 percent of consumer reports readers who thought about switching telecom services only kept the phone bundle because they viewed it as skimpy savings.
Making long distance calls. Placing a long distance phone call via cell phone can be costly and unreliable. Making international calls on the landline, however, is usually more reliable since it provides better quality through the connection. Cell phone carries also charge their customers more for calling internationally than those who call from a wired connection.
Security systems require it. Most home security systems require a phone wire to call out to monitoring service agents if they detect an intruder. Some of them can get by without an active landline, but it's always wise to double check with the security companies before ditching your home phone. If you don't have a landline, alarm companies may charge you extra to install a special device that works specifically with your cellular phone connection. Fax machines, also have to operate off landlines in order to work.
————-
Thanks for the read. Did I miss anything? What are some other ways having a landline phone can be beneficial to people? I'll be checking for comments.
Author Bio:
H. Davis loves to play football and enjoys exploring the outdoors. If you can't find him online, you might be able to catch him playing football with friends, or cheering on the Denver Broncos. Follow him on Twitter at @Davis241. Thanks!
References: