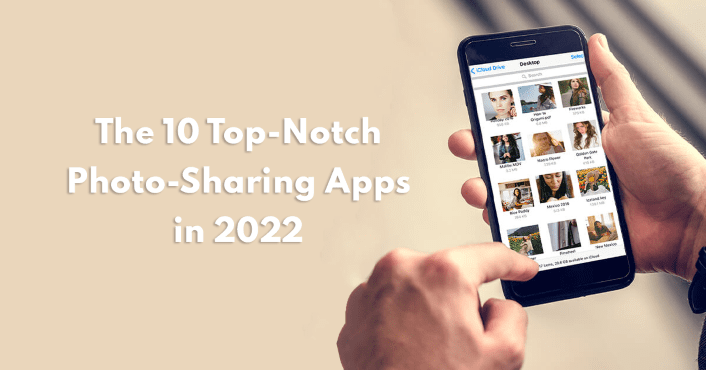 With each new smartphone generation bringing a better camera than the last, taking images has never been simpler or, to put it another way, more enjoyable. The question is, what should you do with your photographs once you've shot them? What is the best way to share them with your friends and family? The answer to that question is dependent on your priorities. If you want to transmit your images just to certain individuals or whether you want to post them for everyone to view, this is something you should consider. Continue reading to find out which photo-sharing applications are the finest and most convenient for distributing your photos in the manner of your choosing.
The Best Photo Sharing Apps
You're most likely using your smartphone to take most of your photos. It gets better with each new phone model, and it's constantly with you in your pocket since it's built into your phone. So that you'd want to discover an app that makes sharing the images on your phone more convenient makes it logical, doesn't it?
In addition to their websites, many of the sites included in this article have an app with many of the same sharing functions. However, you may have tried such applications and are dissatisfied with how they perform on your phone. Assuming this is the case, here are ten top-notch smartphone applications that will make it easy to share your images.
Beam: Fast & Easy to use Files Sharing App
As someone who wants to share files, Beam File Transfer Sharing App is an excellent choice. It is simple to use and allows you to share files across mobile devices over a Wi-Fi network. The beam was built from the ground up to be a simple way to send many different types of data between popular smartphone platforms. Whether the files are being sent to another device on the same WiFi network or to a device in a different city or country, they can be shared easily and at lightning-fast speeds. Because of this, there is no longer a need to share your data with anyone else. Beam File Transfer and Sharing App is a safe way to send and share files and documents. It lets you move and share almost any kind of file or document.
Users of this simple file-sharing app can communicate by giving each other an activation code. They can then send and receive images, movies, music, audio, and many other types of data between each other. To make things even better, you'll be able to communicate data faster and more easily as well. You can now move data between devices safely and quickly without sacrificing security in the process. In addition, there are ways to move data that don't hurt the overall quality of the user experience, say the experts.
Photocircle
A great approach to think of PhotoCircle is a large shared picture book, which is one of the most effective ways to think about it. When you create a new album in this manner, it is private, and only you have access to the images you upload until you invite other people to become members of that album, at which point it becomes public. You may also provide other individuals access to your album once they have joined it, allowing them to upload their photographs. There are no restrictions on the number of people who may be invited or the number of images that can be posted, which is the most significant feature.
500px
500px is a well-regarded photo-sharing app with a lot of potential. It enables you to share your work with millions of other photographers worldwide by using social media platforms like Facebook and Twitter. With the app, it is possible to share your work with other specialists, and you may even get reimbursed for your efforts if you are successful. It operates in the same manner as a social networking app would operate. You'll be provided with a profile page where you may display your work for others to see. Individuals that steal your work will be discouraged from doing so if you license your work. The developers have been working on several different feature tweaks and enhancements for quite some time. Consequently, it is currently a bit buggier than we would have liked at writing. This method of disseminating your images to a bigger audience, on the other hand, is effective.
VSCO
While VSCO is most recognized for its advanced photo editing skills, it also provides a comprehensive suite of sharing options to users. Once your photographs have been imported, they will be published and organized into collections, and they will be accessible for sharing both inside and outside of the VSCO network. VSCO is fully free to download and use, but you can get access to additional features by subscribing to a premium membership, which costs $20 per year, in addition to the free version of the application.
Nearby Share
The Nearby Share feature on Android works very well if you are directly in front of the person you want to share a photo with. To use Nearby Share, you and the other person will need to go into the phone's settings and enable the feature available on most contemporary Android phones. The next step is going to the photo, clicking on the share button, and then selecting the Nearby Share option from the menu. Finally, the image is transmitted to your friend's phone via the service, and you're done with the process. Android does not have a well-recognized functionality, yet it is a terrific function that performs admirably in most situations. As an integral part of Android, it is also interoperable with devices from other manufacturers, enabling a Pixel to exchange data with a Samsung smartphone if required seamlessly. To learn more about Google, please click on the icon to the right.
Ever
Ever offers much more than letting you share your photographs with your friends and family; it also allows you to back up your whole photo library for free and save as many photos as you want to your hard drive. Although your pictures are compressed when you use the free tier, you may maintain their original quality by subscribing to the Ever Plus membership if you like. If you wish to share your photographs with close family and friends, you may post them to shared albums or connect them to your other social media accounts to have them published directly to those platforms.
Cluster
With Cluster, you can securely and privately share all of your photographs with friends and family in a private and secure environment. Cluster differs from the other apps on our list in that it generates private groups where everyone may continuously submit photographs and videos with one another rather than making a joint album to share with others. Furthermore, you may organize your photographs inside each category into different albums and collections by selecting the appropriate option.
FamilyAlbum
As you may guess from the app's name, FamilyAlbum is intended to make it easier for family members to share images. Most of its users are parents who want to keep their family members up to date with pictures of their children without disturbing all of their other friends on social networking sites. Taking use of the fact that you're already uploading images of your family, FamilyAlbum also offers fantastic tools for making and publishing a real picture book from those photos.
Google Photos
It used to be that Google Photos was the no-brainer, de facto choice for this kind of photography activity. Things got much more difficult to manage and maintain when it became a subscription service. However, it performs almost the same duties as Amazon Photos but with far greater levels of refinement and polish. It instantly uploads your photographs and provides you with the opportunity to share them in a variety of ways with other people. It's quite simple to quickly share whole albums or individual photographs with your friends and family members.
Furthermore, if your friends and family members are also Google Photos users, the in-app sharing feature is quite easy and dependable. A variety of effects like collages, quick animations, and gorgeous small films may be generated using the app to give your photographs a little something more to stand out. It costs $1.99 per month for 100GB of storage space and $9.99 per month for 2TB of storage space to become a member of this service. If you absolutely must, you have the option of increasing your bid significantly.
Foodie
Even though Foodie is primarily and originally a picture editor, the many built-in sharing connections have won it a spot on our list. You have the option of sending a picture by text message if you so want. Another option is to share it on your favorite social networking platform. The Foodie app makes it simple to modify and share photographs precisely the way you want them to appear. It just takes a few taps.
It is not only possible to add fascinating and unusual effects to your photographs, but you also have a great lot of control over how your photographs are altered in general. There are two options available to you: applying a quick preset to your photographs or going into great depth with the alterations.
Wrapping Up
There are several solutions available in distributing your photos, whether you're looking for a quick and secure method to transmit photos, a platform to showcase your best photography skills or a way to post photos immediately from your smartphone. Perhaps this article has supported you in deciding the most efficient approach for sharing all of your photographs on the internet.