When getting a brand new and powerful iPhone, you might pay almost all attention to the new device instead of that old gadget. It's normal. But if you intend to sell or give away your old iPhone, please focus on your old iPhone first.
Nobody likes leaking important and private information to others, especially when that person is a stranger or even a bad guy. Thus, you can get a list today about things to do before selling or giving away your iPhone. They can protect your privacy. Let's get started.
1. Back Up iPhone Data
Your current iPhone contains too much information about you, and most of the information is useful or even valuable for you. Thus, you cannot delete the data randomly, and backup is an ideal option.
If there is adequate space on your iCloud, you can directly back up the iPhone data to iCloud. Go to Settings, tap your name, and find iCloud. Then turn on iCloud Backup, and tap Back Up Now. Please make sure your iPhone is connected to a steady network during the backup.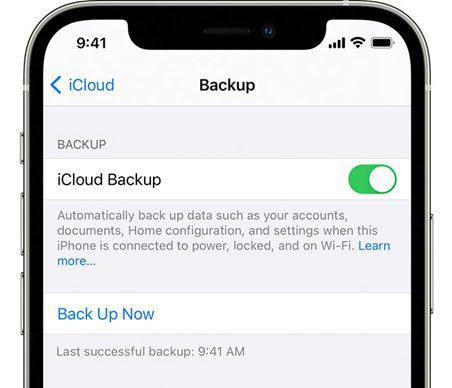 What if you don't have sufficient storage on iCloud? Luckily, nowadays, as long as you update your current iPhone to iOS 15, you will get temporarily unlimited iCloud storage. The period of validity is three weeks.
Here's how to get the temporary storage: Go to Settings, tap General > Transfer or Reset iPhone > Get Started > Continue > Move All App Data with iCloud > Done.
Also, you can back up your iPhone to your computer via iTunes. Launch iTunes, click the iPhone icon > Summary, and choose This computer. Next, tap the Back Up Now icon to start the procedure.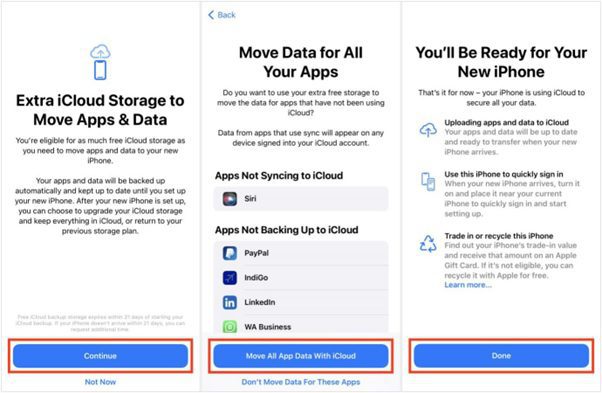 2. Transfer Data to Your New Device
After finishing the backup, it is time to transfer data to your new device if you have got it. What way you need to transfer data is up to what your new smartphone is.
As you know, you can use Move to iOS when the new gadget is iPhone, iPad, or iPod touch. Please turn on your new device, and begin to set it up. When getting the Apps & Data screen, you can choose Restore from iCloud Backup or other options. Then it will sync the data to the device. Once finishing the setup, please check if your data are on your new device.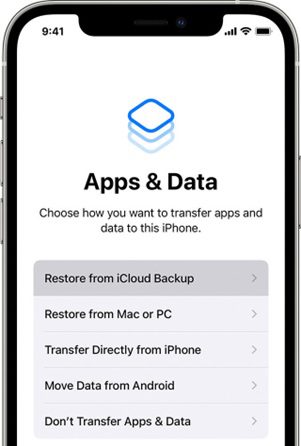 But if you switch to an Android phone, Move to iOS is invalid. Anyway, you can choose other ways to move data, such as using Smart Switch, OnePlus Switch, Phone Clone, etc. Most Android manufacturers have offered transfer apps for their users. Even if you don't like these apps, you can download a third-party app, like Send Anywhere, Copy My Data, SHAREit, and the like.
3. Unpair Your Apple Watch
Now you have done with your data. Next, please remove the connection between your old iPhone and your other electronics, such as Apple Watch.
To unpair an Apple Watch, you can open the Apple Watch app on the iPhone, and click My Watch > All Watches. Then hit the info icon next to the watch, and unpair it to this iPhone.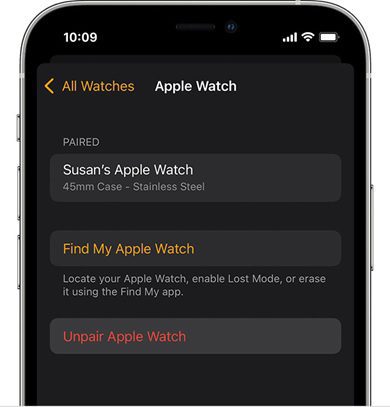 4. Deactivate Find My iPhone and iMessages
Do you remember whether you enable Find My iPhone on your current iPhone? If yes, you need to deactivate it. Otherwise, its new owner cannot use this feature, which is also a stumbling block for your transaction or donation. Please open the Settings app, and tap your name > Find My > Find My iPhone. Then switch it off.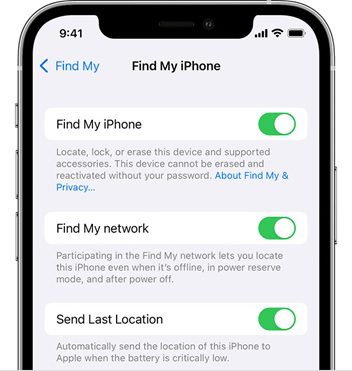 Additionally, if your next device is not iOS, you need to deregister iMessage. If not, you cannot receive SMS or MMS on your new phone. You can go to Settings > Messages to disable the iMessage button, but the premise is that the iPhone is connected to the mobile data network before turning it off.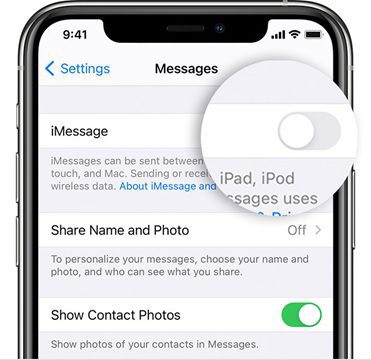 5. Sign Out of Your Apple ID
This time is to sign out of your Apple ID, that is to say your iCloud account. That's simple. Navigate to Settings, and tap your name > Sign Out. That's all.
6. Log out of Your Apps
Besides your Apple account, you have logged in on some apps on your iPhone, right? To keep your accounts safe, logout is necessary, including your WhatsApp, Facebook, Instagram, and so forth.
7. Remove the iPhone from the Trusted List
You are going to sell or donate this iPhone, so it will not be your device later. This step is also to protect your information from leakage. Please go to visit the Apple ID account page on your computer, and sign in with your account, and choose Devices. Next, choose your current iPhone, and tap the Remove from account.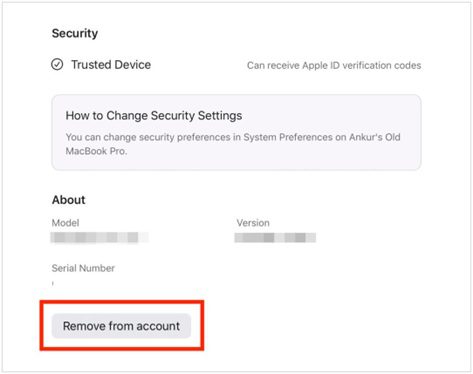 8. Remove Your SIM Card
OK, you can take your SIM card out of your iPhone now. Please prepare a paper clip, and insert it into the hole beside the tray. As the tray is ejected, you can successfully remove the SIM card. Next, please push the tray carefully into your iPhone.
9. Thoroughly Erase Your iPhone
Then what can you do for your data on the current iPhone? Of course, you can erase your iPhone. There is a built-in feature to reset your iPhone, and you can find it on the Settings app > General > Transfer or Reset iPhone > Erase All Content and Settings.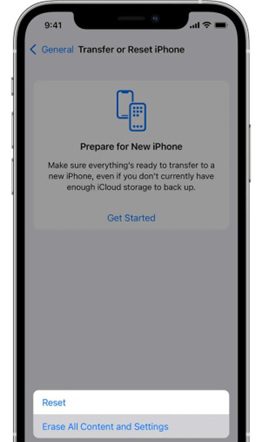 If you want to erase your data permanently and easily before trading or giving away this iPhone, you can choose Coolmuster iOS Eraser. This program provides 3 progressive levels for wiping data: Low Level, Medium Level, and High Level. It can erase existing and deleted data from iOS devices, including contacts, SMS, thumbnails, call history, search records, bank accounts, passwords, and more. No one can recover your data from your device after using it.
To thoroughly erase your iPhone, you can download and install Coolmuster iOS Eraser on your computer. Launch it and connect your iPhone to the computer via USB.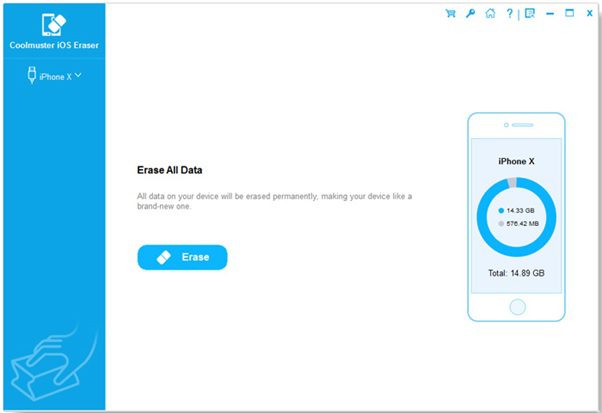 Tap Erase, and click Medium to choose an erasing level. Then type delete to confirm your operation. Finally, click Erase icon to start the process.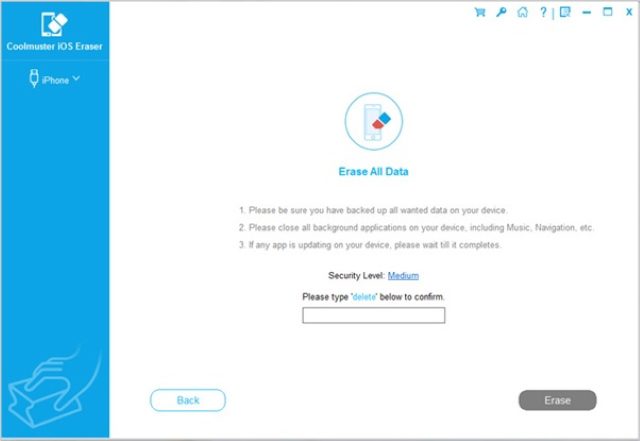 10. Clean Your iPhone
At this moment, the data are gone on your iPhone, and you can clean the device before giving it to others. You can use a soft and dry cloth to wipe the phone. This step can make a good impression on the recipient.
Wrapping Up
There you go. These are the things to do before donating or selling your iPhone. If you haven't noticed these details before, you can now follow these steps to complete them without trouble. Then you will have a secure and satisfying donation or transaction.