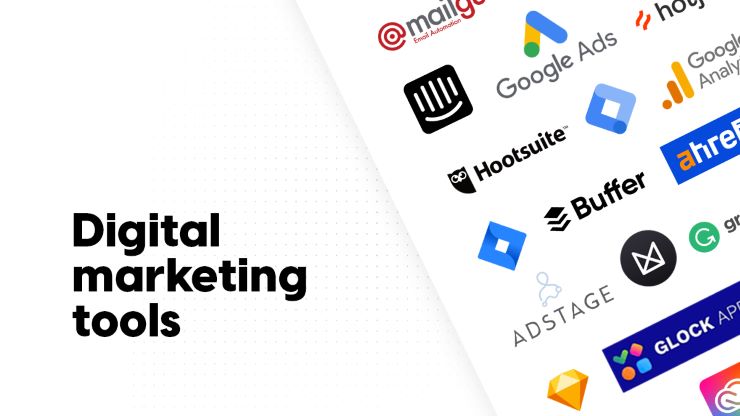 Digital Marketing Tools are technologies, platforms, and software that help businesses to reach and engage with their target audience online through various digital channels. For instance, search engines, websites, social media, email, mobile apps, and others.
Digital marketing tools include those that support company functions, in our terminology. Administration of all distribution avenues may become too much as your internet business expands. Digital product purchasing and the checkout process are just the beginning. Introducing your brand, identifying hot leads, enrolling clients, providing customer service, and problem-solving are just a few activities. Each task also needs its unique set of tools, abilities, and information.
Why are Digital Marketing Tools important?
Digital Marketing Tools are important for several reasons:
Tools automate many tasks that would otherwise have to be done manually, allowing marketers to focus on strategy and creativity.
Data-Driven Decision Making
Tools provide actionable insights into customer behavior and campaign performance. Further, allowing marketers to make informed decisions based on data.
Tools enable marketers to segment and target specific audiences with personalized messages, increasing the chances of conversion.
Digital marketing tools allow businesses to reach a larger audience through multiple channels. For instance, social media, search engines, and email, as well as track their impact.
Many digital marketing tools are cost-effective compared to traditional marketing methods, and some even offer free versions with limited features.
In today's digital world, using digital marketing tools is a must for staying competitive. Moreover, keeping up with the evolving marketing landscape by choosing the correct digital marketing company like Deltron Technologies.
In this blog, let us take a look at the top 10 digital marketing tools for 2023.
Top 10 Digital Marketing Tools for 2023
Content Marketing Tools
Content Marketing Tools are technologies and platforms designed to help businesses create, distribute, and measure the success of their content marketing efforts.
Grammarly
Grammarly is a writing enhancement tool that helps users improve their writing by detecting grammatical. Moreover, fixing spelling errors, awkward phrasing, and other writing issues. It offers suggestions for improvement and allows users to write with confidence. Grammarly can be used as a browser extension, or desktop app, or integrated into other tools such as Microsoft Word. It is particularly useful for individuals or businesses who prioritize clear and professional communication in their writing.
Google Docs is a free, web-based word-processing program offered by Google. It allows users to create and edit documents, spreadsheets, and presentations in real time. In addition, collaborate with others in real-time from anywhere in the world. Google Docs is known for its simplicity, accessibility, and integration with other Google services such as Gmail and Google Drive. Google Docs is an important content marketing tool because it provides several features. Furthermore, that makes it easy for teams to collaborate and produce high-quality content. It allows multiple users to work on the same document simultaneously, with real-time updates, comments, and version control.
Canva is a graphic design tool that can be used as a content marketing tool. It provides a user-friendly platform for creating visual content such as images, graphics, presentations, and social media posts. With its drag-and-drop interface and a vast library of templates, designs, and stock photos, content marketers can quickly create eye-catching and effective visuals to accompany their written content. Additionally, Canva makes it easy to share and collaborate on designs with team members. Moreover, repurpose content across multiple platforms. By using Canva, content marketers can elevate their brand's visual presence. In addition, increase engagement, and enhance the overall impact of their content.
SEO (Search Engine Optimization) marketing tools are tools used to improve a website's ranking in search engine results pages (SERPs). In addition, drive more organic traffic.
Yoast SEO is a popular WordPress plugin that can be used for marketing purposes. It is designed to help optimize a website's on-page SEO elements, such as page titles, meta descriptions, and header tags, to improve the website's ranking in search engine results pages (SERPs). Additionally, it analyzes content for readability and provides suggestions for improvement to enhance the user experience.
By using Yoast SEO, marketers can ensure that their website is optimized for search engines and that their content is user-friendly and easily accessible. This can lead to an increase in organic traffic and higher visibility in search results, which can help attract more potential customers to the website. Additionally, Yoast SEO provides tools for social media optimization, helping marketers to create content that is optimized for social media platforms and can drive more traffic from these sources. Overall, Yoast SEO is a useful tool for marketers looking to improve their website's SEO and drive more traffic and engagement.
SEMrush is a comprehensive digital marketing tool that can be used for a variety of marketing purposes, including search engine optimization (SEO), pay-per-click (PPC) advertising, and content marketing.
For SEO, SEMrush provides keyword research, site audit, and competitor analysis features that help marketers identify keywords and improve their website's ranking in search engine results pages (SERPs).
For PPC advertising, SEMrush provides data on ad spending, keyword trends, and ad copy analysis, helping marketers create effective and efficient campaigns.
Last, for content marketing, SEMrush provides data on content performance and topic research, helping marketers create and distribute high-quality content that resonates with their target audience.
Overall, SEMrush provides a comprehensive suite of tools that can help marketers improve their website's visibility, drive more traffic, and increase conversions. By using SEMrush, marketers can streamline their digital marketing efforts, improve their ROI, and reach their target audience more effectively.
Ahrefs is a digital marketing tool that provides data and insights for search engine optimization (SEO), content marketing, and backlink analysis.
For SEO, Ahrefs provides keyword research, site audit, and competitor analysis features that help marketers identify keywords and improve their website's ranking in search engine results pages (SERPs). It also provides data on organic search traffic and top-performing pages, which can help inform content strategy and optimization efforts.
For content marketing, Ahrefs provides data on content performance and topic research, helping marketers create and distribute high-quality content that resonates with their target audience.
For backlink analysis, Ahrefs is particularly useful as it provides data on a website's backlink profile, including the number and quality of backlinks, the types of linking domains, and the top pages linking to a website. This information can help inform link-building efforts and improve a website's visibility in search results.
Overall, Ahrefs is a comprehensive tool that provides data and insights for various aspects of digital marketing. By using Ahrefs, marketers can improve their SEO, create effective content, and analyze and improve their backlink profiles.
Moz Pro is a suite of search engine optimization (SEO) tools that help website owners and marketers improve their online visibility and ranking on search engines like Google. It includes a variety of tools such as keyword research; site crawlers, link analysis, and rank tracking, among others, that provide insights into a website's performance and help users make informed decisions about their SEO strategies. Moz Pro is aimed at providing a comprehensive SEO solution and is suitable for both beginner and advanced users.
Google My Business is a free tool provided by Google that allows businesses to manage their online presence across Google, including Search and Maps. With Google My Business, you can create and verify your business listing, which can help improve your local search visibility and drive more traffic to your website. You can also share information about your business, such as your hours of operation, services, photos, and reviews, to help customers find and engage with your business. By having a complete and accurate Google My Business listing, you can improve your local search engine optimization and reach more potential customers in your local area.
Google Analytics is a web analytics service offered by Google that provides businesses and organizations with insights into their website traffic, user behavior, and conversion data. With Google Analytics, businesses can track and measure important metrics, such as page views, sessions, bounce rate, and conversion rate, and gain insights into their audience demographics, interests, and location.
Some key features of Google Analytics include:
Real-time tracking
Audience Insights
Conversion tracking
Custom reporting
Integration with other Google tools
Google Analytics is a powerful web analytics tool that provides businesses and organizations with the insights they need to understand their website traffic and user behavior and make data-driven decisions to improve their marketing outcomes.
Email marketing tools are platforms that allow businesses to create, send, and track email campaigns to reach and engage their target audience.
Mailchimp
Mailchimp is a popular email marketing platform that provides businesses with the tools to create and manage email campaigns. With Mailchimp, you can:
Build email lists: Easily import and manage your subscribers, segment them into different groups, and send targeted campaigns to specific audiences.
Create and send emails: Choose from a variety of email templates or design your own from scratch. Mailchimp also offers a drag-and-drop email builder that makes it easy to create beautiful, engaging emails.
Automate your email marketing: Automate your email marketing tasks such as welcome emails, cart abandonment reminders, and post-purchase follow-ups.
Track and analyze your results: Monitor the success of your email campaigns with real-time analytics and reporting, including open and click-through rates.
Integrate with other tools: Connect Mailchimp with your e-commerce platform, website, or other tools to automate your marketing efforts and streamline your workflow.
Overall, Mailchimp is a comprehensive email marketing solution that allows businesses to reach and engage their audience effectively. Whether you're a small business or a large enterprise, Mailchimp can help you grow your brand and drive results through email marketing.
Conclusion
These 10 digital marketing tools for 2023 that offer a smooth workflow are included on this list for businesses to consider. Tools make it possible to automate marketing efforts and provide you access to all analytics. You may improve your marketing strategy and long-term business growth with the correct Internet marketing software and hiring the best digital marketing agency in your stack.