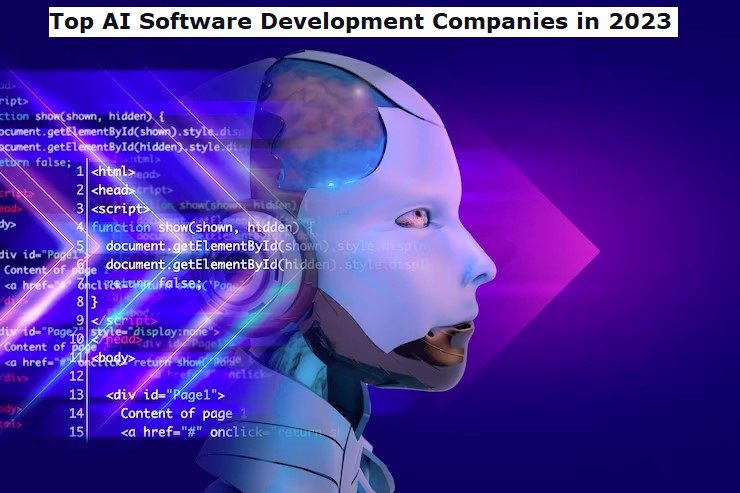 Artificial intelligence is setting the direction for the next technological era. It governs the profitability, productivity, and effectiveness of businesses. It makes sense that more than 50% of companies are willing to increase their investment in AI.
We can all understand how artificial intelligence supports Industry 4.0. Executives in corporations must recognize AI. Every company, from the smallest local to the largest global, must face the intelligence revolution and determine how and where AI will affect their operations. Walmart, Amazon, Tesla, Airbnb, Alibaba, and other businesses are among the many. These companies make use of artificial intelligence to outnumber several new rivals.
New-age businesspeople see AI equities as wonderful long-term investments. With the release of OpenAI's ChatGPT chatbot, the AI industry is transforming every aspect of the digital landscape. Almost every industry is aware of the potential of AI.
Top 10 AI Software Development Companies for the Year 2023
RisingMax is a leading bespoke AI development company that offers customers in several sectors state-of-the-art artificial intelligence solutions. They are committed to using the most recent developments in machine learning, natural language processing, and computer vision to assist organizations in streamlining their processes and remaining competitive. They have a team of highly qualified AI professionals at their disposal.
They have the knowledge and experience to support you in achieving your objectives, whether you want to build a unique AI-powered application, automate your customer service processes, or enhance your data analysis skills. They will collaborate closely with you to ensure your AI solution is customized to business requirements and produces quantifiable outcomes.
AI Development Service is a trusted technical partner that supports the design and development of AI and ML solutions. The company has worked in the fields of data science and analytics for the past five years.
They have over 200 people on their staff who are ready to provide dependable AI/ML solutions to meet the needs of your company. Their team can develop new ways to help with preventive maintenance, hyper-personalization, better demand forecasting, making decisions, and other things. They can also improve how things work using computer vision and speech recognition.
Suffescom Solutions Inc. is a leading AI development service provider that assists companies in using artificial intelligence to enhance operations and acquire a competitive advantage. Because of their years of experience in designing and implementing specific AI solutions, they have established a reputation as a trustworthy partner for businesses looking to innovate and grow.
Their highly trained data scientists and AI engineers work directly with clients to completely understand their specific needs and develop solutions that satisfy them.
ThirdEye Data
ThirdEye creates AI-powered security camera software. It offers a versatile solution with tools to assist you in solving various issues. This fix will make it easier for store workers to help customers. The employees help a customer who needs help or catch someone who tried to steal in this way. ThirdEye will work with your existing CCTV setup.
Data Science UA
Since 2016, the NYC-based company Data Science UA has created an AI community called the Data Science Community. It also holds occasions connected to AI. There are the most professional data engineers in New York City. They try to keep costs as low as possible and explain each fee in detail. Additionally, they could help clients at different data transformation stages and provide them with a competitive edge. It also makes it easy to hire more people for internal development. They can still use ML, NLP, and AI even if they are hard to find in their country.
DataRobot
The data science process may be automated with the DataRobot enterprise artificial intelligence platform. It has automated time series, machine learning, and MLOps solutions. There are many different configuration options available for DataRobot, some of which include the Managed On-Premise AI Cluster, Private AI Cloud, AI Cloud, and Hybrid AI Cloud.
Hatchworks Technologies
The range of services provided by Hatchworks Technologies includes digital analytics, application design, and digital automation. It could offer managed services for the cloud infrastructure of the product, the app management, and the product's security. It has services related to building, like software development and agile project delivery.
Nvidia Corp
This well-known business was founded in 1993 and has been a leader in computer science for a long time. The main office of NVIDIA is in Santa Clara, California. For AI programs to work, you need a lot of computing power, which NVIDIA gives you. The company that owns Facebook is in the process of constructing the most powerful computer in the world. In terms of graphics, it will be equipped with 6,080 A100 Nvidia chips, and it will utilize the Quantum InfiniBand networking technology. Also, Nvidia is improving Oracle Corp.'s artificial intelligence technology and increasing the number of CPUs it works with Nvidia to more than 10,000.
Google Inc.
It is Google's holding company and offers a wide range of platforms and products. They expect to make $257.6 billion in sales and have more than 186,779 people working at its corporate headquarters in California in 2022. The parent firm of Google and YouTube, Alphabet, uses AI and automation in almost every aspect of its business. Alphabet is the world's third-largest tech company because of investments from Calico, Nest, Ventures, Fiber, and several more businesses outside Google.
IMARC Group
IMARC Group, a leading market research and consulting company, has carried out various artificial intelligence projects. They have successfully offered their AI healthcare services throughout South America, Europe, South Asia, India, and the United States. Their theories focus on creating software that can make judgments quickly, something human intelligence cannot do independently. They pinpoint strategic opportunities on which their clients may focus. Additionally, they will concentrate on market research, plant development, expansion, advertising and sales, buying, and distribution.
Conclusion
In the modern, digital world, artificial intelligence is a technology that is still in the process of developing. The implementation of AI in business has the potential to completely disrupt existing business models and propel companies to previously unimaginable heights. Before selecting a service, it would be beneficial to understand your expectations, requirements, and budgetary restrictions thoroughly. Self-driving cars, automated robotics, and even computers that can play card games are all being advanced by AI in the commercial and technical spheres.