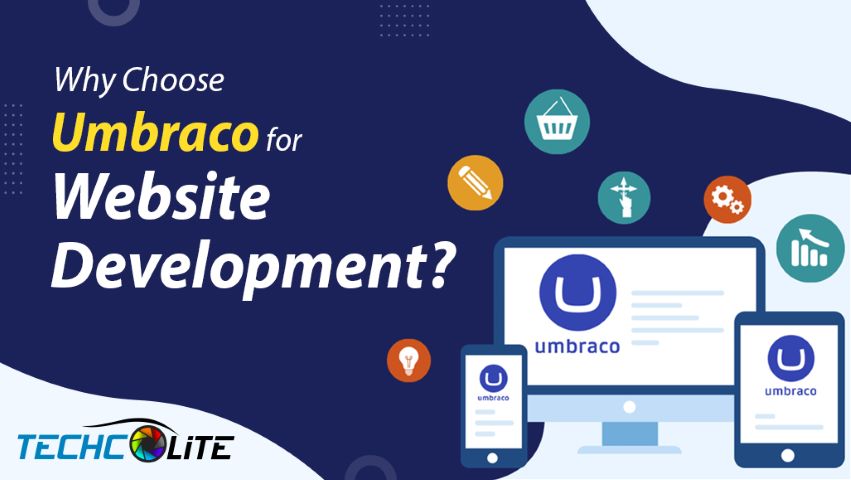 Having a Content Management System for your online experience is essential in this quickly evolving technological sector. Although a wide range of CMS is available in the market, choosing the one that suits your business requirements becomes difficult sometimes. But if you want your website to align with your business objectives while building an engaging and user-friendly website, The One Technologies highly recommend the Umbraco CMS due to its excellent feature offerings and the ability to meet business needs.
So, are you ready to unveil the potential of Umbraco CMS and know why businesses and developers highly prefer Umbraco for website development? 
Let's dive in!
Top 10 Reasons to Choose Umbraco for Website Development
Easily Accessible
Do you know why Umbraco is called the friendly CMS? 
Because it was specifically developed to create, update, and design your website easily. With minimal training, you can easily add content in the CMS and work efficiently with Umbraco. There are various other CMS, but it can be clunky to navigate, whereas Umbraco is easy to use. So even if you are a newbie in the web development industry, you can still choose Umbraco development and deliver a seamless website experience for editors and users.
Complete Customization
As an open-source content management system, the source code of Umbraco is available to everyone, so you can edit, update, and customize the user experience and website functionality whenever required. This platform allows you to customize the CMS in many ways and create incredible website content, templates, and page layouts. 
Also, you can personalize content blocks to show your editors how content elements will look before implementing them so that they can quickly choose the right ones to insert into a page. 
Now, we can surely agree with the tagline, "Umbraco is completely customizable."
After all, if you, too, want to give your editors the freedom to customize the CMS as they wish,Hire Umbraco Developers from a reputable web development company, share your expectations with them, and start working.
Seamless Integration
As we all know, Umbraco is one of the best-in-class CMS developed to give developers a seamless integration to various business tools and deliver out-of-the-box user experience. It ensures the website creates efficiencies using internal processes instead of roadblocks.
Umbraco CMS works great with marketing automation tools such as:
And CRM like:
And the list goes on. Umbraco has the ability to integrate with any marketing automation tool or CRM, APIs, legacy systems, and much more.
Preferred by Enterprises
According to research, there have been more than 731,400 active installs since its initial release.
Umbraco is a .Net Framework and offers endless extensibility, so it's not surprising that Microsoft uses it to administer its websites. With the constantly growing client base, Umbraco CMS is gaining more and more popularity nowadays. Also, Umbraco is used by various giants, including Warner Brothers, Sony, Peugeot, Avon, etc.
Multilingual Support
Umbraco CMS is one of the best choices if you plan to take your website to an international level. This platform has multi-language support, which includes a simple multilingual user interface with translation capabilities.
Intuitive Editing Feature
Umbraco is a perfect CMS that allows you to create pages and deliver digital solutions by adding text via a WYSIWYG editor. You can crop and upload pictures and write SEO titles with descriptions simultaneously, staying on the same page you're working on. However, it is a great tool when you want to edit two content pieces at a time and provide tremendous multilingual support.
Pre-built Themes
As we mentioned earlier, if you unlock the potential of Umbraco development, you get the freedom to create your desired website from scratch. But what if you're in a hurry and don't want to start with a blank canvas? In this case, you can Hire Umbraco Developers and let them embrace the in-built theme and starter kit. You get pre-built themes while creating a basic website, so why invest in costly development? So, why look further? Get started with Umbraco and unleash its power.
Cloud and Azure Support
You can use Umbraco on its cloud infrastructure or independently on Azure. We recommend implementing safe development processes and a publishing environment for all Umbraco installations. And to do this, you need a local developer instance, a live website server instance, a development server instance, and a staging server instance. 
Future-ready Software
Umbraco is a user-friendly CMS that is easy to maintain and learn as it requires no special technical knowledge. Working with Umbraco is a sheer delight; you'll find enhancements to Hosted Services and all classic APIs and services.
Active Community Support
One of the most important factors businesses consider while working with Umbraco is its active community support. It is backed by a highly skilled team of over 221,700 dedicated and talented professionals, ensuring smooth web development and keeping Umbraco updated. This is the main reason why businesses adopt Umbraco CMS and deliver incredible results.
Final Thoughts
The factors that we discussed here clearly show the importance of Umbraco CMS and why businesses prefer using Umbraco for web development projects. Whether planning to build a simple or complex website, Umbraco CMS can help you with everything you have ever imagined and help you conceptualize, create, and deploy all of them. What are you waiting for? Go and Hire the Best Umbraco Developers from a top-notch company and design a tailor-made digital experience that suits your business strategy and achieve unmatched success.