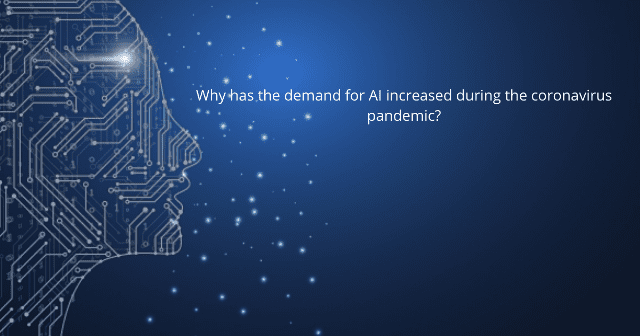 As machines don't need to be isolated, they can replace humans wherever necessary during the coming months. According to the details for a study conducted jointly by economists at Boston University and MIT, by 2025, roughly 2 million workers will be replaced with machines in the manufacturing sector alone. Artificial intelligence (AI) and machine learning (ML) are proving to be an indispensable tool due to their ability to identify and learn from data patterns. Both technologies have been widely used in the manufacturing, automobile, and e-commerce industry for the last few years. Now, other sectors are embracing the same.
AI in infrastructure
AI in customer service
AI in healthcare
AI in infrastructure
While the pandemic has managed to drag on even when 2020 is about the end, infrastructure companies have slowly figured out various ways to survive and operate. Vendors who offer web development services to public and private infrastructure companies are witnessing a significant demand for artificial intelligence-based tools.
Automated toll collection
Machines have replaced toll collectors at toll booths. Thanks to FasTag tags, vehicle owners receive bills for tolls via email or can pay it automatically from their prepaid account as and when they pass the toll booth. There's no need for toll collectors to put their life at risk anymore; they can be deployed somewhere else.
Managing and monitoring critical infrastructure remotely
During the COVID-19 pandemic, the department of transportation in several countries deployed AI-ML-based solutions. These systems help agencies in remotely monitoring tunnels, bridges, highways, as well as other infrastructure, and planning their maintenance accordingly.
Engineers and maintenance managers can perform critical monitoring tasks without visiting sites or conducting physical meetings.
A 3D image is created with the help of data retrieved from hundreds of sensors. Engineers can comprehensively analyze graphic files of various assets to ascertain the need for maintenance. They can assess damages during rough climatic conditions without going anywhere.
Artificial intelligence is already being used in aviation engineering and intelligent maintenance of aircraft. Now, it has found its way to airports.
The adoption of artificial intelligence tech has been slow in the aviation sector despite its ability to improve passenger experience and cost efficiencies. However, the tech is proving to be crucial assistance since the arrival of the coronavirus pandemic.
Airport operations have been into a tailspin due to physical distancing requirements, mandatory health screenings, and volatile flight schedules. Travelers' behavior is not uniform due to spacing constraints, evolving screening process, and travel restrictions imposed by governments worldwide. Airport operators are able to derive considerable value from artificial intelligence. It helps in collecting, analyzing, and interpreting the data captured daily for identifying patterns.
A combination of ML and artificial intelligence technology is helping firms in modeling passenger flow patterns, predicting gate arrival times and probable departure time. It also reduces late show ups by automating daily parking space plans according to past patterns.
AI in customer service
Chatbots and cognitive assistants
The pandemic hugely impacted the service sector, including logistics, insurance, travel, e-commerce, and IT/ITES. These industries rely on customer support for ensuring smooth day-to-day operations. Most businesses faced hardships due to lockdowns and movement restrictions as call centers remained closed worldwide. The work-from-home culture took time to take over due to technical constraints.
Stacks of unanswered emails results in delayed response to consumer queries and support requests. Customers may not wish to give their business to firms that fail to provide the required information on time.
Thankfully, chatbots helped in easing the workload during the recent lockdowns. Chatbots with artificial intelligence and ML capabilities can be integrated with websites, FB messenger, WhatsApp, and other platforms to provide customer support.
AI-powered cognitive assistants help companies in dealing with critical back-office tasks, including order processing, cancellations, and issuing refunds. Human agents working from home only handle complex tasks that cognitive assistants fail to process. The system enables agents to focus more on value-add activities.
Even high-end software firms like IBM and LivePerson reported a rise in deployment for AI-based customer assistance tools. The trend is set to continue even after the arrival of the coronavirus vaccine.
Document verification is a crucial task for several industries. Artificial intelligence-powered software can identify the security features on various ID proofs. They can even match the picture on the document with the individual in the selfie captured on the user's phone via the app. There is no need for the person to be physically present with the documents anymore. Such software programs have immensely helped banking and telecom companies during the lockdown.
Increase in implementation of AI-based healthcare solutions
The coronavirus pandemic has forced healthcare institutions worldwide to accelerate the adoption of the latest tech. Even developing nations are prioritizing the use of electronic medical records. With this has come a change in healthcare cybersecurity with healthcare organizations now having to adapt to heightened and evolving threats.
AI-based imaging tools, combined with EMR, helped several hospitals in diagnosing coronavirus since March this year. Such solutions take the clinical decision support system (CDSS) several steps further. Besides analyzing data, patient management, and diagnosis, AI is also playing a role in drug discovery.
The pandemic has resulted in a scarcity of healthcare workers. Thus, public and private healthcare organizations are providing app-based care to patients at home. Doctors and healthcare workers can easily monitor critical stats that get updated continuously.
Biosensors, wearable blood pressure monitors, ECG monitors, on-wrist activity trackers, and other devices connect with healthcare apps to transmit data.
AI-powered predictive analysis systems help doctors analyze data and anticipate if any patient's health may deteriorate further. Data analysis helps in picking up signs that can be missed out by a naked eye. Even subtle changes can be interpreted for risk assessment. Analysis can be shared with a patient's relative or Gp for creating further treatment plans.
Technology to make life easy for employees
Pandemic has triggered a new wave of automation. Between March and September this year, airports, hotels, hospitals, security agencies, and educational institutions quickly deployed robots. As pointed out by several experts, technology does not take away jobs. It allows firms to automate repetitive or dangerous assignments, while human resources can focus more on intellectually stimulating tasks. Employees can be re-skilled to take up new roles with better wages. If you are searching for a web development company with experience in developing apps for firms in various sectors, you should get in touch with engineers at Smart Sight Innovations.