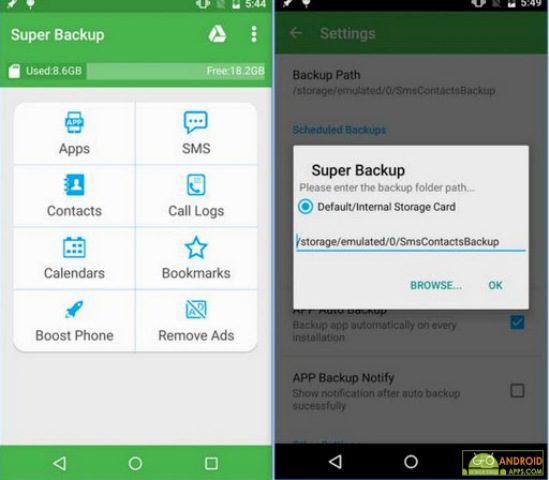 Losing your phone is stressful enough, but can you imagine losing your contacts too. You cannot visit everyone asking for their contacts, and it is a nightmare asking your clients or superiors their contacts on email or personally. You never know how they will react. This is the very reason why backing up contacts is the foremost priority for many individuals, especially those who run a business, because maintaining the contact of their clients is the top priority. There are five quickest ways to transfer contacts from android to iPhone in this article by TechiePlus. Various applications claim to be the best in the market, but you have to consider your security first as a smart user.
Best applications for Android
1) Helium – App Sync and Backup
This app is one of the sturdy and vigorous apps in the market, with plenty of aspects one needs in modern applications. Most of the apps need rooting of the device, but this app didn't require rooting for acquiring backup.
Pros:
Numerous features are available just in the free version.
Functions are extremely advanced with the tool.
Premium version removes ad completely for smooth use.
is Directly storing backup data into the cloud-like Dropbox.
Cons:
The app is a bit tough to handle and requires time to manage perfectly.
The ad is a major strain in the free version.
2) Titanium Backup and root
Specially made for contact backup but also best suits for different apps. It is full of advanced features. Rooting of the device is required. Therefore, only limited users can use this application.
Pros:
The premium version of this app offers qualities like time setting for backing UPI, encryption of data into the cloud, and many more.
Cons:
Rooting of the device makes it hard to use, thus requires time to get used to.
Limited users can use this app due to convolutions.
The elite version is a bit costly, which limits the number of users more.
3) G Cloud Backup
An extremely useful app for the ones who deal with big data. This app offers up to 1 GB of free space, and it can be increased up to 8 GB by just inviting more friends. It helps to backup almost all data directly in the Amazon AWS server.
Pros:
Extremely easy to use.
The premium version is not there, so absolutely free of cost.
Secured with 256-bit encryption level.
Cons:
Doesn't offer some advanced features.
4) Super Backup: SMS & Contacts
This app permits users by giving them a choice of which data needs to be reserved. Provides more safety by allowing users to send the content to their email address. The selection of the specific file type is also a feature in this app.
Pros:
Provides speed to the backup.
Recovery of backup data can be done if lost.
Scheduling of the app is also an option.
Cons:
The advanced version is quite expensive.
5) truBackup – Mobile Backup 
This app is used in high order due to its simplicity and user-friendly interface. Allows backup time scheduling along with accessibility to different file types.
Pros:
Easy to use interface.
Backup data can be sent to the SD card according to user choice.
Cons:
Saving app data is not an option in this app.
Best applications for iPhone
1) Contacts Sync
This application allows you to sync your contact with your online account. After you link your account, then you can maintain your contact storage there.
Pros:
It is a free application, which means there are no special conditions to download this app. All you need is your iPhone.
It is very easy to operate, you just need to link your account, and you are good to go.
Cons:
You can only copy 1000 contacts in the free version of it.
The space is limited.
2) Recover – Data Recovery and Backup
This application can help you backup and recover your contacts anytime you lose them.
Pros:
It is the best application to back up your contacts in a very less amount of time.
Even if your storage is limited, you can easily transfer contacts between different iPhones or computers by mail, etc.
It has simpler backup tools to back up your contacts as vCard or Gmail on your phone.
3) IDrive Online Backup
It offers easy backup and restores facilities. Unlike any other applications, it provides the user quite a large amount of storage. You can back up all your contacts without any hassles.
Pros:
The free version of this app furnishes various features along with large storage space.
You can share your contacts with different IDrive accounts with ease.
Cons:
You must have an IDrive account to utilize its special features.
4) Easy Backup
This application allows you to backup all your contacts on your computer. It can either be Windows or MAC. Also, the process of restoring your backup data is too simple.
Pros:
The design and User interface is very neat and very easy to use.
Even in its free version, it provides great security to all users.
Cons:
It is only compatible with iOS version 6.0 and above, so you better update your phone.
5) My Contacts Backup
It is the simplest application one can find for contact backup purposes. It only serves the function of contact backup, so there are no complications for users.
Pros:
It just asks you to copy your contact and backup it in no time.
Since it is dedicated only to the contact backup function, it doesn't require any special or difficult instructions to do the job.
Cons:
It offers limited facilities because it is specially designed only for a specific purpose.
Conclusion
You can find many applications to serve the purpose of following the above list or searching for another application on the browser. But while selecting an app, just look for the amount of security it provides. Space may be limited, or the functions may be dull, but this problem is negligible compared to the possibility that the application may compromise with the security.