Easily Recreate Your System Recovery Partition with AOMEI OneKey Recovery
Have you ever come across this situation that your PC faced a Boot failure or displayed an operating system not found error. It's a troublesome task to reinstall your operating system, programs and settings. Different brands of computers have different backup and recovery tools, more people prefer to use a third-party software, like AOMEI OneKey Recovery can help you.
AOMEI OneKey Recovery allows you to easily recover your PC from System Failures. Find out why its a must have for any PC Tech and offers a one click solution to backup and restore your PC. Upon starting the software, you are presented with two options. To either create a system backup or a system recovery.
What's New in Version 1.2:
Besides pressing A key, it also supports to press F11 key during system startup to enter into recovery environment.
For UEFI boot mode computers, it supports to press F11 key during system startup to enter into recovery environment.
By default, it will create onekey recovery environment for computers.
Download, install and launch AOMEI OneKey Recovery: http://www.backup-utility.com/onekey-recovery.html
AOMEI OneKey Recovery offers you a clean, easy-to-understand and self-explanatory interface. When you open OneKey Recovery freeware, on the home page of the program, you can see two options: OneKey System Backup and OneKey System Recovery.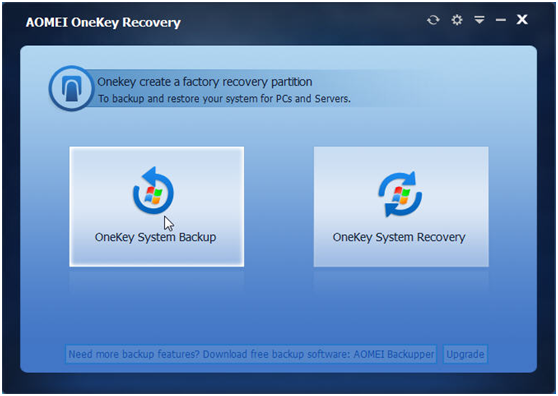 Backup system to AOMEI OneKey Recovery Partition – system backup image file will be saved on system disk. It requires that system disk has enough free disk space to store it.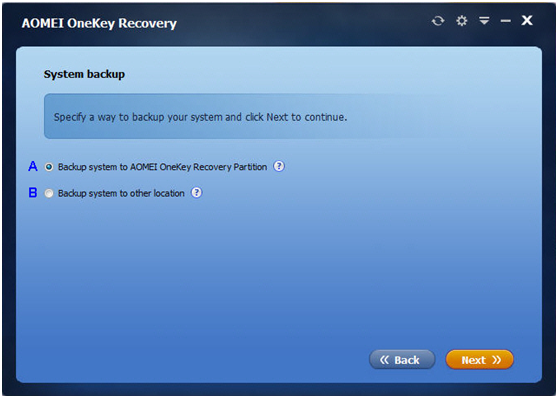 At this moment,you can select one of your existing partitions on system disk to divide some space for creating a factory recovery partition, which includes system backup image file and AOMEI OneKey Recovery bootable environment.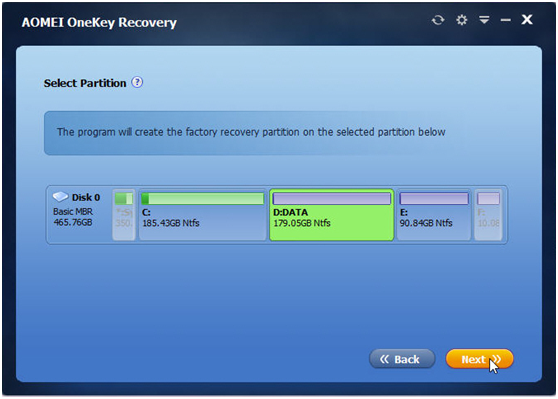 Now your computer will reboot back into the state of the Operating System when you last made a backup.
Also Read: MiniTool Partition Wizard 9.1: Review
Conclusion
In addition, you can also use AOMEI Backupper to backup and recovery your system. AOMEI Backupper standard is simplest free backup software protect System & Data of your PC, and it has supported system backup, partition backup, disk backup and file backup. Then you will never worry about data loss or system failure.
AOMEI OneKey Recovery likes Lenovo one key recovery, which is a kind of insurance policy for your computer, but it supports backing up all types of laptops and computers, not just Lenovo laptops. AOMEI OneKey Recovery is free and supports Windows 10/8.1/8/7/Vista, and XP (both 32/64-bit). It is a very convenient to operation, one button is backup and the other one is recover. The latest versions of AOMEI OneKey Recovery offer the option to save your System backup to other locations such as internal secondary disks, external hard drives, or removable USB flash drives. For more details here: http://www.backup-utility.com/onekey-recovery.html