Secure your Idea with MVP?
People never discuss the scope of a project before launching, That may become the reason for their failure in the later stage. That's why most of the time, it's recommended that scope should be discussed more. It will help you to manage app development cost, timeline, and accomplish your objectives for the business. when it comes to developing an app, people think of adding so many features whatsoever they want to be included in them. Remember that it's just not only the one version of an app that you are going to build but it will secure your idea.
What is the MVP?
Since the first version of an app should not be the same the way you envisioned, Later on, you can add updates and versions afterward in the future and That app which we develop in the beginning stage is known as MVP (Minimum viable product). You can call it the 1st version of a new product which allows their owners to collect the maximum amount of validated information regarding customer behavior towards it with the least effort.
Strategy to build MVP:-
The right strategy to build is not to put all possible and expected features into the first version of an MVP mobile app. Do not think of building a Minimum Viable Product in a  perfect structure and do not include everything that you have in your mind to make it otherwise your app will never survive in the marketplace.
Beginning with a minimum viable product keeps your whole team to focus on the functionality and value of your app. As per it, the benefits of building an MVP are:
Reduces the fear of under building app
If your goal is totally clear, your developers will not get distracted by working on unnecessary things. Plus, knowing that the main goal of the product has been met will reduce pressure about the product being underdeveloped and.

Keeps away from include  creep for a better user interface
Building an MVP helps you to take away your initial product from becoming cluttered with unnecessary features. This means that your customers will get a simple product that does not contain any unwanted features. They can use the product for its core purpose for which it is developed, and won't abandon the app because it's excessively fastidious or confusing.

Reduces rework time
bugs and hiccups are common problems for any new app which comes along the way. While an MVP makes bugs easier to find and fix as compared to feature-rich software packed with layers of functionality.
Things you must consider while developing MVP
Budget:-
A minimum viable product(MVP) is just an initial phase of the complete app. So there is no need for adding all the features as you want and which leads to less investment. Whether your app works well in the market or not, MVP allows you to reduce investment risk towards unpredictable expenses. The budget for creating iOS or Android apps would also need to get stretched to include various features of the app. But If you build an MVP mobile app you can prevent this from happening so and keep you in your budget.
Search Market Research:-
Before developing MVP, do proper market research.  Gather all data about people(Target audience) or competitive on markets and companies. You can do a proper analysis of this data to understand the needs of your potential customers better. You can conduct market surveys to study the needs of the customer which will help you build such a product that will fulfill those needs of people.
Best MVP Development idea:-
A good MVP development idea can lead to the success of your idea. It's all about determining minimum requirements that will work for your user base and release that for customer use.
Once you have completed the market research, you can analyze the data and further you can do MVP development according to it.
Find the Best App Provider:-
Minimum viable product(MVP) is a called-back version of a product that's launched for testing and validating the product's concept and viability on the market. If your MVP does not perform well in the market will lead to failure of your idea. so it must be good enough, which people will like to use and for that, you must find the best app developers which will develop the best MVP for you. you can look for the most reputed mobile app development company and which suits your budget so that they can develop MVP as per your expectations. There are several benefits of outsourcing MVP work to any mobile app development company, some of them are given below:-
You will get Best app developers at one roof.
You can do Planning and discussion with the Development Team.
Proper app testing can be conducted.
You will get Experts support.
The right time to build MVP:-
This is the most important thing which you must consider while building MVP. Most businesses do not consider it, but it affects a lot. Any new launch of business affects time because the demand for the product, customer behavior, and needs keep on changing with time. It does not remain the same all the time, So if you will ignore it may lead to an investment loss of your business. As this time the world is facing a public health emergency due to coronavirus but still it's the right time to build MVP of your idea.
Why It's Perfect Time to Build an MVP?
Building MVP is just like a step towards building a relationship with customers. But it can be possible only if customers have enough time to devote attention to your product. Due to too much competition of the same kind of products and not enough time to use such products leads to the failure of such products. So you must look for that duration when competition is low and people have more  time to use that product. At present, Its right to build MVP and test your idea scope in real world, some of the reasons are given below:-
*  Huge market with less competition.
*  you will get enough time to work on Analysis and make changes according to that.
*   you will have Proper testing time to fix bugs.
Covid19 has come up like a disaster for the whole world but on another side, it's like an opportunity to make your own space with your idea in this competitive world.  As per the experts, Covid19 will have bad impacts on the economy and may cause the dissolution of many companies. At this stage, no company will come up with a new product or add any feature in the existing app that leads to more investment. That is why you will get a chance to get more audience with less competition for your MVP.
How #Covid19 won't affect your idea?
The World Health Organization has declared the coronavirus(Covid19) as a global pandemic. It has spread rapidly across the world. Covid19 has more impact on the virtual market, which exists not on those which virtually exist(like apps). MVP is just a virtual app, which can be used anywhere without the need for any physical presence. You can Manage everything Virtually, which means no impact of Covid19 on your Minimum viable product(MVP).
As per customer view, your MVP can become more viable and attentive,  if your MVP consists of any information regarding Covid19 like how to stay safe from it or what precautions you can take. it has already started reducing  #COVID 19 Infection, once it reaches the end of it. You can launch the final product with all the latest features in the same way you expect.
Keep this in mind MVP is just a starting step, you can take it at any time. But you must analyze the performance of it and take respective actions as required. Market demand and customer behavior keep on changing with time, any ignorance will spoil your whole dream of achieving success. You can ask for feedback from the customers and if they are facing any issue, try to resolve such issues at the same time. Each time you have to focus on your loopholes which may dissatisfy the customer and at the beginning stage each customer is valuable for You. Most companies do not focus on their weaknesses and later stage those weaknesses become the reason for their failure. You have to update features in the app one by one as per the requirement of the customer. If your app is customer oriented and its focus is to fulfill their needs then your app will perform in the same way you expect.
Minimum Viable Product(MVP) is the best way to understand the right path and scope of your idea.It will not only let you know the scope but also let you learn a lot about the market and competitors.MVP will help you in testing, designing and delivering the final product. But if you fail in the launch of MVP , then your whole idea will spoil. So always launch or build MVP Carefully.
About Author:-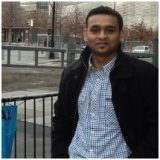 I'm Krunal Vyas, IT consultant at iQlance Solutions Pvt. Ltd, is one of the leading Website and Mobile Apps Development Company Based in Toronto & New York, I have helped more than 200+ clients to bring idea in to reality. I have attended many tech conferences as a company representative and frequently blogs about the search engine updates, technology roll-outs, sales & marketing tactics, etc.