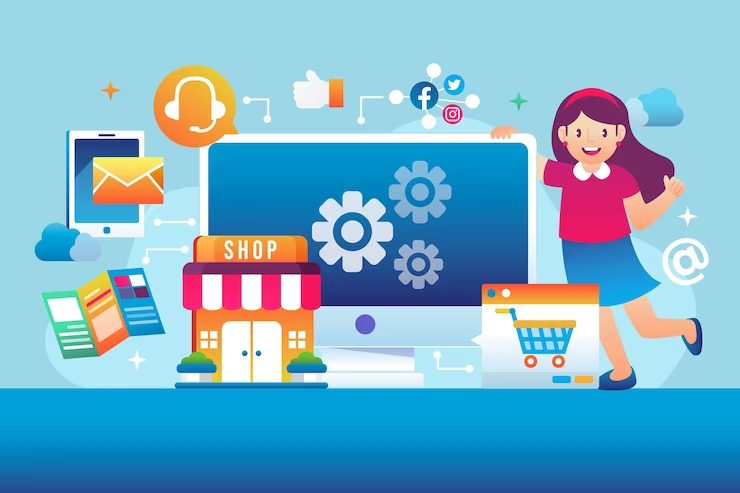 The majority of big companies, merchants, retailers, small vendors, etc are moving towards eCommerce to boost their sales. The eCommerce market has seen a tremendous jump in the last few decades and also there are several changes in the way the eCommerce market has processed in the past.
eCommerce is the future but there is also a requirement for the right eCommerce platform which helps in providing users transparency, visibility, and reach which help in improving the eCommerce position in the Competitive market.
One such wise eCommerce strategy is ERP and eCommerce integration which will render several unique benefits to the users by optimizing their overall workflow.
With numerous platforms available in the market Odoo eCommerce development tops the chart.
Odoo  eCommerce development assists your business with various valuable tools from inventory management, CRM, sales, marketing, generating reports,  accounting and invoice automation, and many more.
Let us discuss in brief how Odoo eCommerce is capturing the market.
Benefits of Odoo eCommerce market
Below are the various benefits of Odoo's eCommerce development features.
1. Multi-store management
Odoo eCommerce development provides businesses with a comprehensive suite that helps in meeting all the requirements to develop an eCommerce website.
Finance, accounting, managing shipping,  customer relationships, etc are operated through a single platform which is the odoo platform.
This way odoo's eCommerce ERP integration helps the business manage through a single software, improving efficiency and productivity.
These various integrations help businesses to manage the entire eCommerce market from a single location via a single software.
2. Shipping integration
One of the exciting features of odoo eCommerce development is shipping integration. One of the main concerns of all eCommerce businesses is to provide their customers precise shipping experience.
With the odoo ERP eCommerce development program businesses can provide accurate shipping quotations to customers, delivery estimates, etc with ease.
Various logistics carriers can be incorporated with eCommerce sites which help businesses to run smooth transactions by providing real-time tracking details and improving overall customer experience.
3. Payment Gateway Integration.
When payment options are considered businesses should provide flexibility to customers by offering them. various payment options as the client's convenience is the first priority.
Thus, with the help of odoo ERP eCommerce development, now you provide various payment options to customers like credit cards, debit cards, cash, Cryptocurrency, e-wallet options, etc.
Thus various integration with several payment gateways enhances client satisfaction and also helps in providing secure payment options to customers without being worried about any fraud or disputes.
4. Cost effective
Odoo ERP development provides faster ROI as when the business workflow is automated and flexible there are fewer chances of any error or dispute.
With better ROI, the profitability of the business increases which helps the organization to invest more in developing the business and improving customer satisfaction.
5. Improve customer satisfaction and offer customization.
Odoo ERP eCommerce feature provides survey, feedback, and live chat options to the customers which help businesses to build the strategies more Conveniently and provide higher quality of the business process.
Moreover, with the help of the odoo ERP eCommerce development program, customers can track their problem tickets and can have real-time updates about the queries posted.
In addition to that, odoo ERP also provides customers with various purchase options based on their likes, history,  wishlist, etc which helps in improving the overall customer experience.
6. One-stop solution for all.
Odoo ERP development is a one-stop solution for all business needs. From sales to delivery option all the information can be available with just  one click.
From tracking customers' history to providing them exclusive support in real-time and also providing them with several discounting offers Odoo ERP commerce helps in personalizing the eCommerce experience for their customers.
We can say that the odoo ERP platform allows businesses to control and manage each and every operation of the eCommerce site with ease and flexibility which improves the overall business image.
7. Reaching the right audience
When production, sales, logistics, and customer relationship departments all are working conveniently, the business also needs marketing which helps in Reaching the right audience, this plays a huge role in eCommerce ventures.
eCommerce marketing is important to improve the organization and also to attract new customers on-site. Odoo erp Commerce development helps your organization with various SEO techniques which help your site to rank highly on search engines.
From blogs to posting on social media, email marketing, etc are handled by the odoo ERP marketing tool which helps to improve the step on the rate of customers on websites. This way the well-equipped marketing tools and strategies help to improve sales.
8. Improving product pages and display.
Odoo ERP eCommerce module provides various eye-catching product page options which help in creating a brand image in the mind of the customer.
Starting from the design of the page, the color of the page, and the theme of your brand odoo eCommerce module helps in creating eye-catching product pages which help in improving the whole experience of the customers while shopping.
Moreover, odoo also helps to add new features and help in changes and enhancement at several occasions like festivals or public holidays.
9. Single-step checkout
Odoo ERP eCommerce helps streamline the pine glitch the customers face during the transaction process and helps in. making the transaction process short and user-friendly by boosting the purchase management and invoice creation option which help businesses to reduce the abundant carts.
10. Numerous additional integration options.
Besides the odoo ERP eCommerce development modular framework you can add various additional requirements or integrate with various other features depending on your needs like,
Sales, purchase, inventory, help desk, HR, CRM, finance Marketing, etc which help in boosting the overall efficiency of the whole system.
Wrapping up.
So from the above points you can conclude that running an online business will become more flexible with odoo ERP development.
So what are you waiting for? This is the right time to take the right decision and bring the Odoo eCommerce development module to your organization.