With social media marketing, the world has got instant access to all the information possible. Businesses, on the other hand, got access to billions of social media users worldwide, making social media marketing the most effective strategy to promote a business.
Today, you can hardly find a business that doesn't have at least one social channel, and franchise establishments are no exception.
Last year, the International Franchise Association (IFA) confirmed that the worldwide franchise industry is on the rise, reporting that:
In 2019 and 2020, the number of franchise establishments will increase by 1.9% worldwide.
Employment in franchise establishments will increase by 3.7%.
The GDP in the franchising industry is set to grow by 6.1%, and franchise business output will also increase by 6.2%.
According to Robert Cresanti, IFA President and CEO, the success of the franchise establishments strongly depends on their outreach, therefore, the bigger their outreach is, the quicker this industry will develop.
This is the state of franchising worldwide.
What About Australia?
Franchise-Ed reports that franchising in Australia is on the rise as well.
Australia's franchise sector is estimated at more than $146 billion and employs over 470,000 workers. Franchise-Ed notes that these numbers have shown a significant increase in the popularity of the franchise sector after franchise companies started employing social media for marketing purposes.
Professor Lorelle Frazer, Director of Asia-Pacific Center for Franchising Excellence at Griffith University, when commenting on Franchise-Ed's report, says that franchise establishments in Australia face strong competition, especially in the retail industry. Thus, they need versatile marketing tools, which will help them remain relevant and competitive.
The benefit of social media marketing is that it suits every business, doesn't matter whether it's B2B or B2C. It helps maximize brand exposure, drive sales, and create a positive brand image.
However, establishments that sell franchises should be careful, as maintaining a cohesive social media marketing strategy across all franchises has its dangers.
To help you better understand how social media helps sell franchises, we offer you to take a look at our comprehensive guide below.
Step #1: Choose the Primary Social Platform and Define Your Message
Before you create a message for your target audience that your business is selling franchises, you need to choose the platform, where your target audience is the most active.
Social media platforms have different dominant audiences. When it comes to gender distribution, for instance:
On Twitter, 69% of users are male audience, and only 31% of users are female;
Facebook's audience is dominated by women, with 55.4% of female and 44.6% male users;
Instagram also has a predominantly female audience, with 52% of females and 48% of male users.
There are also differences in terms of age, language and other demographic factors, which you need to take into account.
Also, to determine the right platform to sell your franchises, you need to go over to social media analytics tools and see, whether the target audience for your message is the audience that follows you on your social media channels. You can find that the ratio of male to female users among your followers doesn't coincide with the percentage, mentioned above: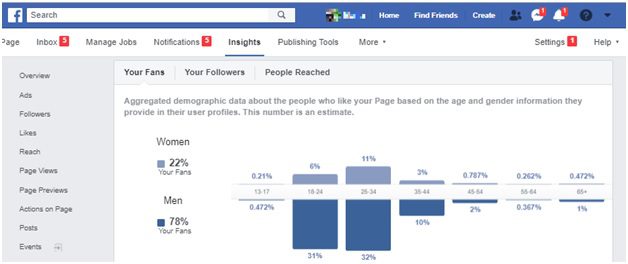 The choice of the primary social platform to market your franchises should be based on how optimized your target audience personas are with your existing following base.
The next step is defining your message.
Internet users like quick access to the information, so making your message as straightforward as possible will help them make a decision about going forward with a franchise purchase faster.
Gelatissimo, a famous Australian franchise, often employs this 'straightforward message' approach to encourage their target audience to purchase the franchise on Facebook: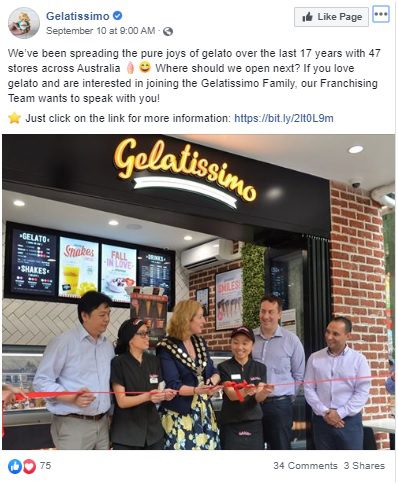 Their message is concise, and yet it contains all the necessary information for their target audience persona to take further action:
their experience of successful franchises
visual representation of what their franchise store looks like
a link, which contains further information on a franchise purchase
The combination of the right social platform and correctly crafted message will help you reach your target audience, and help them proceed with their franchise purchase decision.
Step #2: Outline Your Content Strategy
You probably think that sending the same message over and over again would be too redundant.
We hear you.
Luckily, you can send the same message in many different ways, using different approaches to your content strategy.
For instance, The Coffee Club, another famous Australian franchise, often posts success stories of their franchise owners and announce new franchise store openings: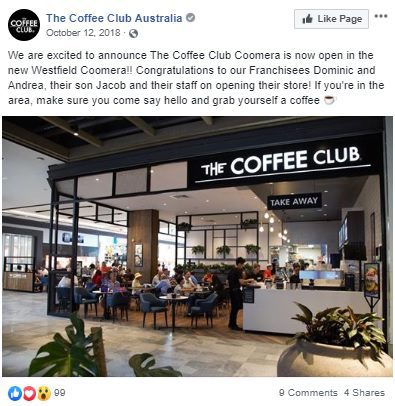 Mad Mex Australia, an Australian chain of Mexican food restaurants, with many franchises open around the country, helps potential franchisees make the right purchase decision by sharing their recipes and showing that they are trusted by their consumers: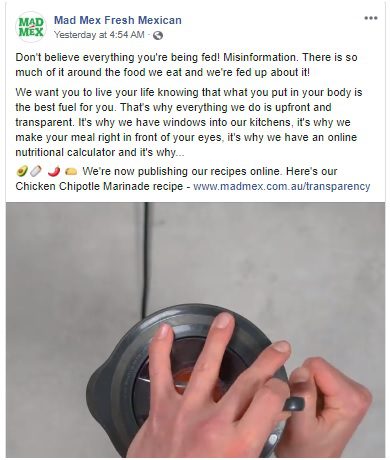 When writing social media content that is set to sell your franchises, you need to keep your core values in mind. For Mad Mex, for instance, the main values are high-quality products, service, and transparency.
And, of course, the correctness of the message, delivered by your content, plays an important role. Outlining, proofreading and editing are the important aspects of creating a content strategy, but they are also quite time-consuming.
Luckily, you can speed up the process by employing online tools like Grammarly (a machine-learning-based online proofreading tool), TrustMyPaper (an online hub of writers that, among other topics, specialize in content writing), GrabMyEssay (a comprehensive editing and proofreading tool), or Hemingway App (checks the readability and rates the engagement of your content).
Outlining your content strategy helps to make sure that your message has the right intent, is clear, and is noticeable.
Step #3: Optimize Posting Schedule
Lastly, to make sure that your target audience definitely sees your message, you need to set the correct time, when your posts will be up on social media.
On a selected social media platform, you can see the days when your followers were the most active, and use this information when creating a content schedule. For instance, here's how follower activity looks on LinkedIn:

The built-in analytics tools on social media platforms also allow you to see the location of your followers as well as the time when they are most active. This information can help you optimize your posting schedule.
When it comes to selecting the optimal time for your posts, the data for every social media platform differs from month to month. "The optimal time for social media posts depends on the time zone, where your target audience is located", says Neightan White, a marketing manager at Studicus. This can get tricky if you want to target your international audience that is located in different time zones.
For your convenience, social media platforms also allow you to schedule your posts. Here how it is done on Facebook, for example: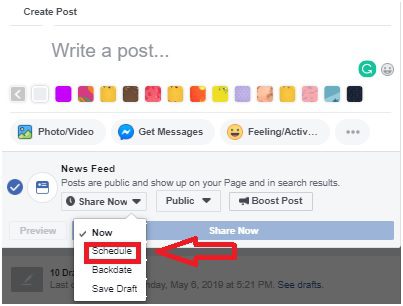 Optimizing your posting time would be the last step of developing your content marketing strategy for social media. However, the visibility of your message strongly depends on how you schedule your posts and whether the potential franchisees can have easy and effortless access to it.
Employ the Power of Social Media to Sell Franchises
The franchise sector in Australia is already on the rise. But with the application of social media marketing, you can give it a boost even more.
Follow our guide to build a strong marketing strategy that will help you sell the franchises, but keep in mind that this strategy should be cohesive. Plan and outline the content that is in line with the expectations of your target audience, and make your content visible and accessible.
Remember, social media users like easy access to the information, so if you want to target potential franchisees, give them the content that will provide them with all the necessary information and will help them make the right decision.
About Author:-
Nicole D.Garrison is a content strategist, writer, and contributor at BestEssayEducation and a number of platforms for marketing specialists. She is a dedicated and experienced author who pays particular attention to quality research. At her free time, Nicole is a passionate runner and a curious beekeeper. Moreover, she runs her own blog LiveInspiredMagazine.