Apple introduced iOS 10 not a very long time ago and with it offered various enhancements in functions and features. With the new OS, the users were also treated with more capabilities in the extremely popular iMessage service. While in essence the iMessage functionality remains the same, the users can now enjoy games from within this messaging service. In simple words, if you have an iOS 10 device and you use iMessage, you can also play some really cool and exciting games.
The best thing about iMessage games is that they are not very resource intensive. They are lightweight, fun games easy on your iOS device. You don't need to install any separate gaming application in order to play these games. From within iMessage, you can install and play the games. Apple offers a pretty decent collection of games compatible with iMessage service.  There are various genres to pick from. Some of these games are highly addictive. They are also a good way to pass time when you are bored and have nothing else to do.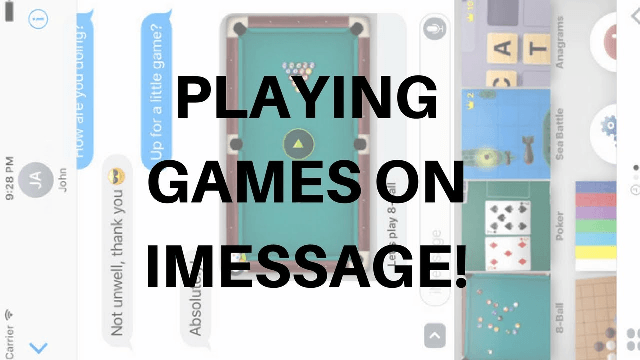 How to Get the iMessage games on iOS 10
First of all, you will like to know which devices support iMessage gaming. If you have any device with iOS 10, 10.1, 10.2, 10.3, 10.3.2, you can play these games. This means you can play them on iPhone, iPod Touch and iPad with the compatible version.
Here is how you can install these games on your device:
Launch Message app on your iOS device
Create a new messaging thread
Now tap on the '>' sign
Tap the App Store icon within iMessage
Now select the icon with square dots on the bottom right of the screen
Tap '+' sign to access the App Store from within iMessage
Here you can explore all the available games and install them. You can also install new stickers from this section. Use the search box to look up for the desired games.
How to Play the Games in iMessage
Now that you have successfully installed the games you want to play, you will want to know how to start playing them. Well, that's also easy. All you need to do is follow these simple steps:
Launch the Message application on your iOS
Create a new message or enter a fresh thread
Now tap the '>' sign
Now tap the icon with 4 square dots on the top left of the Message app screen
You should be able to see the list of all the games you have installed; tap the game you wish to play and start playing the game
Easy! Isn't it?
If you wish to uninstall a particular game, go to the section where the list of the games is displayed. Press and hold the game icon you wish to delete until 'X' sign appears. Now, tap 'X' sign to uninstall. If you are on the home screen, you can locate the game and follow the same process again.
About Author
Deepak Raghav is a distinguished research consultant and writer. He is having vast experience in writing and Digital marketing and now operates his own blog http://myapps4pc.com/ on the regular basis. You can connect with him on Google+.