Erase Backgrounds Easily Without Photoshop
Other professional background eraser tools are considered more effective in removing backgrounds than using Photoshop. When using Photoshop, you have to go through a lot of tedious procedures while erasing backgrounds from a photo. You are not guaranteed of getting a high-quality image at first, but the outcome can be improved after several trials. Although Photoshop is one of the best photo editing software, it is quite cumbersome to use. It requires a lot of patience and accuracy since you will have to go through a manual procedure. The process includes drawing an outline around the image and making other adjustments that suit your specification. Other background eraser options are convenient for beginners, unlike Photoshop, which is expensive and requires a lot of resources. Although Photoshop is a powerful and versatile tool, it is complex and difficult to learn. Clients should use more straightforward background eraser tools for efficiency.
Importance of AI Technology in Removing Backgrounds from Images
The main goal for AI Technology is to eliminate manual work and make it automatic. It is, however, a complex theory compared to others. Artificial Intelligence is efficient since the process is automated. You don't need to draw the outline of the portrait yourself as compared to other background eraser tools. This system is accurate because it uses machine learning techniques which can differentiate between the background and the foreground spontaneously. AI technology is the best tool in recognizing images in any desired field. This algorithm gets better with time through very many samples; therefore minimizing errors. AI technology saves on time since it cuts an image pixel by pixel.
Overview of Background Eraser(Bg Eraser)
Background Eraser is an online tool that is automated compared to other manual eraser tools. You can comfortably work with it from your web browser. Clients are assured of high-quality images due to advanced AI technology and machine learning algorithm. BgEraser gives an alternative for Mac and Windows users. Both use similar techniques, and you can choose to launch Mac directly from your desktop. The tool consumes only 3MB of storage space hence cannot slow down your device. Both professionals and beginners can use BgEraser. Focusing on the portrait is the most important thing, regardless of whether the background is plain or textured. The image maintains its quality after completing the process. You are assured of the safety of the submitted images since they are deleted from the server after one day. The tool does not require compromising information and is also free. In only three clicks, you get high-quality images. For a versatile, fast, quality and free background Eraser tool, you can consider Bg Eraser.
How to Use Background Eraser
The following are steps of using Bg Eraser.
Upload the photo in the main dashboard.
Upload the ideal image on the designated area. The next step is to select the technique for conversion. The machine learning algorithm gives you a high-quality portrait.
Give the eraser tool some time for processing the image.
Download the picture once the system is done with the processing.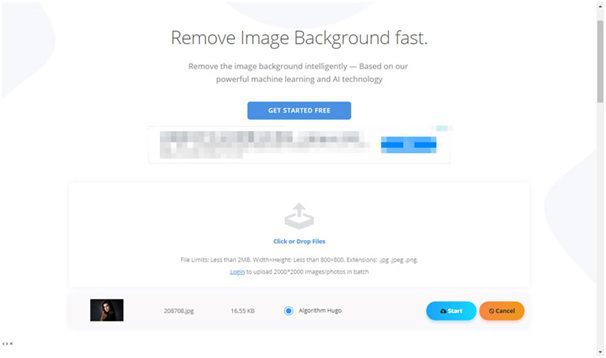 The background eraser will automatically give a link of the selected image. You can either choose to have an image with a clear or transparent background. When you are through with this, right-click on the image and save it to your preferred area.
Remove.bg as an Alternative method for Erasing Background
Remove.bg is a candid background remover. It is automatic and uses similar procedures of removing backgrounds, just like other background eraser tools. This tool works well with portraits of animals, cars and other products. Remove.bg is integrated with other design programs for it to work effectively. This tool can be used by both beginners and professionals, including photographers and marketers. Remove.bg also uses AI technology for background removal. This tool integrates with other e-commerce sites to improve its effectiveness. It is one of the best-automated background eraser options due to the high-quality images it produces. The other benefits include the five-second procedure, its versatility, and its compatibility to your software workflow.
The most important part, I think, is that Remove.bg provide the cross-platform services. You can use its program online, mac, win and even Linux. It also provides API for developers who can integrate the powerful capabilities in their own program or apps.
Snagit, another alternative software used for background removal.
Although Remove.bg provide powerful online and offline features for removing background, we still could find another program to finish the same task. It is Sngit, a screenshot program but could capture audio and video. Remove background from photo is one of its all-in-one feature. You should only take a few steps and you will get a photo without background.
Firstly, insert an image into the editor. Check the Fill button on the toolbar and you will find the transparent one. Click on it and add it to your Quick Styles if it is the first time for you to make background transparent. Adjust the tolerance and then click the background areas that you want to remove. After that, you will find the background is erased magically. Then, you can select a color and change the background instantly.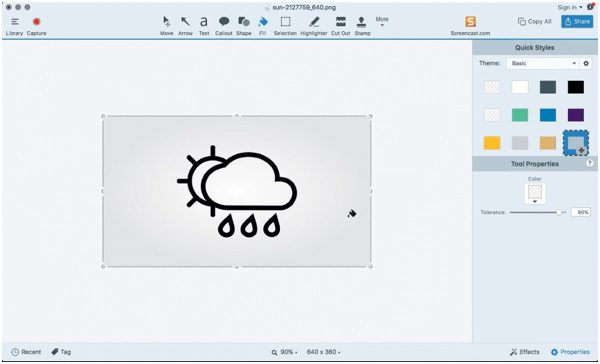 Pricing
Now, we all know how to use the three applications above to remove the background. They have the similar resulted output. So which one should we select? Pricing is the most important part that we should consider.
Background Eraser(BgEraser): 100% free currently. No money or payment required. No credit required and no use limitation.
Remove.bg:You can choose the subscription plans for different credits. Generally, you should pay $0.14 for each image at least.
Snagit: Snagit provides lifetime license for users with one-time fee. $39 for one key which includes 2 installations per user, per product.
Conclusion
Knowing other professional background eraser tools, you can easily delete the backgrounds from your images without necessarily using Photoshop. Online background eraser tools such as Background Eraser(Bg Eraser) can increase the outcome of your work compared to other options which are manual and cumbersome to use.