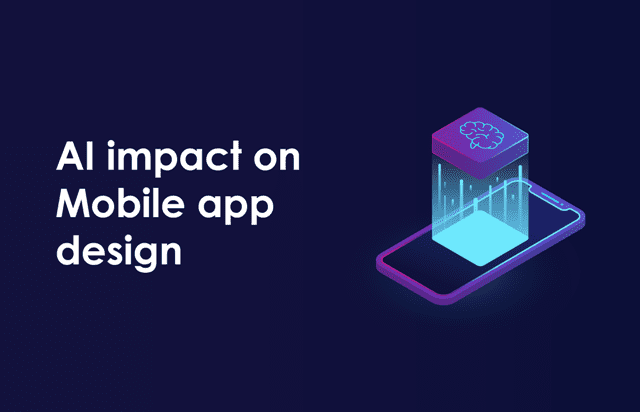 Artificial Intelligence (AI) has become an important field that focuses largely on the intellectually robust machine development that perform and reply just like human beings. This new technology field has earned great popularity and momentum across every digital niche. It has been seen to steal the show constantly with its remarkable benefits. Al is used for many niche purposes like user experience design, data analytics, conversational chatbots, and more.
In this digital era, the development of smartphones has increased. People are increasingly using different mobile applications and their fascinating features. Mobile application development is the cornerstones of many businesses nowadays. Moreover, with the increasing number of mobile apps, the race for sustenance in on the rise. That's why businesses are in search of a technology which can make well-customized mobile apps to keep users linked to your products or services. Artificial Intelligence in mobile app development has now become an ideal option to provide personalized user experience.
What Exactly is Artificial Intelligence?
Artificial Intelligence makes machine act and respond like a human being with its computer science. AI can perform jobs like humans as it has the ability to adopt reasoning and learn different things from the previous interactions and experiences. With the help of AI, a mobile application can also work is a humanly way and use that analysis and experience-driven knowledge for practical use.
How Can AI Improve Mobile App Development? – The Benefits
Increase Personalized User Experiences
All the digital apps count on personalization heavily to keep their users interested and engaged. The users also expect mobile apps to offers exclusive experience through content, accessibility, useful feature, ease of use or user interface. This personalization is now possible with the help of Artificial Intelligence. Some ways in which the user experience of an app user can be personalized include:
Personalized content and product recommendations by the AI-powered algorithm according to user interaction, preferences, and behavior.
Personalized notifications for users and their interactions based on context and preferences of the used can be added here.
Design personalization according to the user background and preferences.
Personalization of the app features according to the accessibility and use frequency.
Increase App Productivity
Businesses can boost the productivity of their apps by using superior AI techniques in Mobile app development. For example, G Suite of Google and Microsoft Office 365 use various AI strategies to streamline the efficiency of businesses. A unique feature lets them to generate email responses automatically which need short answers. It has been noticed that Microsoft is including AI strategies in different mobile apps to let users scan through the humongous information to locate the most appropriate ones. Artificial Intelligence enabled products like Office Graph and Delve can help boost work productivity, Office Graph is a basic framework that enables users to gather data about communications between users and objects like document. While Delve allows users to look for the most important information among a huge amount of information.
Enhance the APP UX
Artificial Intelligence is counted upon widely by the UX experts and app developers India to improve user engagement. It helps enhance user engagement by evaluating user behavior and its pattern. Many user input data with behavior patterns are evaluated to attract appropriate insights by the developers and designers that can be helpful in delivering user-centric experience. Artificial Intelligence can also be used in appropriate context to solve and address user issues by Chatbots. Chatbots are known to offer this kind of customer service better than humans.
Many mobile apps on the market don't fail due their shortcomings in concepts and ideas, they fail due to lack of users' engagement. This is where an AI-drive mobile app can be useful. It offers strong help to the app users by analyzing the user behavior patterns and preferences. With this, users are linked with appropriate and timely messages that help to keep them engaged to the app.
Drive Contextualization and Localization
Another most important benefit of AI in mobile app development is the most context-driven and localized user experience. The Artificial Intelligence based Algorithms can find out the specific user context better by sensing their location and other important aspects. They can turn up with user-centric recommendations and messages accordingly. Al together with location sensors helps the mobile apps to offer localized and context-aware user experience.
Increase Automation With Human Inputs
Artificial Intelligence helps humans make well-informed and better decisions. The Artificial Intelligence powered development and design tools replace the tasks that could be carried out without humans and can be automated.
For Internet of Things
With the use of AI-powered smart home gadgets and smart home devices, the whole business world has been revolutionized. With the use of Artificial Intelligence in App development, app developers India are getting smarter app in the market that can easily run on instructions and commands. The mobile apps that are linked with the smart IoT devices make use of AI algorithm to work. You should use AI for app development because all the smart devices on the market these days also use AI in mobile apps. The integration of Artificial Intelligence techniques in mobile applications has been a key in increasing business profits.
Wrapping Up
Artificial Intelligence has really come a very long way. It has become the key development technology for the future. Businesses nowadays are becoming more diversified. Personalization and multi-faceted are important elements of Artificial Intelligence technology. With client engagement, Artificial Intelligence is improving user experience and engagement. AI is here to satisfy the needs of individuals based on experience.
AI is the thing of future and it is going to develop and rule the entire mobile app development industry according to the app developers India. If you also want to remain updated and head of the competition, while integrating AI in your current business app, then you should contact expert app developers India.
About Author:-
Karan Dubal – Co founder of RUSHKAR is a technology expert. He is managing App & Software Developers India. Having 9+ years of experience in industry makes him irreplaceable asset of RUSHKAR.