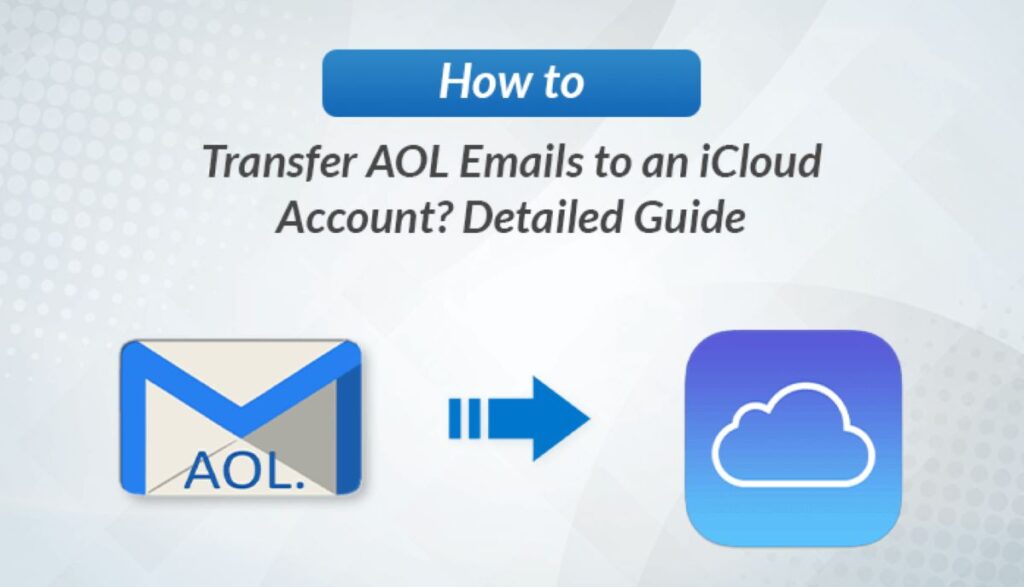 The most common question asked by users is "How do I transfer all my AOL emails to iCloud?" If you are also seeking a solution for this query then, I would suggest you read this blog until the end. This article will talk about the manual as well as the professional AOL Backup Tool to transfer AOL emails to the iCloud Mail account.
AOL, also known as America Online, is a conventional email service provider that offers a range of features, such as spam filters, calendars, and online storage. In addition to email services, it provides various online content and information services. However, in recent times, there has been a notable shift among users towards iCloud, primarily driven by the increasing demand for Apple products. iCloud is favored for its superior cloud storage capabilities, allowing users to seamlessly save photos, videos, documents, and other data across all their Apple devices. In the following section, let's look at some of the other common reasons why users move AOL emails to iCloud.
Reasons to Transfer AOL Emails to iCloud Mail Account
Many users tend to transfer their AOL emails to iCloud accounts due to personal preferences. Here are a few of the common reasons to perform this migration.
iCloud provides large storage space as compared to AOL.
It synchronizes emails across all devices and makes it easier to access.
iCloud Mail offers better data security and password-protection features to secure important data.
It has a better spam filter feature as compared to AOL mail accounts.
There are regular updates in iCloud Mail providing a more user-friendly experience to the users.
Transferring your AOl data to iCloud can prove to be beneficial if you are using a Macbook or any other Apple device.
Due to the above-shared reasons, users often tend to transfer AOL to iCloud account. Now, let's move further, and look at the various solutions to perform this migration process.
Manual Methods to Import AOL Emails to iCloud Account
The native solution to transfer AOL emails to iCloud Mail Account can be challenging as AOl does not provide any direct method to perform the migration process. Therefore, here we will discuss another method to import your AOL data into iCloud Account. Follow each of these steps carefully.
#1: Download the AOL Emails in PDF Format
Log into your AOL account and open the desired email.
No, click on the Print option in the top-right corner.
Choose the Save As PDF option from the drop-down box and hit Save.
Your selected email is saved in a PDF format. Now, in the next step, we will import the PDF files into iCloud.
#2: Import PDF files into the iCloud Account
Open the saved PDF files in Mac.
Now, select Export and click on the Save to Files option.
Choose the location to import PDF files and click on Add.
Using this method, you can easily import AOL emails to an iCloud account. However, this method may not be suitable if you want to transfer a large number of AOL emails. It is also a time-consuming process, and there are high chances of data loss. Therefore, we will discuss an alternative solution to easily transfer AOL emails in just a few clicks.
Direct Method to Transfer AOL Emails to iCloud Mail Account
Using a professional AOL Mail Backup Tool is a straightforward method to transfer AOL emails to iCloud in bulk. This method simplifies the migration process and provides quick and accurate results. It can easily backup complete AOL emails in various file formats and email clients like PDF, PST, MSG, Gmail, Office 365, iCloud, Yahoo Mail, etc. It does not disrupt the folder hierarchy and maintains its originality throughout the conversion process. This tool also removes identical emails from the conversion process making email management easier for all users.
Steps to Move AOL Emails to iCloud
Install the AOL Backup Tool and Run it in administrative mode.
Now, provide the login credentials of your AOL account and hit Sign in.
After that, choose the desired data from the Preview option and click Next.
From the drop-down menu select IMAP and hit the Next button.
Provide the iCloud User ID, App Password, Host, and Port, and then click on Log in.
Now, opt for the other migration option as per your requirements.
Finally, press the Convert button to import AOL emails to iCloud account.
Conclusion
In this piece of writing, we have discussed the various methods to transfer AOL emails to iCloud account. The manual approach is a tedious and time-consuming process. So,, if you are seeking an effective and easy method to carry out the migration then we recommend going with the professional method. With the right method, you can successfully migrate your AOL data without any data loss and enjoy the benefits of more streamlined email management.
Frequently Asked Questions
Can I multiple emails from AOL to iCloud account?
Ans: One can easily transfer any number of emails from their AOL account to iCloud account using the professional AOL Backup Tool. This tool also facilitates you to transfer other mailbox data like contacts, tasks, notes, etc without any data loss.
How do I transfer my AOL emails to my hard drive?
Ans: You can easily backup your AOL emails on a local hard drive in PDF format. Follow the below steps to transfer AOL emails to iCloud Mail account.
Open the required email in your AOL account.
Click on the Print icon on the top-right corner of the mail.
Now, choose the Print option.
Finally, choose the Save as PDF option and save your AOL emails in a PDF document.
Is it possible to access my AOL data on my iPhone by transferring it to iCloud?
Ans: Yes, you can easily access your AOL data on your iPhone. To do this, you first need to transfer your AOL mailbox data such as emails, contacts, calendars, etc in any format. Then import the data to your iCloud account and access it through iPhone.