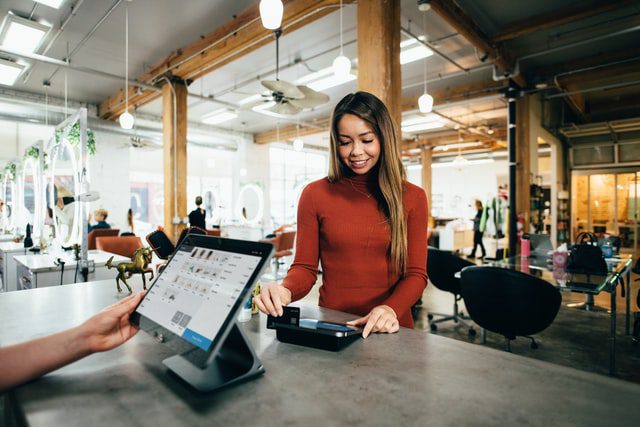 If you own any business it's important to have a POS system. Point of Sale is the seamless part of your business.
Today's point of sale systems can do much more and take your organization to peaks. The system is capable of managing numerous business operations, both at the frontend and at the backend.
But before going further, we must know what POS is?
A point of sale system is where your customer can make a payment for services or products at your store and complete the transaction.
Almost every software has a POS function in it. Usually, there is a difference between each software as they all work according to the specific business to make the system more efficient. The different POS companies will help you to set up and integrate. Or, alternatively, you can contact Appsuite to learn more about Oracle's micros simphony and how the team at Appsuite can help you to integrate it into your business, as well as how to use and maintain it.

Here in this article, we are going to review the best features that your POS system must-have.
Best six features in your POS system
Mobile access
Nowadays users are more engaged with their mobile phones. They do not even have a desktop computer to go home to access any software. Because they prefer mobile over desktop. Supporting mobile will greatly increase the number of users and boost up the revenue.
So it's very crucial to have mobile access in your POS system. With the digital POS system, the employees can go through the store and process a sale from anywhere.
It would be very convenient for the customers but also allows employees to improve their customer service skills and build relationships.
A mobile POS system can improve sales numbers. The mobile registration is very easy for the customers to make the sale more impulsive. Because they can purchase instantly on the spot. With increased sales, you can also improve from the bottom line and increase your company's profitability.
Inventory management
It is very important to manage the inventory. Most POS systems make every process simple. For example, if you just need to do a scan then you can easily scan the barcode to list things on your customer's invoice. The POS Software will subtract automatically from your inventory.
The software sends alerts when certain inventory items get low. It means if your stock gets low, the systems will automatically send a notification via email or text message on the POS screen.
The POS keeps everything up to date and organized in a real-time. With the re-order reminders, you can easily get the message when stock is running low. Additionally, your inventory management feature helps you to identify and eliminate sources of shrinkage to improve profitability.
The inventory management ensures that the items are never out of stock.
Multiple payments gateway
If customers can pay for their items from any location then it helps to boost the sale. POS system not only accepts cash, credit, and debit payments but also accepts today's latest and greatest options.
For example,  Suppose you are running a salon business. Then Salon POS System assists you to manage payment in Multiple payments gateways.
The POS system accepts mobile payments like Apple Pay and Google Pay that offers added convenience for customers.
The POS system must accept the EVM chip cards so that customers should be able to insert their chip card versus having to swipe. This saves time and gives a quality experience to customers.
Generate digital receipts
The manual or paper receipts are a traditional way but it creates a lot of burden of keeping them for a long time. Paper receipts are very easy to lose. To overcome this hassle the POS system will give an easy way with digital receipts.
They are also bad for the environment because they waste a lot of paper and don't improve the retail experience. A POS system offers you digital receipts. This feature is beneficial for numerous reasons. It saves money on paper and ink, but also speeds up the transaction process.
Digital receipts capture vital customer information such as name, email address, and other details. It helps to establish quality customer relationships.
Reports
The POS system helps in your business and gives a complete backup of the data. Your clients can log in from any device and it keeps the record secure of your employees.
The POS systems will give you the option to check the reports and keep the track of the performance. The growth shows the progress toward specific business goals like sales by stylists, cross-selling and top customers.
The system may also integrate with your accounting software that will add efficiency and accuracy.
Business reporting helps in data-driven decisions. With a Point of Sale system, you can access different kinds of reports like employee performance, inventory levels, and performance by the department. It also gives access to customer and sales reports.
The flexible reporting capabilities assist you to where you need to make smart business decisions. Most POS systems give access to view these reports from a mobile device whether you are doing the business from a different location.
Customer relationship management
The best POS system helps to build an effortless relationship with the customers and increase sales.
A right POS system helps you to engage your customers by keeping the customer data and purchase history. This helps to provide a smooth experience to your customers.
The POS system can integrate different platforms to help every customer. With CRM integration, it's much easier to manage customer data. With the stored data, you can make better marketing campaigns, inform users about the upcoming sales, and make a quality loyalty program. Satisfied customers can lead to a successful business.
Wrapping up
Above we have discussed the different features of the POS system.  To find the right retail POS system is very imperative for a successful business.
The right POS will give you complete access to real-time inventory management, reports employee performance, and many more features. A POS system will also enable you to better the customer experience. Higher customer satisfaction helps to increase loyalty and customer retention.
Hopefully, this article will give you the best knowledge.
Your suggestions and queries are welcome. Feel free to ask in the comment section below.
Thank you for reading!!
About Author:-
Zin Lang Liu is associated with Salonist, A Salon software for all types of industries. She assists business owners on how to grow their business through fully featured software.