Coming up with a unique game idea is a great deal, but it is just the beginning of a long journey named game development. In the early days, developing games was all about coding, because of the necessity to fit into limited memory of gaming devices. Today game art takes center stage: in order to engage and retain users, more studios incorporate additional levels and character upgrades into gameplay, and content does not come cheap. Fortunately, there is a way out, and I'm talking about game art outsourcing. At first, let's look at the main game art tasks that are usually outsourced to more experienced companies and then discover all the benefits of hiring an art studio.
Game Art Outsourcing: What Tasks Can You Potentially Entrust to 3rd-party Providers?
Concept Art
Basically, concept art is where your game development journey begins. While it can be called the heart and soul of your project, it's also very difficult to get exactly the kind of visuals you wanted initially from an outsourcing provider — largely due to possible barriers in communication
A concept artist has to get your idea (characters, environments, props, storyboards and other) down on paper the way you see it in your head. Thus, cooperation with the chosen studio in an open and honest way becomes a key to a successful result. After you receive sketches, you can assess the potential of your idea and decide if it is really worth developing, because concept art, literally, sets a final style reference for the project to follow on. So the importance of this step just can't be overestimated.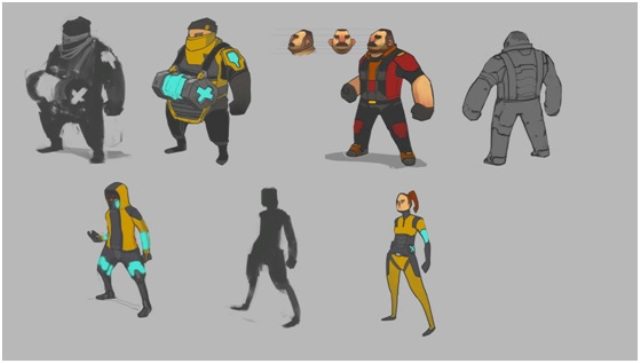 2D &  3D Art
The practice of outsourcing the whole game's art or its part is very common not only among both startups and AAA studios. For example, such popular games as "Uncharted 4: A Thief's End", "Forza Motorsport 7", "Star Wars Battlefront II", "Need For Speed Payback", "Far Cry 4", "FIFA 17", "Mortal Kombat X", "Call of Duty: Black Ops 3"  were created with the assistance of 3rd-party game artists. While 3D art is mostly used for console and PC games, 2D art is the best choice for developing lightweight hyper-casual mobile games.
Graphics are not just visualizing your ideas, they create a certain mood and emotions. Thus, low-quality visuals can seriously harm the overall player's experience. However, there's a great example that confirms the importance of a game's art and style. When Minecraft was released, it was greeted as a game with really bad graphics and strange style with pixel blocks. Nowadays it is a very popular game with a unique style and an enormous amount of fans.
3D Modeling &  Animation
3D characters and environment is the best way to make the player feel pulled deeply into the game-play and the whole atmosphere. Actually, a 3D model is a mathematical representation of any object in three dimensions. Until a texture artist gets down to work, a 3D model looks just like a puppet of clay. Thus, such artists should also be good specialists at lighting, perspective, materials and visual effects. 3D models are created with the help of such professional tools as  Maya or ZBrush.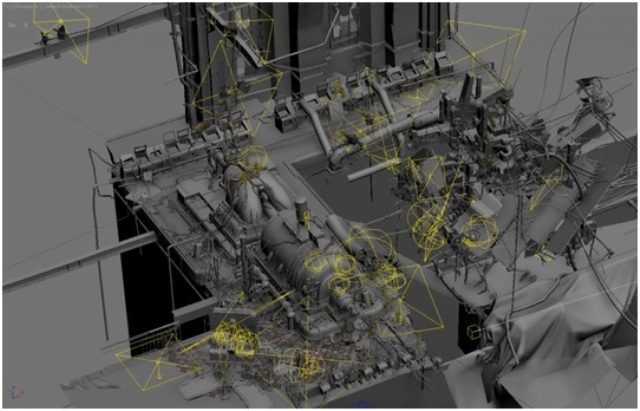 Environment
As the name suggests, environment artists create video games' environment and background. The task of such specialists is to create props and scenery elements to build the whole game's world and support the story-line of a game to make it more realistic to a player.
Game Scene Setup
Visual Effects Artists (VFX Artists) add special effects to the game. For example, it can be explosions, smoke, fluids, particles, fire, weather effects and much more. These specialists create a truly natural atmosphere and literally transfer users to the world of the game. The tools used for this purpose are Adobe Photoshop, AfterEffects, FumeFX and 3D Max.
There are also artists responsible for applying virtual lighting in order to simulate the lighting of the existing environment (for example, natural or street light) in different scenes. A good specialist in this sphere has to be familiar with software like Maya, Photoshop, Lightwave and After Effects.
You may think that it isn't an important part of the game, while lighting in the game actually sets the mood for players. Low-quality or just wrong lightning can literally ruin the whole player's experience. There are different approaches to the lighting of your game. Let's look at FPS game Halo 4. There are levels when you're fighting aliens with minimum light, and that creates a really intense atmosphere. In this game, the intensity of lighting differs from level to level to create a certain mood, while such a popular game as Grand Theft Auto 5 uses the same the same color and intensity of light for every level (a day/night cycle).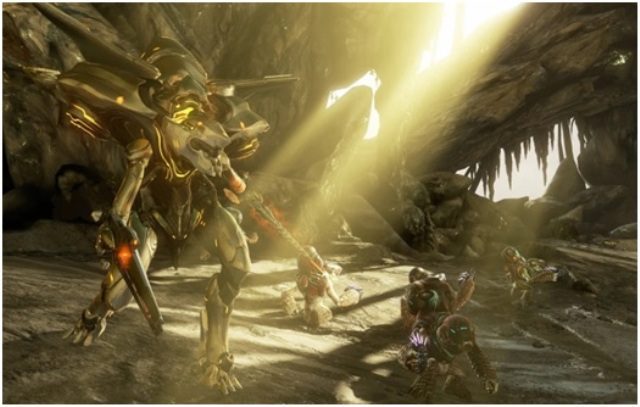 The Important Aspects of Game Art Outsourcing
Reduced Operational & Staff Costs
It is the most obvious advantage. Due to the difference in wages between different continents and countries and the opportunity not to hire permanent employees, you can save up to 60% of your budget. By outsourcing some art tasks to another company, you eliminate the need to hire at least 10-15 specialists (the number of artists you need to create a standard midcore game) and spend your budget on office space and employee benefits.
But there's a catch. You should always remember that the success of any outsourcing endeavour lies in crystal-clear communication with the chosen studio.
Focus on Other Important Tasks
The opportunity to focus on other aspects of the game development process — i.e., coding or marketing — is often considered the major benefit of outsourcing game art Guerrilla Games, for example, hired 19 game development companies and spent 6 years making Horizon Zero Dawn. Just imagine how long it would have taken them without the help of an external art team!
To elaborate on the point, let us assess the efforts required to create a single game unit in Uprising — a project Knocknock Games has been working for the last 12 months:
Concept art creation — 5 days
Modeling — 10 days
Rigging — 2 days
Animation — 3 days
Texturing — 3 days
Exporting into the engine — 1 day
Work on visual effects — 5 days
These are the estimates for a single unit, while we are planning to create at least 14 such components!
Handling the same project in-house may take several weeks or months to hire the real professionals that are also appropriate for your core team, train them and explain what you need them to do. Every company has limited resources and every staff member has limited time and energy to fully carry the project on their own shoulders. Huge projects are better to be handed over to external resources as work can be carried off fast and the in-house employees can also work on other projects thus multiple projects can be completed at the same time.
Access to unavailable before capabilities
By choosing to hire a game app development company you get an access to talented artists. There is no need to invest in recruiting and training experienced resources, buying expensive equipment. Game art outsourcing gives you the opportunity to hire creative professionals already equipped with the latest tools and technologies. Therefore, it brings possibilities that you might not have even thought of and produces unexpectedly awesome results.
While you can really find a talented and experienced team of game artists, Pavel Shylenok, CTO at Knocknock Games, recommends to outsource predominantly technical work. The process of interaction between characters and the idea of the whole game's style are the aspects you better do by yourself.
Success in new market areas
By taking the point of production or service delivery closer to their end users, you can get rid of localization services and just create a product, initially, taking into account the mindset of appropriate nation or continent. A perfect example is a colour meaning in different countries. While we consider red colour as a sign of danger and obsession, in China, red stuff means happiness and even is a traditional colour for a wedding dress. The same is about animals and many more cultural aspects.
Various audiences will understand and interpret historical, societal, political and many other issues in different ways, while you certainly don't want to conflict with them. Working with people with a different mentality also gives you great possibilities and new points of view which can help you open up new horizons and become successful in new market areas. Thus, offshore outsourcing can significantly enhance the capacity of your team.
Summary
Outsourcing can be a real rescue for your startup. However, despite all the advantages, quality art outsourcing services are really hard to find. Have you heard a rumor that film corporation Fox outsourced the coloring work of The Simpsons to an offshore company and then received episodes where pizza was coloured purple because that overseas team had never seen that kind of food? We don't know if it's true but it is a funny and very comprehensive example. Quality communication is the difference between successful and failure scenarios for game art outsourcing experience. So keep it in mind while choosing the appropriate studio to make your dreams come true.
About Author:-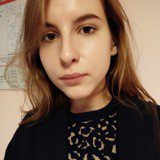 Maria Atmanaki is a Content Marketer at an outsourcing game development company Knocknock Games based in San Francisco, CA. Her studio's experience in game art and design, publishing and developing on different platforms allows her to share expertise with others.