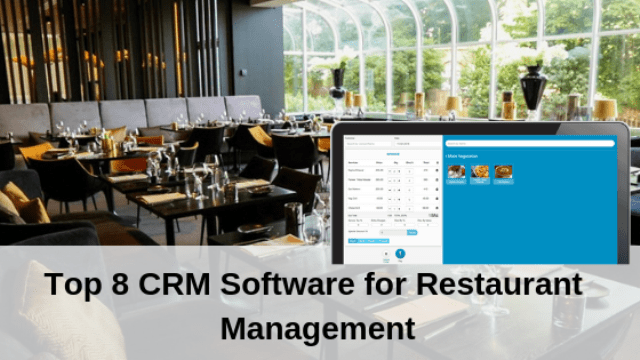 Individuals love to dine out in hotels and restaurants whenever they like to spend some quality time. With people growing trendy to eat out, restaurants, pubs, hotels, bars have overcrowded sessions during peak business hours. Cashiers, managers, service staff always face difficulties to handle the request of customers. In order to manage different activities of restaurant business, hospitality companies use restaurant management software.
The market is full of Restaurant Management software. different CRM Software comes with different set of features and functionalities. We have researched and compiled some excellent CRM software for Restaurant Management. Let's have a look.
CAKE is a simple and intuitive point of sale for all restaurants. With its help, you can easily handle rush hours when there are lots of customers in your hotel or restaurant. It comes with Order Pads which facilitates error-free and fast ordering process. With Guest Manager profiles and automatic table status updates, it becomes easier for you to manage customer's orders and increase the quality of your hospitality services. Automated inventory tracking helps you to reduce the amount of wastage and increase the profit margins.
Tripleseat is a cloud-based CRM software for hotels and restaurants. It comes with SmartDocs, which enables you to generate event proposals, bills, invoices, orders, KOT, etc. It also has several features, such as an event booking calendar, sales reports, contact management tools, online payment processing an event booking calendar.
With its help, you can automate different activities of your hotel and restaurant. It automatically sends SMS alerts and newsletters to both you & your customers for all important activities. The CRM software captures customer's data automatically and stores it on cloud servers. It automatically suggests discounts and other benefits for customers based on their interaction with your brand.
It is perhaps the best CRM software for managers and employees working in restaurant, hospitality and retail industries. It is a nice tool for all those hotels and restaurants who have to manage employee scheduling/rostering needs. It facilitates swift communication between employees and company owners. It has almost every feature and functionality that are required to run hotels and restaurants comfortably.
You can use it to generate KOT (kitchen order ticket) for kitchen staff, create bills for purchased food products, take home delivery orders from customers, introduce new offers to customers, launch SMS and Email Marketing campaigns, etc, in an easy way.
With its POS terminal, you can make transactions easily and control the flow of finances in an easy way. The CRM software can be used to operate multiple hotels and restaurants at one time and from all locations using portable mobile devices. It is a perfect CRM software to streamline your hotel or restaurant business and make more revenues every day.
ChefMod is a real pal for all independent restaurant/hotel owners. You can use this cloud-based restaurant management software on all Internet-enabled devices. It has its native mobile apps for Android and iOS. You can use it to take orders from customers in an easy way, reconcile invoices, streamline restaurant workflow, manage inventory, capture customer's details, etc.
ChefMod's Order 1-2-3 module enables you to take care of supply chain and process orders for food and beverages as per their serial orders. It uses forecasting algorithms to find out the names of customers and introduce personalised offers to them. It helps a lot in recipe management.
It has EZRECIPE module that automatically calculates the cost of all food items and helps chefs to determine the price of all different food items quickly. It also helps in the management of invoice reconciliation, purchase orders, cost reduction, strategic marketing, etc. It comes with analytics features, allowing you to review the performance of your hotel/restaurant and take necessary measures to improve the ROI.
Sapaad is an outstanding POS for all take-away outlets, home delivery food shops, cafés, fast food chains, restaurants. With its help, you can easily process various order types such as dine-in, walk-in, take-away, and home delivery. You can use it to operate multiple hotels and restaurants at the same time.
Its stock and inventory management features help in stock inventory, allowing you to generate authentic reports ( sales, staff performance, inventory, loss/profit, etc,)  in an easy way. With its recipe management feature, you can easily configure recipe ingredients, modify recipes, prepare the price lists of food items and beverages mentioned in the menu.
The CRM software has reports and analytics feature, which allows you to generate different types of reports and know the performance of your business as a whole. Sapaad has several add-ons, such as online ordering module, in-built loyalty program, and SMS. All these help you to conduct restaurant marketing activities, aimed at attracting more customers and increasing the profit margins.
QSROnline is an outstanding restaurant management software with various features, such as detailed reporting, labour scheduling, accounting and payroll integration, food cost control. It has been created to help all restaurant and foot chain owners to streamline their business activities, become able to serve a large number of customers, and boost the profit margins.
It facilitates back-office administration, integrations with POS accounting, and payroll system and the liberty to use the CRM software on all Internet-enabled mobile devices. It helps restaurant owners to operate daily business activities in a professional manner without making silly mistakes and serve almost all customers during peak business hours.
CloudWaitress is an excellent CRM software for food outlets, restaurants, hotels, bars, cafes, et. With its help, individuals can receive and manage pickups, deliveries and orders online, design and upload menus and dishes, and automate a number of other business activities.
CloudWaitress helps you to take online order for foods from all locations and process orders swiftly. With its help, you can receive and manage orders on all Internet-enabled devices and have a look at the sales info in the dashboard section. Automated printing allows you to print accurate bills for customers and take payments from them in an easy way.
AnyWarePO is an ideal cloud-based POS (point of sale), which allows restaurant and hospitality industry owners to manage order, payment, menu, bar, customer, and discount digitally. You can use it on PC, laptop, and mobile devices. With its help, you can streamline customer's order for food and beverages, show them all details of the order, and serve them in time. It also helps in SMS and Email Marketing campaigns aimed at introducing new food items to customers and encourage them to make orders. This cloud-based restaurant management software can generate multiple reports in a single input.
Final Remarks
The success in hotel and restaurant business comes when you manage customer's order in a professional way and serve them in a timely fashion. Just choose from this restaurant management software and take your business to the next level with online order booking for food and beverages, automatic order tracking, sales and reports, automated Emails and SMS, etc. Best of Luck!
About Author:-
Stephen Chong is working as a Blogger at Fonbell Solution, A CRM software and Singapore website design company providing services for Website Designing, Restaurant Management Software, Invoicing software etc. He loves traveling and has a great passion for writing.