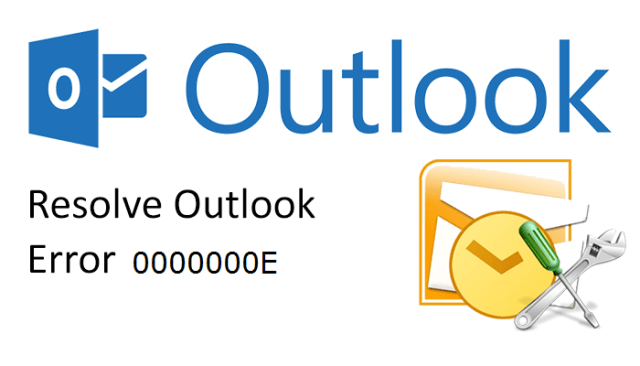 Those users who use Outlook to access their data must be aware of Outlook OST file internal error (code=0000000E) message. Microsoft Outlook has now become a platform that is used in approximately every second enterprise for emailing proposes. It has two file formats for the storage of data i.e. OST and PST. Therefore, corruption in any of the formats may result in some errors in Microsoft Outlook. OST is generated when Outlook is synchronized with Exchange or when we configure Gmail, Yahoo, or Hotmail account with IMAP in Outlook 2016 or Outlook 2013. On the other side, PST is the default file format of this email application. Both the file formats are crucial for the proper working of Outlook and therefore, corruption in of the file may lead to different kind of errors. Here, we are considering the Outlook Internal error (code=0000000E), which occurs due to damaged or unhealthy OST. Let us see the reasons behind this corruption, before discussing the solution.
Instant and quick solution to resolve internal error (code=0000000E) is OST to PST recovery tool. The tool repairs all type of corruptions in Outlook OST file as well the user can convert Offline OST file into PST, EML, MSG format. With its advanced feature and new feature, user can also import OST file to Office 365 cloud.
Responsible Factors behind OST Corruption
Hardware failure
Attack from Virus or any other Malware
Abrupt shutdown of system
Oversize OST or PST file size in Outlook
Sudden termination of Microsoft Outlook
Improper handling of Outlook application
Incompatibility of Add-on of MS Outlook
Obstruction in the update process of software
Other compatibilities problem with Operating system
At the time of OST corruption, users have to encounter some synchronization issues. In such situations, Outlook also leads to some error messages.
Commons Error While OST Synchronization
Internal error (code=0000000E)
Error 8004011D-526-80040115-0
error code 0x8004103b
Service-specific error 0 (0x0)
Internal error (code=00000003)
error-message/c5e20916-9359-43fc-9bd9
Here, we are discussing about Outlook OST file internal error (code=0000000E). Before, jumping on the solution, let us see the causes of this particular error:
Reasons of This Specific Error of Outlook
Corruption in OST file
Inappropriate Synchronization of Outlook OST files.
Resolve OST Internal Error (code=0000000E) via Inbox Repair Tool
Users can repair the OST files with the help of Inbox repair tool as well as OST integrity check tool. It is also known as Scanpst.exe. This is helpful for repairing the OST or PST files and for examining the system integrity. However, it can only scan the OST available in the system and not the mailbox residing on Exchange. Moreover, the utility supports MS Outlook 97-2002, 2003, 2007, 2010, 2013 and 2016. It first scans the Outlook data and checks them for the integrity of file structure. In case, the file system is not intact then it builds the headers once again to rectify the issue. Nevertheless, there are some circumstances where Inbox repair tool unable to fix the issue. Now, for the situations like this, it is recommended to opt for best rated OST to PST converter to repair corrupt OST file. We will come to the functionality of this software, but before that let us see some limitations of Scanpst.exe.
It is not capable to deal with Outlook PST files, which are huge in size
At times, it does not show not error after the scanning of damaged files
It has 2 GB file size limitation. This means running the utility in any file larger than 2 GB is a waste of time
It is not possible to recover accidentally or intentionally erased email items from Outlook mailbox
This utility performs the entire task in a slow manner, therefore, users have to devote much time while running this program
If the installation of Microsoft Outlook is not proper, then the process of repairing cannot be accessed
In case of severing or major corruption, it fails to repair the files. It can only work on minor corruptions
With this, only file header corruption can be repaired. In case the body is damaged, then it is not useful
While repairing the data, if it finds any unrecognized file then it deletes it. Therefore, it may results in losing some of the crucial data items as well
Files that are password protected cannot be repaired
A Dependable Solution without Any Limitation
As we have discussed that there are many limitations associated with free utility, therefore to overcome all of these, users can opt for OST to PST Recovery Software. The product has been developed for repairing the OST files regardless its amount of corruption. This means it can repair severe corruptions as well very easily. It performs the process quickly and does not have file size limitation. In addition, the utility brings forth guaranteed result and keeps the data safe.
To Wrapping It Up
With the increasing popularity of the Microsoft Outlook, users are getting aware about the errors associated with it. One such error is Outlook OST file Internal error (code=0000000E) that arise due to damaged OST file. Considering this, we have come up with two resolutions of the issue. It is recommended to use a third party tool as it is free from any kind of limitation.